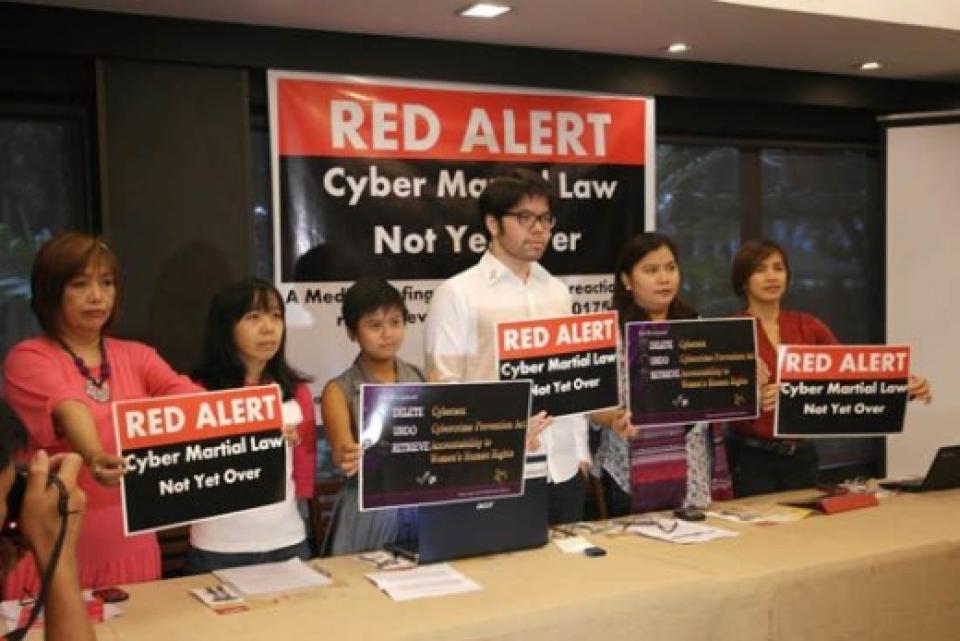 Violence against women in the Philippines is considered a public crime. According to the Philippines National Demographic and Health Survey, one in five women aged 15-49 has experienced physical violence since age 15. The advent of computers and internet exposes women to another dimension of violence. The extent of electronic violence against women in the Philippines remains largely unknown but anecdotally, it is growing in nature. In this article written by GenderIT.org contributor Esther Nasikye we look at the emerging forms of online violence against women in the Philippines according to the "End violence: Women's rights and safety online" project partner Foundation for Media Alternatives.
The innocent act of opening an email or social media account is supposed to have many benefits. But what if it turns out to be a weapon for your harassment, intimidation or destruction? This intimidation and harassment online is one of the forms of what is referred to as electronic violence and if it is specifically targeting women then it is electronic violence against women (eVAW).
According to the Foundation for Media Alternatives (FMA) based in Philippines, eVAW refers to violence against women that is committed and perpetuated in new spaces made available through the development of ICTs or VAW that is embedded in, mediated by or facilitated by ICTs. eVAW may take the form of transmitting threats or false accusations through blogs, in chat rooms or via mobile phones. Electronic violence also includes sending repeated and unwanted communications with sexual undertones, stealing identity or data and spying on or monitoring computer and internet use without permission. Sometimes such violence can escalate and impair one's capacity to participate and use ICT without apprehension or fear.
Forms of eVAW
Unauthorized recording, reproduction and distribution of videos and images, cyber mobile harassment, cyberstalking, cyber prostitution and trafficking, online pornography, some online gaming and ICT mediated VAW, are some of the main emerging forms of this kind of violence (Foundation for Media Alternatives 2012).
The United Nations estimates that 95% of aggressive behaviour, harassment and abusive language and degrading images in online spaces are aimed at women and come from partners or former partners (1).
Testament to this, in March 2013 the Philippine Daily Inquirer carried a story of a young man that allegedly posted a sex video with his now ex-girlfriend.
Agents of the National Bureau of Investigation arrested 20-year-old Arno Fuchs of Blueridge, Quezon City, on a warrant issued by Pasig City Judge Cesar Sulit for alleged violation of the Anti-Photo and Video Voyeurism Act and the law on violence against women and children. Speaking to reporters while in detention, Fuchs—also known as Arno Morales onscreen—confirmed that making that video was "our idea" but strongly denied leaking it on the internet. The complainant, a 17-year-old college student, said Fuchs was her boyfriend for three years and that she broke up with him in January (2).
This should not be treated as an isolated case but as the tip of the ice berg.
Prevalence of eVAW in Phillipines
According to Benjamin Barretto from the Foundation for Media Alternatives (FMA) in the Philippines, cyberbullying and cyberstalking are the most common forms of electronic violence against women. The organization, in partnership with the Association for Progressive Communications Women's Rights Programme (APC WRP) is implementing a project promoting women's rights and safety online addressing electronic violence against women. This project in the Philippines is part of a project involving groups in six other countries.
According to the baseline survey by FMA, the extent of electronic violence against women remains largely unknown and therefore remains unreported.
"Though we know that different forms of eVAW have been happening, there are no government data available that points to a figure on the extent of eVAW. In fact, government has no clear definition of what eVAW is. The National Bureau of Investigation (NBI) looks at technology used in VAW as just one of those tools in committing the crime. And that the Supreme Court has already passed the Rules on Electronic Evidence under the implementing rules and regulations (IRR) of the Electronic Commerce Act of 2000. Therefore, documenting eVAW separately might just be duplicating some of the current efforts of the government authorities." (FMA, Baseline Survey report 2012).
Policy framework
The country has no specific policy protecting victims of eVAW. What is available are general laws on violence against women and policies regulating the telecommunications industry which tackle aspects of violence against women.
"We have enough existing laws to protect women against violence against women or VAW and eVAW.  What we need to do is to disseminate what they are and capacitate our women to know how to prevent them, or how to seek justice once they are victimized," says Benjamin Barretto from FMA.
In compliance to the country's commitment to the Convention on the Elimination of all Forms of Discrimination against Women (CEDAW), the government passed the Anti-Violence Against Women and their Children Act of 2004 – an act defining violence against women and their children, providing for protective measures for victims, prescribing penalties therefore and for other purposes (Republic Act 9262). The latter law was clearly for the protection of women from discrimination and all types of abuses, enshrined in CEDAW (FMA baseline survey, 2012).
But should there be separate laws specially addressing eVAW? "There is actually a debate here on whether new laws are needed to cover eVAW or whether VAW laws are enough with ICT just as another tool on VAW.  A new law might just complicate matters with people thinking that eVAW is different from VAW itself.  It is the same except for the tool being used," Barretto explains.
A new cybercrime law in the Philippines raised fears that not only online media but also ordinary netizens could be persecuted for exercising their freedom of expression. Republic Act (RA) No. 10175, also known as the Cybercrime Prevention Act of 2012 (3), was signed into law on September 12, 2012. Under this law, actions punishable as 'cybercrimes' include illegal access and interception of any part of a computer system without right, computer-related identity-theft, cybersex and child pornography, among others. However, the law also broadens the coverage of libel as a content-related offense that can be committed by just about anybody using a computer. This law was put on hold on February 5, 2013 and the Supreme Court extended until further notice the temporary restraining order (TRO) issued (4).
What FMA is doing
According to Barreto, FMA's advocacy ranges from joining rallies, mass actions to training trainers on eVAW and providing them with primers and brochures with important information to pass on to others.
"Through APC FLOW we have been disseminating how women and girls can protect themselves from eVAW and/or seek justice once victimized.  We have been spreading the Ushahidi mapping and Frontline SMS tools to civil society organizations and government agencies and even to girls at school," Barreto explains.
In messages on how to store evidence on eVAW, FMA educates the public on how to keep everything, and how to break-up and erase. In the first case, as infuriating as it might be to re-read those texts, they are still evidence. If your friends received disparaging messages or e-mails about you, ask them to keep them too, since they can be your witnesses. In the second case, it is important that when a relationship ends, partners make it a point to erase all suggestive images, photos or videos which could later be used against them. These are the same strategies FMA plans to employ for the LGBTQI community which in the past has experienced online violence.
FMA in future plans to equip teachers in girls' schools with information on how to prevent eVAW so they can pass it on to their students. The organization works with partners to support the victims of eVAW. These include institutions that focus on counseling, leadership building and economic empowerment.
The way forward shows that there is a need to increase awareness on eVAW and the policies in place to protect the citizens.
"We believe proper cooperation and coordination with law enforcement agencies is very crucial because even if you have very good VAW laws, if no justice is given to the survivors/victims then the laws become useless," points out Barretto.
Image by Foundation for Media Alternatives