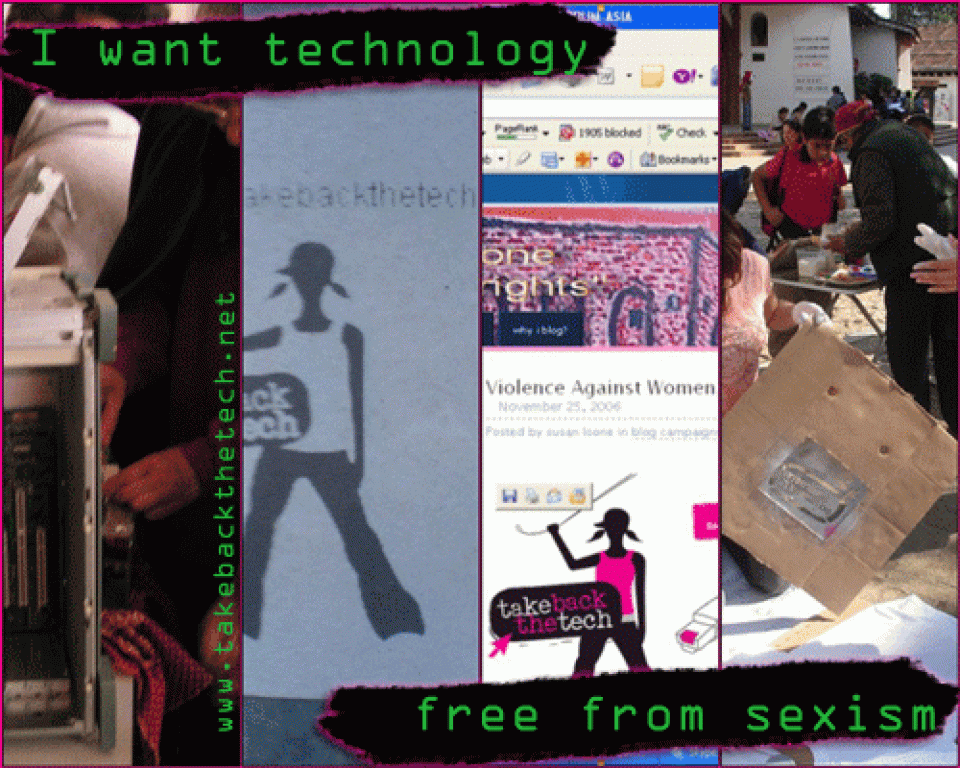 Nora Quebral (2012) – who is credited with coming up with the concept of 'development communication' in the early 70s – argued recently in an account of Asian domestic workers in the Middle East, and the right-to-drive protest by women in Saudi Arabia, that any analysis of rights is necessarily deeply contextual: (1) "A tough question to answer would be: in which [of these two societies] do women have more equal rights to communicate and to develop?" (p63) (2) While a universal rights-based discourse considers those rights inalienable, Quebral's point is that it difficult to analyse the extent that to which those rights are realised, and in doing so to build easy comparisons between different contexts.
This phenomenon is most easily illustrated in GISWatch 2013 – with its focus on women's rights online – by comparing the country report on Thailand with the country report on Bolivia. In Thailand, write the authors, "[b]ecause of the repressive cultural norms on proper sexualities" and "[u]nlike girls in the US who may face cyber-bullying after their half naked photos are published on the internet," Thai teens "enjoy popularity and fame from posting sexy/half-naked photos of themselves on the internet as a way to gain acceptance…". It is a practice that is seen as a positive way to explore sexuality, and has become "widely popular and fashionable". (p226). (3) But in Bolivia there is concern that "[s]even out of 10 students accept unknown contacts in social networks and display themselves over the webcam or exchanged photographs…Teenagers imitate the images they see over the internet, showing themselves as movie stars, rock stars, celebrities and top models, assuming their bodies and images are products for the market; disregarding that they are developing a potential risk behavior." (p74) (4)
No "framework" of women's rights was imposed on the authors for this issue of GISWatch – although authors were encouraged both to work with gender-rights organisations and to consider APCs' Gender Evaluation Methodology manual. Instead, the "story" – with its lenses and biases – was invited. The "story" approach is useful because it clearly highlights where there are dislocations, fractures, and challenges – offering an opportunity for a second-level analysis for the reader, more along the lines of Quebral's contextual analysis.
There are many common concerns in the country reports collected here – such as violence against women online. This violence is often the result of using ICTs for criminal purposes, such as abductions in Argentina, or in Pakistan, where "four women [were] killed in a remote northern village of Gizar Alitray, for being exposed as having a good time (clapping to song, humming) at a wedding function. A mobile phone recording of the event was put out in the public space over the internet to 'dishonour' them and their families. As a result, the women were murdered to recover family/tribe 'honour'." As the authors suggest, "[t]hese cases are illustrative of the growing vulnerability of women in the face of expanding trends of teledensity and internet [access]." (p188) (5)
Conversely, the role of the internet in empowering women is dealt with in several reports, – whether through access to ICTs, or online campaigns to combat violations (such as forced abortion – see China) – as is the use of the internet in promoting equitable governance (see, for instance, Côte d'Ivoire and the Cook Islands).
Other story topics are diverse, and include: violence against indigenous women; rights of domestic workers (in two reports); the fight against female genital mutilation; abortion; child marriage; the rights of children and girls; secrecy and freedom and expression; training; and using ICTs to monitor legislative challenges.
While databases and "the production of information" are seen as critical to enlivening rights discourse (see Ecuador), South Korea shows how delicate privacy issues become in the context of digitising the personal information of victims of domestic and sexual violence: "The fact that the government forced the [Integrated Social Welfare Network] on victims whose lives are threatened and are hiding in shelters shows that the administration values efficient work processes over the human rights of victims." (p165) (6)
Japan shows how the promotion of gender equality in the local context is fraught, and the author argues that what is necessary is a balancing between the conservative and progressive proponents in that country in order to strike a common understanding of what can be meant by gender rights. On a similar seam, Bulgaria shows a fracturing of social rights perspectives, and the exclusion and even rejection of LGBT groups in social protest and mass mobilisation: "Some of the LGBT activist participate [in the protests], but do not represent their struggle and even hide their homosexual identity". (p81) (7)
As a number of country reports point out – Pakistan, Uganda, Egypt – religion and culture are frequently in conflict with the universality of rights, and can actively seek to undermine them:
…[O]ne does not find progressive women activists proposing solid solutions for Egypt's current problems. On the contrary, women who support the Islamists do have concrete plans. They are demanding for women to retreat into the home, to leave the public arena, to live a more secluded life, to restore traditional moral values, decrease the need for personal consumption and, by leaving work, create employment for the thousands of young males. This is seen as a fundamental first step to reduce social strife and build a better functioning society and nation. (p124) (8)
Arguably absent from these country reports are a deeper discussion on transgender or transexual rights online; (9) boys' and men's participation in feminist movements online; a discussion on pornography; and broader considerations of the impact of religion other than Islam on women's rights – for instance, Christian fundamentalism.
The thematic reports that frame the country reports deal with some of these issues, and I will leave it up to the reader to explore what are in the end excellent orientating discussions by experts in the field of women's rights and the internet. These include reports on accessing infrastructure, participatory citizenship, sexuality and the internet, violence against women online, digital security, online disobedience, and governance. An innovative historical timeline of women shaping technology and science, and graphics from online women's rights campaigns complete the issue.
Editing this report was emotionally stressful, and exhausting – as it was with the GISWatch issue on human rights issue some year ago. There is something in the story approach to the country reports – as opposed to, say, asking authors to tick boxes in a policy analysis framework – that makes the publication rich and rewarding, but also a daunting experience to try unpack in order to understand the tension between the contextual, the relative and the universal (and, I think, why some have suggested that GISWatch makes good source material for students to interrogate in the classroom). It is also difficult to be confronted with such deliberate intentions to malice and violence recorded in some of these reports. Because of this I have what borders on an incomparable admiration for the thinking, nuanced, and committed activist – whatever form that activism takes.
This issue of GenderIT.org focuses on GISWatch 2013. It contains interviews with some of the reports' authors, including Cook Islands, Jamaica, and Uruguay (more interviews coming soon). It captures their insights and concerns with women's rights and the internet across the globe, and offers quick-link access to the country reports.
Footnotes
(1) See also GISWatch 2011 (www.giswatch.org)

(2) Quebral, N. (2012) The Underside of Communication in Development. In Nordicom Review 33 (2012) Special Issue, pp. 59-64. Nordicom, Göteborg

(3) Suksai C.; Kummetha T. (2013) Thailand: Thai cyber sexuality: Liberation, empowerment and suppression. In Global Information Society Watch 2013: Women's rights, gender, and ICTs. APC and Hivos, Montevideo

(4) Rojas, J. (2013) Bolivia: Preventing digital violence in schools. In Global Information Society Watch 2013: Women's rights, gender, and ICTs. APC and Hivos, Montevideo

(5) Sarwari A.; Bukhari G., Ahmad S. (2013) Pakistan: Shaping ICTs in Pakistan using women's empowerment principles. In Global Information Society Watch 2013: Women's rights, gender, and ICTs. APC and Hivos, Montevideo

(6) So-young Park; Yeo-kyung Chang (2013) Republic of Korea: Digitising social welfare: Challenges of privacy. In Global Information Society Watch 2013: Women's rights, gender, and ICTs. APC and Hivos, Montevideo

(7) Vroom, R.; Antonov, P. (2013) Bulgaria: Divided movements, divided rights. In Global Information Society Watch 2013: Women's rights, gender, and ICTs. APC and Hivos, Montevideo

(8) Hassanin, L. (2013) Egypt: Gender and civil rights: How effective is women's online activism? In Global Information Society Watch 2013: Women's rights, gender, and ICTs. APC and Hivos, Montevideo

(9) See APC's EROTICS programme for more on this: www.apc.org/en/node/7904