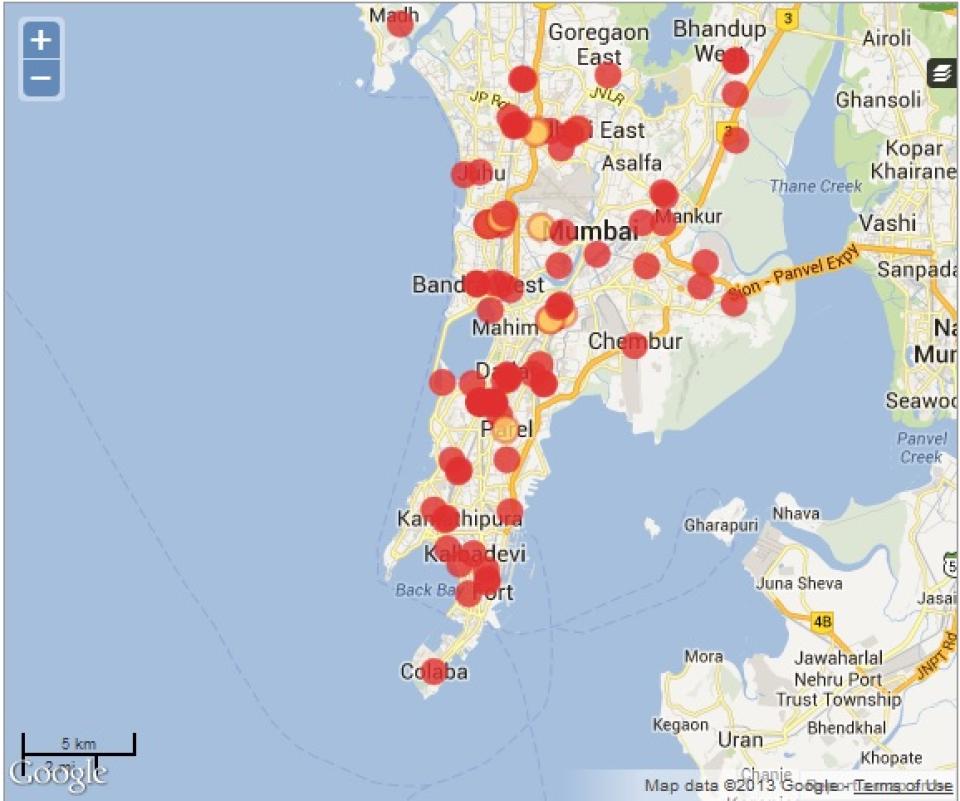 This is the first in a series of posts reporting on the day-long "Connect Your Rights!" meeting held in Mumbai in November 2013. The meeting explored topics such as tools to combat violence against women, pornography, sexuality, and freedoms and risks in the online world.
"A woman was molested at Thane railway station.When she slapped her molester, the guy pinned down her hands causing injuries to both her wrists. When she cried for help, no one stepped forward to help her, instead the men surrounded the woman and demanded to let go the molester. These men are probably working in gangs and come together in defense when one of them gets caught." – Anonymous report on Harassmap Mumbai .
The NGO Akshara launched Harassmap Mumbai, a crowdmapping deployment that logs anonymously submitted reports of street sexual harassment, in September 2013. Built using the the open source Ushahidi platform, it was inspired by the Harassmap project in Egypt. Speaking at "Connect Your Rights!", Nandita Shah, the co-director of Akshara said Harassmap Mumbai is the only crowdmap yet that allows for submission of "unsafe areas" of various categories (open space, street, train station, etc.) apart from incidents of sexual harassment and violence.
The crowdmap is a work-in-progress; Akshara is building links with the police to make the map actionable. Findings from the data collected by Harassmap Mumbai could be presented to the police, neighbourhood watch groups, and NGOs such as the Mahila Dakshata Samiti so that they could use them to take action in their ways. But there are caveats: "The government bodies are apparently not keen that the data is released. For instance, I am told in Delhi, the government did not want the data from these websites released considering the elections are coming up in a few months and the government could lose face," revealed Shah.
Shah said that anonymity of reports on the crowdmap was of help and hindrance both. The ability to report anonymously helps those who would otherwise be wary of speaking up find a voice, but it also make following up and verification of the reports difficult and sometimes impossible. The crowdmapping deployment also lists the contact information of police stations and women's helplines in Mumbai.
One of the people invited at the launch of Harassmap Mumbai was a woman sexually harassed at the Lalbaghcha Raja Ganesh mandal, one of the most crowded spots of public celebrations in Mumbai. One thinks of predators at deserted places, but how does one deal with harassment at a place where a sea of humanity turns up? Shah said Harassmap Mumbai aims to raise questions such as this and hope to find answers.
Too many maps, too little reporting: Making crowdmaps effectual*
Rohini Lakshané, the editor or EroTICs India, opined that the presence of too many Violence Against Women crowdmaps was counterproductive and shared some insights and tips on making the existing maps effectual. (Licensed copy of the presentation.)
After doing a roundup of crowdmapping deployments that log reports and testimonies of sexual harassment in India, she said that the major reason for low reporting on these maps was that some of them lacked planning and strategy required for running a successful crowdmapping campaign. There is an avalanche of newly launched or relaunched emergency alert apps and crowdmaps every time there is media hype over incidents of rape or sexual assault, but most projects fizzle out over time. Many maps logging the same kind of data in the same locations fractures the data available and may create data duplication. Crowdmap "reporters" get demotivated when campaigns collapse; crowdmaps follow a power law distribution anyway.
Lakshané shed light on the various factors that hinder reporting: Lack of awareness of the existence of the crowdmap; personal reasons (passive attitude towards initiatives such as crowdmapping, monitoring of the victims' electronic communication, which happens with instances of domestic violence, etc); demographic reasons (illiteracy, lack of access to the internet or inability to use it, inability to use the Internet in a familiar language). Only one user submitted report is present on Bijoya, a crowdmap in Bangladesh. Lakshané said she suspected the reasons were illiteracy and low mobile and Internet penetration in Bangladesh. Language barriers can be overcome by making the crowdmap more visual and less text-oriented. Accepting audio reports from phone calls also works in areas with low literacy rates and populations that speak a multitude of languages.
Sharing some tips and ways for making crowdmaps effectual, Lakshané said the key was a three-pronged approach that tied in the crowdmap, the findings derived from it, and on-the-ground action and mobilisation. For a crowdmapping campaign to be successful it is important to define goals and monitor and assess the map.
Lakshané elaborated on the different methods used by three successful crowdmapping projects — Harassmap (Egypt), Women Under Siege (Syria) and Hollaback (international). These projects carry out research and analysis of the reports logged on their maps and publish their findings. Harassmap with its army of trained volunteers works towards influencing the culture on the street, especially in "hotspots" of sexual harassment, uses the map to bust myths and stereotypes, and urges establishments and organisations to declare themselves harassment-free zones. The findings of the Women Under Siege crowdmap have established that sexualised violence is being used as a weapon of war in Syria. The map paints a very gruesome reality of war and everyday life in Syria for men, women, and families. Hollaback uses innovative ways to empower women to reclaim the street, for example, marking a spot on the street where sexual harassment has occurred the with the words "I was harassed here". Most of all, these crowdmaps create testimonies and lend a voice and a presence to the victims of socially and culturally acceptable crimes.
Read the rest of the reports from "Connect Your Rights!" held in Mumbai