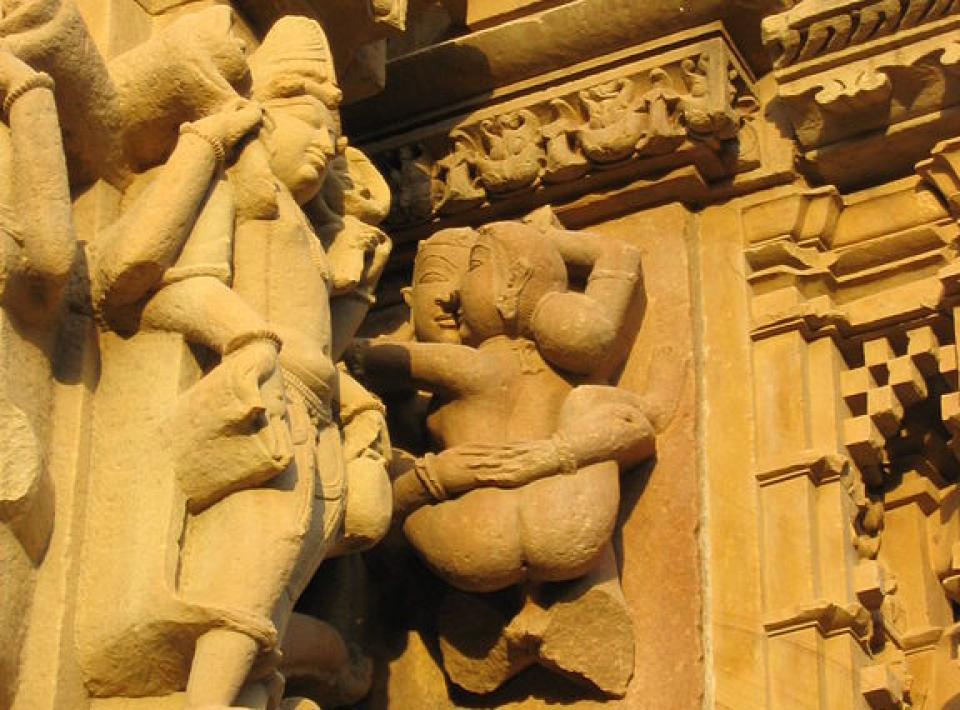 If we accept that nothing is wrong with sexual arousal, what is wrong in reading a text or watching a cartoon, online porn, or using a powder to create sexual arousal?
This is the fourth in a series of posts reporting on the day-long "Connect Your Rights!" meeting held in Mumbai in November 2013. The meeting explored topics such as tools to combat violence against women, pornography, sexuality, and freedoms and risks in the online world.
"Can the state ban visiting Khajuraho?" asked writer and blogger Ramya Pandyan when views about the proposed ban on online pornography were invited. The comparison hits at the root of the debate on whether the government should clamp down on watching online adult pornography.
A public interest litigation (PIL) was filed in the Supreme Court in April 2013 pressing for a ban on cyber pornography by blocking websites and criminalising the consumption of pornography. "Pornography is like moral cancer that is eating our entire society at every second across country… It is more catastrophic than nuclear holocaust, and it must be stopped," states Kamlesh Vaswani, an Indore-based lawyer in the PIL.
A petition was filed in July 2013 before the Rajya Sabha by Mumbai-based Jain religious leader Vijayratna Sunder Suri, co-signed by member of Parliament Vijay Darda, professor and activist Pratibha Naithani, and others. It seeks a blanket ban on online pornography and an additional police force to keep a check on it. The petition states that India could follow the "immoral" American ways where there is a trend of children being 'orphaned' because of their parents' pornography addiction, and that watching pornography results in "sexual deformities", which in turn could destroy one's marriage and result in divorce.
It is not surprising that the PIL and the petition both speak of morality. The Information Technology Act prohibits production, distribution and sale of obscene and sexually explicit material — which presumably includes pornography — and child pornography. The Supreme Court has now issued a notice to the Department of Telecommunication (DoT) asking how the latter would block pornographic websites, especially those depicting child pornography.
The main purpose of pornography is to create sexual arousal. "If we accept that there is nothing wrong with sexual arousal, what is wrong in reading a text or watching a cartoon, online porn, or using a powder to create sexual arousal," asked Bishakha Datta, executive director, Point of View. When we think of pornography, the typical image that comes to mind is that of a man watching heterosexual porn. However, in reality, women are active consumers of pornography. As per a 2012 India-Today AC Nielson survey, 41% of the women interviewed has watched pornography and 32% of the women respondents watched it daily.
The 2010 EROTICS India study conducted by Manjima Bhattacharjya and Maya Indira Ganesh on women's rights, sexuality and the internet found that women have a great desire to watch pornography and that they opined that porn for adults is both natural and acceptable. For many, it was the first entry into sexual education. "If we block porn, it is tantamount to blocking sexual arousal. In the Indian context, the group that is least expected to have any sexual desire, that is, women will lose out, particularly on fora where they are anonymous," said Datta. The expression of female sexuality have always been stifled "to protect the dominant patriarchal moral beliefs at the expense of women's rights," states Anja Kovacs of the Internet Democracy Project in a blog post.
The biggest argument against pornography in the PIL is that it incites violence. Citing Wikipedia and "personal knowledge", Vaswani claims that sexual offenders are "fuelled by pornography". He establishes a sweeping link between pornography and the brutal gang rape and murder of a physiotherapy student in Delhi in 2012. There is no conclusive evidence establishing a causal link between pornography and sexual violence. Danish criminologist Berl Kutchinsky states in Pornography, sex crime and policy (1991) that most research suggests that porn is "an aphrodisiac" and not a "blueprint to rape". He suggests that government policy should restrict the censorship of pornography to the minimum. Recent studies too have been proven inconclusive.
Similarly, there is lack of evidence obtained from research, linking pornography and change in sexual attitudes. Many parents vouch from experience that parental control on watching pornography does not work as curiosity about sex is tremendous. "It is important for parents now to learn how to talk to children about pornography. We need to articulate the specific problem of pornography. We have to acknowledge adolescent sexuality," said Bhattacharjya. Like with sex education, it is important to educate rather than 'protect' children from pornography.
There is a great deal of concern about how the pornography industry runs — "a trade more deadly than potassium cyanide," alerts Vaswani — and whether all the women who work in the industry do it out of their own will and volition. "We need to understand that pornography is an industry and that there is a huge amount of investment. It is an unequal relationship between the woman and the producers of pornography. This has to be recognised," said Nandita Shah, co-director of the NGO Akshara, which works on women's rights. Would banning pornography help the cause of women who make a livelihood acting in pornographic movies? "These are not the platforms we should go after. We should talk about working conditions of such women. If we push this kind of language, the space of non-consensual sex becomes much smaller," said Kovacs.
The government has typically scrubbed pornographic content by directing Internet Service Providers (ISPs) to block websites or by introducing keywords filters. Both these methods have largely proved ineffectual in the past. In June 2013, thirty nine porn and porn-sharing websites were blocked by ISPs on the directives of the government. Savita Bhabhi, India's first porn cartoon character was censored in 2009. The comics made a comeback as a subscription-based service a few months later.The roots of regressive attitude towards pornography are linked with patriarchy and lack of sex education. "If we look at how to open our lives to sexuality, then porn will just become part of the sexual sphere," said Madhuri Mohindar, from Breakthrough, a global human rights organisation.
Online porn censorship across the world
July 2013: Britain

By 2014, porn websites will be blocked by default unless households choose to receive them. Reason: Pornography has a corroding influence on childhood.

April 2013: Australia

Blacklisted more than 1,200 porn websites in an effort to surreptitiously censor porn.

February 2013: Iceland (proposed ban)

Reason: Violent porn increases the intensity of sexual attacks.

2008: Denmark blacklisted websites

2008: Indonesia passed an anti-porn bill.

March 2013: The European Union rejected the proposed ban on all forms of pornography
Read the rest of the reports from Connect Your Rights! held in Mumbai.
Image: Erotic figurines at Khajuraho (Wikimedia Commons/ Yashi Wong (CC-BY-SA))