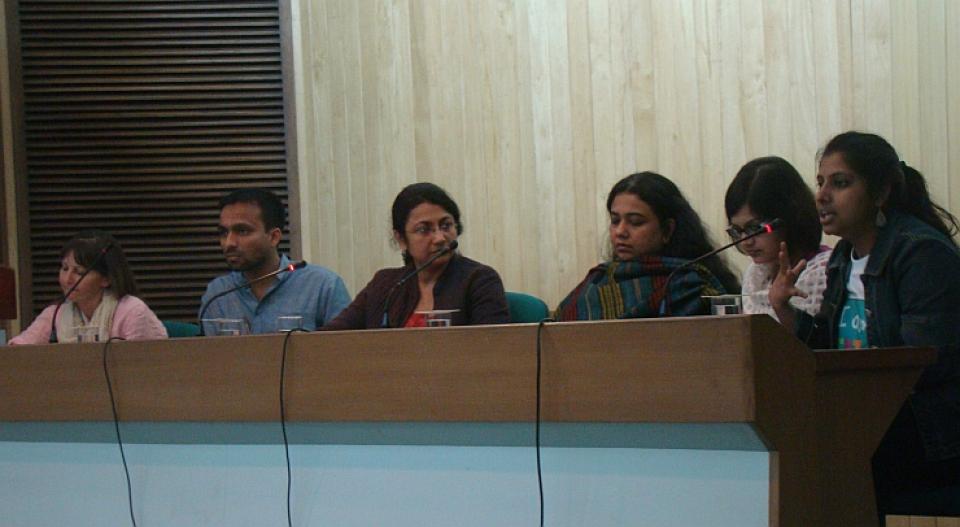 Does new media bring real change? Or it is that we are only enticed by its novelty factor? Does simply putting a technological tool in a woman's hand lead to empowerment?
These were among the prime questions posed at a panel discussion on "New Media and Girls' Rights" moderated by Sreekala held in New Delhi on March 9. The panelists included Asha Tiwari of Feminist Approach to Technology, Jesse Hodges of Kid Powered Media, Abhishek Srivastava of Independent Television Service, documentary filmmaker Anupama Srivastava, and Poorvi Bhargava of the rural newspaper Khabar Lahariya. In an ensuing question and answer session, structural problems of gender-based violence, media ownership, empowerment, sustainability, etc. were discussed. There was a lively discussion about challenges surrounding new media and the way it is changing, especially with respect to women and girls.
Speaking from her experience of working with rural women newspaper reporters in Uttar Pradesh and Bihar, Bhargava commented that it has been very difficult for women to air their opinions in public spaces, but access to the new media has empowered them to voice their issues. The next step is to sustain the liberating potential that new media offers. She added that merely acquiring access to technology or the skills to use it is not enough, as there is no guarantee that women would continue to use the technology. Speaking on similar lines, Anja Kovacs of the Internet Democracy Project said that technological empowerment is driven by mobilisation and access. When a khap panchayat bans women from using mobile phones, it suggests of the threat that men experience when they see women catching up with "modern inventions". Making technological empowerment sustainable can also pave the way for other aspects of empowerment of women.
Abhishek Srivastava spoke about various forms of new media such as community radio and mobile phones, and elucidated on the work of human rights groups which use them, such as Video Volunteers and the Half The Sky Movement. He said the new media has high potential now as it is more democratised, but the effectiveness of change depends on the objective of using these media.
Shubham Shree, a student at JNU, remarked that while the Internet should be celebrated, the structural issues that lead to the oppression of women need to be factored in. Technology, by itself, cannot lead to equality.
Abhishek Srivastava suggested that the way to empower women through technology is by creating more debate about the control of the Internet. Online platforms such as Twitter and Facebook have become extremely political. Most technological applications, such as mobile phones, are owned by men and their access and agency are never questioned, unlike those of women. The only way to subvert this unchallenged monopoly over the Internet would be through producing literature and other material, which challenges it.
Sreekala expressed her concern that "slacktivism" is taking over. She added that we need to ask ourselves how we can overcome the belief that a mere click of a mouse can contribute to the cause of empowerment of women, and ensure greater participation.
Audience at panel discussion on Online privacy plays out differently for people with differential access. Bhargava said that the women who work for Khabhar Lahariya — most of whom belong to rural and semi-rural areas — have gained visibility in the public space because of access to the Internet. They have gained Internet skills that even men in their household don't have. Marking their presence in spheres that were thought to be exclusively for men has helped women gain work skills as well as greater rights as citizens. They also have easy access to information, which has increased their confidence. While women undeniably face harassment and abuse on the Internet, it is not easy for women with differential access to understand the implications of online privacy. Therefore, these women will need to re-learn the idea of privacy, which is one of the things one negotiates in an attempt to empower women. Anja observed that being on the Internet often poses more threats to women than they would otherwise experience. The repercussions of voicing strong views online have caused many women to censor themselves. She said that we need to examine ways of tackling and avoiding these subtle threats and making the web safer.
Hodges remarked that as women become empowered, the attempts to suppress and oppress them also grow manifold. Feminism and women's empowerment are important because they build solidarity and connect various issues caused by marginalisation.
Sreekala summed up the session by stating that technology is not an end but a means to the empowerment of women, and that empowerment is an ongoing process that requires sustained effort.
Shivani Gupta and Mansi Ma of Feminist Approach to Technology