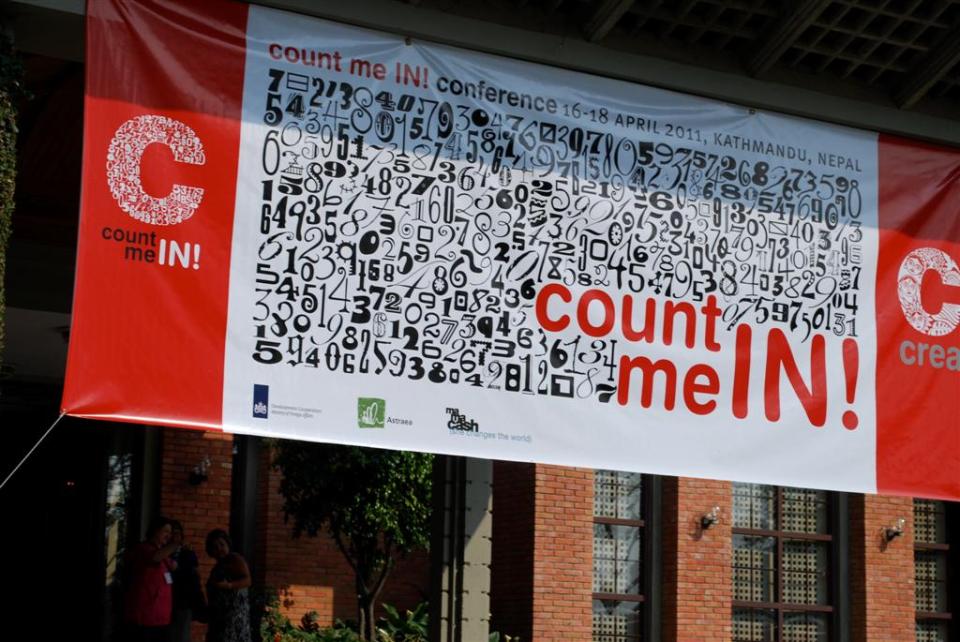 When I got an invitation from CREA to participate as a guest speaker at the Count me IN! Conference in Kathmandu I was bit amazed at the title of the conference, "Count me IN!" but when I looked into the agenda in detail I noticed that the conference had a very particular focus on the overlooked segments of society which we tend to ignore in our activism and feminist movements.
I salute CREA which allows more women from marginalised communities for the very first time – which include sex workers, disabled, single, young, lesbian and HIV-positive women, and transgender people from India, Pakistan, Nepal, Bangladesh and Sri Lanka - to discuss violence against women and strategies of resistance.
It was my first time meeting up with sex workers and transgender and disabled people from Pakistan and I was curious to know about their work and activism. I know it sounds bizarre that being a Pakistani feminist I am ignorant of these marginalised communities and not cognizant of their issues and concerns. In fact I would go so far as to say they are better referred to as disregarded communities within Pakistan – and if I were trying to find an excuse for my ignorance, I suppose it would be this: if the sex worker, transgender and disabled communities in Pakistan are disregarded, overlooked and ignored, it is often because they cannot be very open in their actions and activism within the Pakistani society – precisely due to the fear of safety and security measures. So, they are caught in a vicious circle: ignorance about their lives, concerns and issues fuels prejudice, which is used to justify discrimination and persecution, which in turn means they are justifiably frightened about speaking out -- and so we remain ignorant.
I was so pleased to see that all the Pakistani participants were on different panels speaking about their work within the country. I tried attending more or less all their sessions and I was amazed to hear the level of their strategies of resistance against the taboos which they have been fighting for decades. The challenges, the confrontation and their boldness to face the war of words from the so-called "civilized" media of our society was an eye opener for me.
I have to admit that it had never occurred to me how this integral part is missing from the Pakistani feminist movement. I heard Sarah Gill (a focal point for transgender people of Pakistan) talking in the panel discussion on "Making Sure We're Counted: Trans People Organising in South Asia". She mentioned that despite a degree of cultural acceptance (hijras have been part of this society for centuries, and were courtesans during the Mughal Empire), members of the transgender community are often persecuted and routinely harassed, face discrimination, and in some cases are subjected to violence simply for being transgender. But now people like Sarah - who is going to be the first trans doctor - and a few others are raising awareness of the issues concerning transgender people in Pakistan and working to cultivate a supportive, empowering and non-judgmental environment for them.
I attended another session on the rights of sex workers where a Pakistani sex worker was talking about the challenges they have to face on a daily basis. She said that "legalising sex work would make it easier to protect our rights. The police harass us for no reason; female sex workers who are working as outreach workers also get into trouble". "For a way out, many times sex workers succumb to pressure and end up having sex with the policemen; those who don't, end up getting a beating and being violated forcefully".
I also met disabled people at the conference and it was so depressing to hear them talking about the challenges and difficulties they have in their lives. A participant from Pakistan said that "It's still hard to find buildings, places and transport where people on a wheelchair like me can freely move in and out". She called on the government to come up with a legal solution.
Another participant from India said that "we should go out to meet friends and communicate with society. This is the ideal way to learn what a sexual relationship is and experience it and other social activities. But the environment is still tough for us." She asked this question to all the activists attending the session: "How many of you pay attention to sexual rights of disabled people? Sadly, it's a dominant idea that people with disabilities are sexually inactive," or "Even including our families some say having sex is not a must-do for them." She said that deep-rooted discrimination against disabled people undermines the sexual rights of mentally or physically-challenged people.
They face popular indifference (at best) and (at worst) prejudice and hostility. They suffer practical consequences - ranging from lack of access to places and services, to physical and sexual assault – and it is considered somehow OK to ignore and deny their rights as a matter of course.
The question is, what can we, as fellow activists, do to help? From my experiences at the Count me IN! Conference I came to two conclusions:


First, whether I talked to LGBT individuals, disabled people or sex workers, what came through is not how they are different from me, but how they are similar. And yet, society does not force me to define myself by my sexuality or my profession first, and my humanity second. Society's response to such individuals takes away their freedom, by forcing them to define themselves as "gay" or "disabled" first, and a person second. We have a duty to treat all individuals as people first and foremost – to Count Them IN! - so that each person has the freedom to decide whether they wish to define themselves in terms of their sexuality, their profession or their physical characteristics. After all, that's the simple privilege which the rest of us enjoy by default.


Second, I looked at the vicious cycle in which the many Count Me IN! communities find themselves trapped, and the more I looked at it, the more convinced I became that the point at which to attack it is "ignorance". I think back to the point in my own life at which I got the opportunity to tell my story – to inform and explain; to attack the ignorance and preconceptions surrounding me. I look at what a "simple" step that was, and yet how profound its effects have been. So here is my pledge and my call to action: give the LGBT community, the sex workers, and the disabled a space in which they can tell their stories; do your part to counter ignorance and dispel prejudice.


Photo by CREA