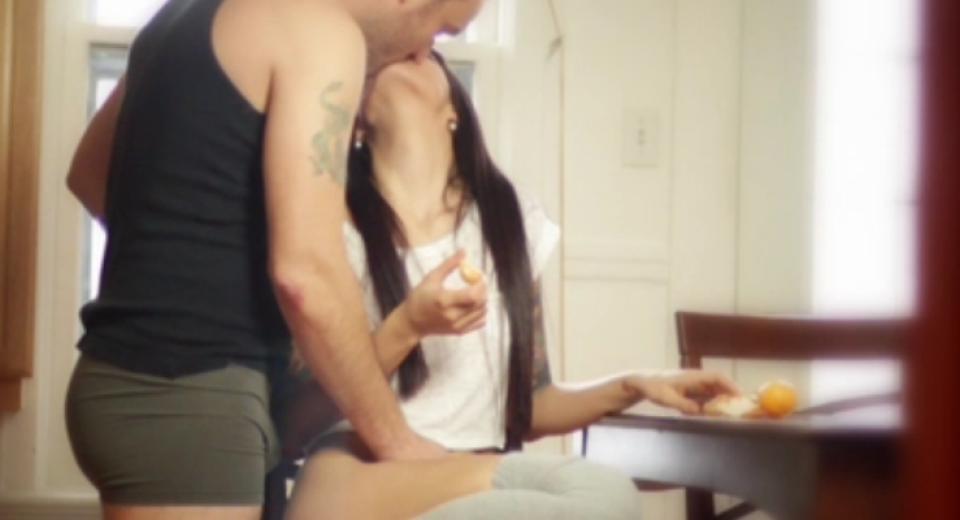 Richa Kaul Padte explores Pornographic Love, one of the three websites that received a Feminist Porn Award in 2013, and asks the question: What makes this website different from mainstream porn portals?
A busty shaved blonde is photographed lying on her back, legs spread and raised in the air, as she stares into the camera. The text above her reads, "NO FEES or CHARGES: just hot babes and hardcore free porn action". Flashing red "Enter Here" buttons are strategically placed above and below her, inviting visitors into My Free Pay Site, a popular porn website. This a screen that both frequent and infrequent porn viewers are all too familiar with. Its variants include stilletoed women crouching down over the "Enter" button, porn stars with mouths poised for receiving the ubiquitous cum-shot, or the classic hands-over-the-breasts and eyes-to-the-camera gaze enticing viewers into "Real Girls Online NOW" viewing options.
It sometimes feels like if you've seen one porn site, you've seen them all.
This is perhaps precisely why the annual Feminist Porn Awards – established in 2006 by adult store Good For Her to recognise the crème de la crème in pornographic filmmaking – have a category devoted entirely to porn websites. In this post I'm going to explore Pornographic Love, one of the three websites that received a Feminist Porn Award in 2013, and ask the question: What makes this site different from mainstream porn portals?
No ordinary website
With the song California Love playing in my head I am directed to Pornographic Love, a website with the tagline "Artistic Sex Videos of a Loving Couple". The first impression I have is that of a cinematographer's portfolio, neatly organised in a clean pink-on-black typeface into video and photo categories. The centre of my screen is occupied by a frozen image of a video waiting to be played: a woman with long black hair sits naked, masturbating on a windowsill, where sunlight through the slatted blinds falls across her body in perfectly diagonal rays. Her legs are splayed on either side of her body, and she looks down at her hands; her face scrunched up in concentrated pleasure.
Still from a video on Pornographic Love
Meet Lilyanne Bloom, one half of Pornographic Love's duo, "a funny and definitely very open minded girl" (as her description in the website's About section reads). Lilyanne – or Lily – met her partner Max Sauvage on a dating website geared towards adults looking for sexual partners, following which they fell in love and began recording their erotic experiences on camera – first for themselves, and then to share with others. Pornographic Love is an exploration and archive of their shared sexualities, comprising visually brilliant short videos of their experiences together. Videos are routinely updated, and instead of "BIG tits MILF dirty squirts" or "TEEN first time UNcensored XXX", we find titles such as Smooth Handjob in the Bathroom and Erotic Focus on Squirting and a Cumshot that tastefully (pun only slightly intended) describe the video's content. Each video or photo gallery has a short preview available, with the option for viewers to buy membership to the website for full access. Even the previews, however, are enough to give us a sense that this is no ordinary porn site.
For example, An Intense Orgasm For Her Only begins with a lengthy shot of Lily's hand, sporting red finger polish and a sparkling ring, as she gently plays with her nipple. It is somewhat of a wait before we see the rest of her, but just her nipple bearing hand, shot by an astute camera and under some stunning lighting, is enough to turn viewers on.
Real lives, real sex
When it comes to finding what you're looking for, Pornographic Love's content is clearly separated into categories including "Handjob", "Blowjob", "69″ and "Squirt", and the site's objective, non-sensationalised layout is one of its most defining characteristics: scrolling through the categories, I feel like I could just as easily be shopping for dresses online; it feels normal. Perhaps that's because one of the defining features of feminist porn is that it places the experience of sex and sexuality within the realm of real world experiences. In her book One Dimensional Woman, Nina Power writes, "Porn today deploys sex as something to be treated outside of other human and social relations, even as it depicts "office sex", "teacher sex", "cop sex", etc". (1) So as long as you don't want real pleasure, real smiles and real bodies, it's all out there. But as soon as you start looking for erotica that is actually erotic and real, it's nowhere to be found.
How does Pornographic Love establish this sense of the real? As a first-time visitor, something that struck me straight off the bat were the personal messages that Lily and Max write to each other after each video. Here's an example: below a video entitled Blowjob and Balls Sucking in the Sunlight, Max writes to Lily:
I loved watching you sucking in the beautiful sunlight today. Your eyes were all sparkly and your hair [was] like an auburn mane around your pretty face. Your thong was doing something perfect and the only thing I could feel was your warmth…
Searching for the real in a cyber world of plastic tits and fake screams is not a new, or a feminist, phenomenon. The sheer volume of websites dedicated to voyeuristic cameras strategically placed in changing rooms, toilets or hotel bedrooms, or those advertising "Real Girlz, Live on Webcam", gives us a sense of just how many porn enthusiasts are looking for verification that what they are seeing is real. Framed around these messages to one another, part of Pornographic Love's appeal is that its content is firmly rooted in the real world relationship that Lily and Max share. Watching real world sex doesn't always require an illicit camera. And the video quality is a lot better than a department store's changing room footage can ever provide.
Feminist or not?
As I explored in the previous post, in order for porn to be feminist, it generally has a woman involved in its direction, emphasises consent, tries to ensure that all participants feel pleasure, and pays everyone a decent wage. When Pornographic Love was conceived of, creators Lily and Max probably didn't consider how feminist their erotica was. But if we look at what makes porn feminist, Pornographic Love absolutely fits the bill – without even trying. Max and Lily are in a mutually consensual relationship, they collectively earn from subscriptions to the website, and their sexual pleasure is clearly at the heart of the porn they make.
When Pornographic Love was nominated for the third time to the Feminist Porn Awards in 2013 – also the year it received its first award – Lily wrote on her blog :
The

FPA

are very special for me because they are all about women creating porn…in our videos I always try to show my side of the experience, my true feelings, my real orgasms…I have found over my years of porn viewing that feminine sexual blooming was something rare in mainstream porn and that was something I wanted to see more.
Pornographic Love can be read then, perhaps, as a organic and unintentional blueprint for what feminist porn is: unrehearsed, high-quality, genuine, erotica.
Footnotes
(1) Scenes from "The Good Old Naughty Days.