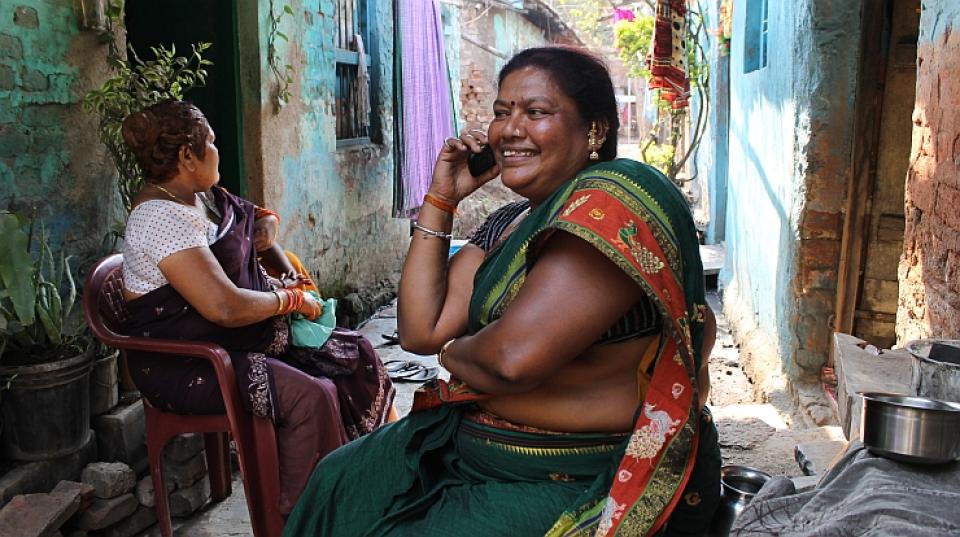 "I keep one mobile phone for the family and one for the clients," said Renuka Kale, a sex worker in her late twenties living in Sangli district in south Maharashtra and an activist with VAMP* (Veshya Anyay Mukti Parishad, also known as the Sex Workers' Collective Against Injustice). The two phones are a curious metaphor to the dual life she lives. To hide her identity as a street-based sex worker, she has told her family she does odd jobs or works as domestic help.
Renuka was among the 20-odd sex workers who had trickled in at the VAMP drop-in centre located in Miraj's shanty-lined red light district, 11 kilometres from Sangli city. Most of them were unlettered, and spoke Marathi or Kannada or both. They sat clutching their mobiles phones — rugged models of Nokia, inexpensive feature phones and touchscreen Android phones of Indian brands. Mobile phones, they said, have changed the nature of business.
Street-based sex workers such as Renuka manage all business over the phone. Clients arrange their visits after confirming the sex workers' availability via mobile phones. Sex workers communicate easily with outstation clients and their maalaks (literally meaning "masters", often regular customers who have graduated into lovers), without the fear of prying eyes. Being constantly connected also helps build client relations, so to speak. "When I go out of town, my clients call and ask, 'How long will you stay there? Come back'," beamed Bharati Kamble. They share their joys and sorrows with their lovers over the phone; the conversation isn't always about sex.
The mobile phone is what sex workers turn to in times of trouble. "When police raids happen on brothels we inform each other and quickly gather before the office of the Superintendent of Police to demand that our co-workers be freed," said Surekha Pawar, another sex worker. Meetings of HIV+ persons, procuring medication, visits to the dispensary, dealing with violent clients or lovers — sex workers organise and coordinate numerous activities of the organisation over the phone.
The mobile number is shared with caution, for it is a tradeoff between convenience and exposing themselves to harassment. Numbers are given only to regular customers and to those who pay well. "Men call and make fun of us, say obscene things, ask lewd questions about our bodies, cuss at us, and threaten to sexually harass or assault us. We return the gaalis and threaten to report them to the police. If it escalates, we switch off the phone for a day," said Maya who lives and works in the nearby brothels. Like most women, they often seek the help of a trusted male — a regular customer, a family member or the maalak — to deal with the harasser. There is also the fear of surveillance. Kiran Deshmukh, community coordinator with VAMP said, "My maalak committed a murder in 1995. Mobile phones weren't common then. Had I been in contact with him through a phone then, I'd have got embroiled into the ensuing legal investigations."
Most of the sex workers had received their mobile phone as a gift from their maalaks or clients, so that they could stay in touch and avoid the hassles of using a payphone. Some, like Surekha, bought used phones, often on a loan. Their lovers and clients also teach them how to use the phone. Because they cannot read or write, contacts in their phonebooks are listed as emoticons, single letters and special characters. Holding up her phone, Surekha showed a mugshot of Katrina Kaif stored with a phone number. Images such as photos of Bollywood actors are appended to contacts, so that they can identify the caller. Often a separate ringtone is set to distinguish the number of the maalak from that of others. Through audio and visual cues, they manage to perform tasks such as sending and receiving files through Bluetooth and MMS, taking photos, and playing music and games.
Those leading parallel lives outside the sex trade harbour two phones or dual-SIM phones to segregate their clandestine identities as sex workers. Those who openly practice sex work said they did not feel the need to separate their personal and professional lives. On the contrary, they saw keeping two phones or two SIM cards as a hassle.
Watch the video Sex work and mobile phones in YouTube
"Some clients ask, 'Memory dekhegi kya?' (Would you watch memory?)," said Kiran. "Memory" is code for pornographic videos stored in the memory cards of mobile phones. "I watch the videos, talk about them with the clients, but don't enact them." All the sex workers we spoke with said they would not perform what is shown to them in porn clips, even if it meant returning the money offered by the client. Enacting pornographic content is reserved for those who are special. "One doesn't feel like having that kind of sex with everyone. It can only happen with somebody one is fond of…," she added while making a gesture of an embrace. They also refuse to let clients shoot their photos, explicit or otherwise. "Sometimes my maalak, who lives in Bangalore, says he is missing me and asks me to send my photo. I send it via MMS. But I never share sexually explicit photos," said Renuka.
Expenditures on phone calls are restricted to family, co-workers and occasionally the lover. Maya said, "We spend Rs 200 to 300 a month on phone calls. We never call the clients; at the most we'll leave a missed call. Some clients and the maalak recharge [credit a sum to] our prepaid phones. Sometimes we ask clients to recharge the phone so that we can call the maalak."
Accessing and later adopting the technology into their lives has been a long, eventful journey. Using the mobile phone has involved a learning curve and overcoming fears that it might stop working or electrocute them. Meenakshi Kamble, a coordinator with VAMP, laughingly recalled how she once accidentally dropped her phone in mud, and dunked it in water to clean it. That was the last time the phone worked. The mobile phone for them is now a coveted amenity, a status symbol, a cynosure. "We want phones equipped with all the features even if we may not use some of them," said Meenakshi. "I don't know how to use a touchscreen but I know that owning a phone with one feels hi-fi [elite]," Renuka chipped in. "I used to get startled every time the mobile phone started ringing. Now I can use even a touchscreen phone well," smiled Bharati, her sequinned saree glittering in the afternoon sun. Unnoticed, in these marginalised pockets of Sangli, the mobile phone has narrowed the digital divide.
Footnotes
(*) VAMP is a collective started by SANGRAM, a grassroots organisation working towards addressing the high incidence of HIV/ AIDS in the region.