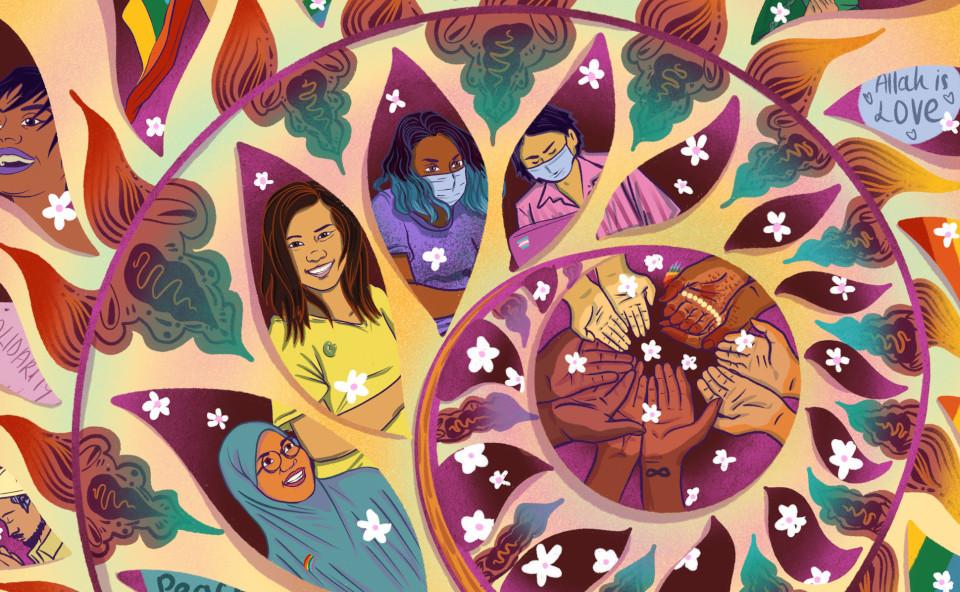 What if we could approach queer Muslim collective care as being part of a whole generation that doesn't want the next to feel they're starting on empty like we did? — Liy Yusof
The Signs in Ourselves is an illustrated publication that documents in depth lived experiences of 12 queer Muslims from Indonesia, Malaysia and Singapore, while also sharing snapshots of experiences from queer Muslims across the world.
Intended as a well-being resource and accessible workbook, the publication also includes questions for personal reflection and exercises for collective discussions, inviting readers to use this publication to explore their own stories with community, in workshops, and other spaces of organising and activism. Additionally, the publication shares references to scholarly frameworks that articulate the expansiveness and inclusivity of sacred texts and Islamic values, that require respect for all human beings, however diverse in their sexual orientations, gender identities and expressions, and sex characteristics.
While created as a resource primarily for queers of faith, this is also a text that will benefit allies and those seeking to expand their knowledge and awareness of queer Muslims' struggles and experiences.
Written and Compiled by: Liy Yusof
Illustration and Design: Dhiyanah Hassan
Published by: CSBR | Coalition for Sexual and Bodily Rights in Muslim Societies
Read the full review it csbronline.org
Download The Signs in Ourselves