Ari Vera Morales, mujer trans, originaria del puerto de Veracruz. En su andar profesional; comenzó a estudiar la licenciatura en Educación Especial con especialidad en problemas de aprendizaje, en la Escuela Normal Veracruzana Enrique C. Rebsamen, enfrentándose así a su primer obstáculo, ya que no se le permitió continuar. Sin rendirse, estudió la licenciatura en Mercadotecnia en la Universidad de Insurgentes en la Ciudad de México; posteriormente la maestría en Defensa y Promoción de los Derechos Humanos en la Universidad Autónoma de la Ciudad de México UACM. Cuenta con diversos cursos y diplomados, entre los que destacan: El diplomado en Marketing Político por la facultad de Ciencias Políticas, y el diplomado por el derecho a la No Discriminación por el instituto de investigaciones Jurídicas de la UNAM.
Su interés por el trabajo con poblaciones vulnerables nace a partir de algunas vivencias personales y cercanas, surgiendo así la asociación ALMAS CAUTIVAS, la cual trabaja a favor de la comunidad LGBTI privada de la libertad en los centros penitenciarios de la Ciudad de México y de la cual funge como presidenta. Es fundadora también de la Red Internacional "Corpora en Libertad"; agrupación de organizaciones LGBT en el mundo, dedicadas a la protección y defensa de las personas LGBT en reclusión Cosecretaria de la Asociación Internacional de Lesbianas, Gays, Bisexuales, Trans e Intersex para América Latina y el Caribe (ILGA LAC) e integrante de la Asamblea Consultiva del Consejo para Prevenir y Eliminar la Discriminación de la Ciudad de México (COPRED) Presidenta de la Federación Mexicana de Empresarios LGBT, la cual se especializa en crear espacios laborales libres de discriminación. Considera que un pensamiento que la define es: "Hasta en los lugares más sombríos como las cárceles, la dignidad, el respeto y el amor se deben garantizar siempre."
//
Ari Vera Morales is a trans woman born in Veracruz. She began studying for a degree in Special Education with a focus on learning problems, at the Escuela Normal Veracruzana Enrique C. Rebsamen. At this institution, she faced her first obstacle: she was not allowed to continue. However, she didn't give up; Ari studied Marketing at the Universidad de Insurgentes in Mexico City. She also obtained a Master's Degree in Defense and Promotion of Human Rights at the Autonomous University of Mexico City UACM.
She has a diploma in Political Marketing from the Faculty of Political Sciences and the Anti-Discrimination Rights Diploma from the UNAM Legal Research Institute.
Her interest in working with vulnerable populations was born from some personal experiences, which led her to become the CEO of the ALMAS CAUTIVAS association, which works in favor of the LGBTI community deprived of liberty in the penitentiary centers of Mexico City.
She is also the founder of the International Network "Corpora en Libertad"; a group of LGBT organizations in the world dedicated to the protection and defense of LGBT people in prison
She's also Co-secretary of the International Lesbian, Gay, Bisexual, Trans, and Intersex Association for Latin America and the Caribbean (ILGA LAC) and a member of the Consultative Assembly of the Council to Prevent and Eliminate Discrimination of Mexico City (COPRED)
She's currently the President of the Mexican Federation of LGBT Entrepreneurs, which specializes in creating workplaces free of discrimination.
She considers that a thought that defines her is: "Even in the darkest places like prisons, dignity, respect, and love must always be guaranteed."
Be a fan
Feminist talk
Ari Vera Morales, activista trans mexicana y miembra del consejo de ILGA Mundo, narra  los procesos de construcción de capacidades para facilitar la inclusión laboral y tecnológica de personas trans y género diversas en México, y cómo las compañías transnacionales han constituído alianzas para ofrecer caminos claros orientados a la autonomía financiera y educación en herramientas digitales.…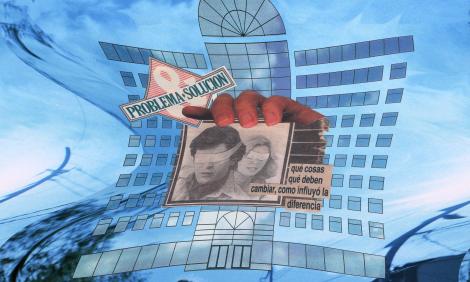 Feminist talk
Ari Vera Morales, Mexican trans activist and ILGA World board member, narrates the processes of capacity building which enable the labour and technological inclusion of trans and gender diverse people in Mexico, and how transnational companies have formed alliances to offer clear paths towards financial autonomy and education in digital tools.