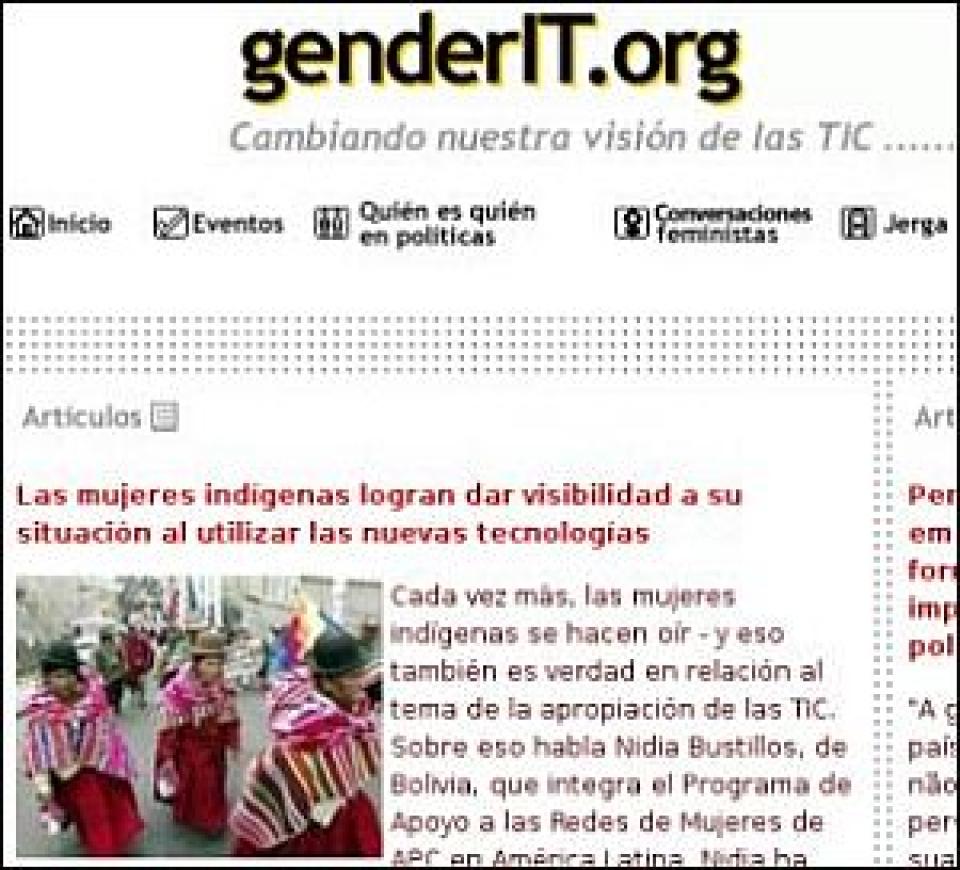 Like it's English-language sister-site, www.genderit.org/esp pools resources regarding ICT policy from key areas of interest to women, such as violence against women, economic empowerment, decision-making and education. It features articles, resources, policy analysis, interviews, events and a who's who in the gender and ICT field.
Special sections, including one for policy makers and another one for newcomers to the policy terrain, help spell out the gender and ICT perspective that is prime material for activists and decision makers.
"The GenderIT.org Spanish site is one of the few references in this language on the internet specifically addressing the issue of women and ICT policies. This is quite a pioneer initiative, a space for women and women's organisations from Spanish-speaking countries to highlight their expertise and experiences in the field of gender and ICTs," comments Graciela Selaimen, long-time Brazilian ICT advocate and editor of the new Spanish version.
"This is one way to make sure as many women as possible make use of GenderIT.org," added an enthusiastic Katerina Fialova, GenderIT.org coordinator. "The site tries to show the connections between ICT policy and women's rights through unpacking ICT policy implications around issues that womens' movements have been engaging with for years, such as health, violence against women or women's poverty."
Interviews with activists in ICT policy have been a special highlight of the English version. "We give space to the voices of diverse gender and ICT advocates, from different regions and contexts. Women new to ICT policy have also shared their stories - how and why they got involved with ICT policy, and to speak about critical gender and ICT issues in their localities," comments Fialova.
Latina voices have been a key component in GenderIT.org in English. Examples include the popular coverage of the World Summit on the Information Society, and a special edition on women's involvement with free and open source software (FOSS). With GenderIT.org/esp, Latina perspectives can be read in their original languages.
The Spanish version of GenderIT.org is APC WNSP's response to the dominance of English in cyberspace affecting women's access to information, and their communication rights. It is pointless to have access to information and infrastructure when most of the content alienates the user through language.

It is not only about making content available for women in the Spanish and Portuguese-speaking regions of the world. The Spanish GenderIT.org also addresses the different priorities and issues for women in these regions, and makes sure that their perspectives and needs are not absent in global and regional ICT policy spaces.
---
FOR MORE INFORMATION

GenderIT.org en español: http://www.genderit.org/esp.
ABOUT THE APC WNSP

The Association for Progressive Communications Women's Networking Support Programme (APC WNSP) supports women networking for social change and women's empowerment through the use of ICTs. The APC WNSP network comprises over 150 women from 38 countries. Over three-quarters of members are active in regional WNSP networks in Africa, Asia, Central and Eastern Europe and Latin America. The APC WNSP is a programme of the Association for Progressive Communications (APC).

APC WNSP: http://www.apcwomen.org
ABOUT THE APC

The Association for Progressive Communications (APC) is an international network of civil society organisations dedicated to empowering and supporting groups and individuals working for peace, human rights, development and protection of the environment, through the strategic use of information and communication technologies (ICTs), including the Internet.

APC: http://www.apc.org

CONTACT

Graciela Selaimen, Spanish GenderIT.org Site Editor

Katerina Fialova, GenderIT.org Project Manager

genderit@apcwomen.org