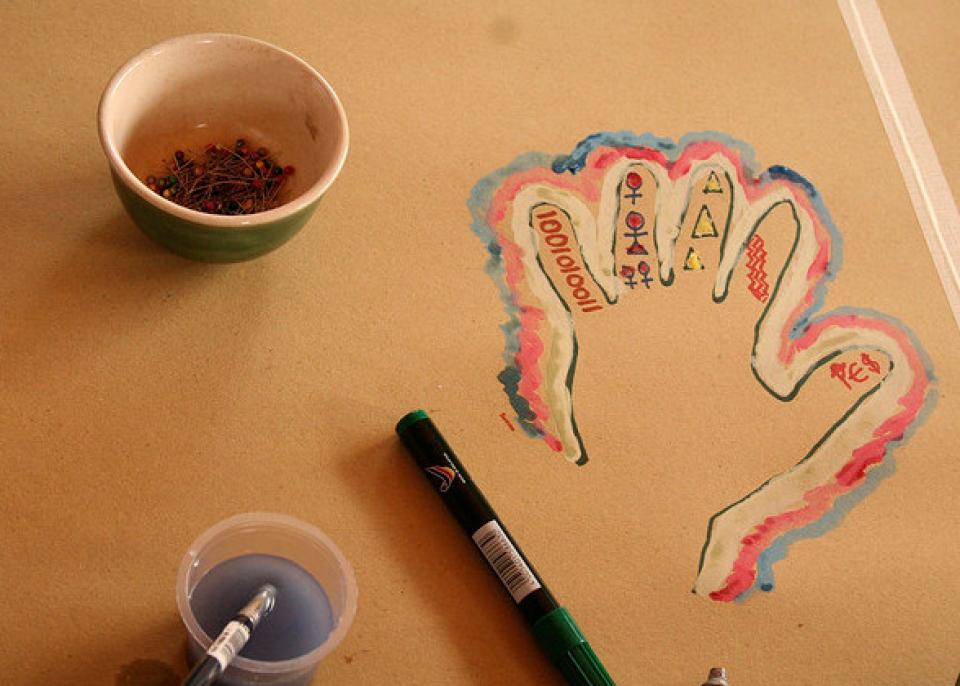 Women's human rights defenders all over the world are taking advantage of the power of ICTs, using them to leverage their advocacy and build capacity. Perhaps most important, these women are using new technologies to extend their networks and foster community, combating the isolation experienced by many women and women's rights defenders.
More and more, women everywhere are exercising their right to freedom of association through ICTs.
As we well know, these can be incredibly powerful tools, but they come with their own inherent risks. Many women activists are using mobile phones and social networking sites to defend women´s rights, without knowing the potential dangers they expose themselves to.
For many, surveillance is a real concern. Women who speak out, access restricted content, or report domestic abuse and government corruption can face serious consequences if they are identified. Thus, the ability to use ICTs securely and safely is essential.
We interviewed several women's human rights defenders who use ICTs in their work.
L.M., who works with young survivors of trafficking in the Philippines, talked about how ICT tools are used by traffickers and her exasperation with the lack of legal mechanisms in place to protect young women.
Ritu, a member of the Digital Empowerment Foundation (DEF) works out of New Delhi. The DEF has a number of initiatives, including the establishment of "digital panchayats" -- centres set up in partnership with local NGOs where rural Indian citizens can connect with one another and coordinate their advocacy efforts. These panchayats also provide a forum for digital storytelling, whereby women use laptops to record their stories and make their voices heard. This kind of storytelling is essential for reaching policy-makers, since many rural women are illiterate. Beyond these, the DEF also has programs to train women entrepreneurs in how to use the internet and e-commerce.
Tina works for the Asia Pacific Forum on Women, Law and Development (APWLD). Her organisation is the largest network of feminists' organisations in Asia, with 185 members in 25 countries. Tina shared how nearly all their member organisations have an online presence, and expressed concerns about recent trends toward increased government surveillance.
These women were all attending a workshop on secure online communications. What they shared was enlightening. Speaking from their own experience, they dispelled some of the common myths surrounding the internet and ICTs.
While they understood that ICTs carried some inherent risks, they realized that they had not undertaken the necessary precautions in order to minimize the danger to themselves and to the women they work with. For these women, the skills and tools taught in the workshop proved invaluable.
Myths about the internet and ICTs
The internet is neutral.
This is not so. Women are overwhelmingly the victim of cyberstalking and harassment online. For example the Working to Halt Online Abuse, the US based organisation, reports women accounts for roughly 73% of cyberstalking cases. For many, the threat of slander is a powerful tool for coercion: scorned lovers will use social networking and dating sites to post intimate pictures or lies about their partners. Women can wake up to find their reputations ruined over night, and they have very little recourse.
ICTs are routinely used to exert control over women. Many men use internet search histories and phone records to keep tabs on their partners and children. Mobile phones are often shared among family members, so their use is not private or secure.
ICTs are empowering.
Not necessarily. Just as women's human rights defenders use ICTs for advocacy and networking, these same tools are used by those who would intend harm. As L.M. mentions: human traffickers often coordinate the movement of sex slaves in the Philippines via web sites. For instance, when a new ship arrives in port, traffickers will find this information online and then arrange to move more women to that city in order to meet the increased demand.
Web sites are also used to promote sexual tourism, especially with minors. In the Philippines and elsewhere, the internet is the primary means through which foreigners research and arrange sexual liaisons with children.
The internet is safe and anonymous.
This is something that most women take for granted, but it isn't necessarily true. States, social networking platforms and internet service providers all over the world are increasingly monitoring internet users' activities. Internet users routinely give away their information without considering (or even being aware of) the potential consequences. The widespread use of social networking sites like Facebook leaves many people more vulnerable than they realize.
Law enforcement and legislation
All three women's rights defenders widely agreed that much of the laws protecting women online are ineffective, unhelpful or even counterproductive.
Some countries, like Fiji, have extremely restrictive laws governing the internet. This affects both what women can access and what they can publish. Such restrictive measures can severely dampen the research and advocacy work of human rights organisations. According to Tina, it has become such a problem that the APWLD is considering hosting their Fiji members' websites outside of the country.
Similarly, in Sri Lanka, Tamil groups are under constant scrutiny by the government. Tamil users are limited in their ability to access information or connect electronically for fear of government surveillance. Not only does this heavy monitoring lead to self-censorship, it is also a violation of their right to privacy and freedom of association.
L.M. expressed her personal frustration with the police in the Philippines. There, law enforcement agencies are slow to act on women's complaints, being generally unwilling or incapable of responding effectively. If a woman faces harassment or gets slandered on a social networking site, the police are reluctant to get involved. There is often little they can do beyond e-mailing web site administrators. When arrests are made, the cases tend to drag on indefinitely with very few actual convictions.
New Approaches
We asked all three women: "How has this training changed your behaviour? What will you do differently now that you are more aware of the risks involved in using ICTs?"
L.M. talked about she, as a woman, has to be more cautious online. So many women in the Philippines are using social networking sites like Facebook, but they don't necessarily understand the risks they are taking. Information they post online about their whereabouts and activities can put them in danger unnecessarily.
Ritu was surprised with herself. Being well-versed in the use of computers -- she had trained as an engineer and can write code -- she knew about some of the security provisions taught in the workshop, but had never thought to implement them. For instance, she routinely gives out her mobile phone number everywhere, without considering the consequences, which is not safe. She has vowed to be much more careful in the future.
According to Ritu, rural women in particular are actually very paranoid about their security. One of the principle complaint mechanisms in India is based online; which could have consequences if local government officers discover who has reported them. As a result, the Digital Empowerment Foundation never shares the original digital stories outside the organisation, in order to protect the anonymity (and the security) of the storyteller.
Ritu intends to share what she learned about secure online communications with her colleagues and clients -- especially to teach them secure browsing. She also plans to implement this teaching as part of the women entrepreneur training, since many of these women are concerned about the security of their websites.
Tina outlined the dilemma. Women often face isolation if they don't have ICTs to connect with, however, women can risk violence through the unsecured use of these tools. The solution: teach women how to communicate safely.
The biggest realization for Tina was that, while she herself may not be at risk, many of the women she works with are, and so she must be careful with her communications, if not for her own safety, then for theirs. Many of her colleagues live and work in countries where surveillance and monitoring are commonplace, and the consequences of careless forwarding can be severe.
Likewise, she realized the importance of addressing ICT policy in and of itself. Rather than merely considering the internet in relation to other women's issues, she now understands that there is value in contending with ICTs in their own right.
*****
"Hand mapping" photo by APC WNSP. The hand mapping exercise was used during a series of digital storytelling workshops organized by the APC WNSP for women's rights activists across the world. The exercise allows them to explore hands as representations of safety or fear and helps them map the links between security and technology.
This article was written as a part of APC's "Connect your rights: Internet rights are human rights" campaign financed by the Swedish International Development Cooperation Agency (Sida)