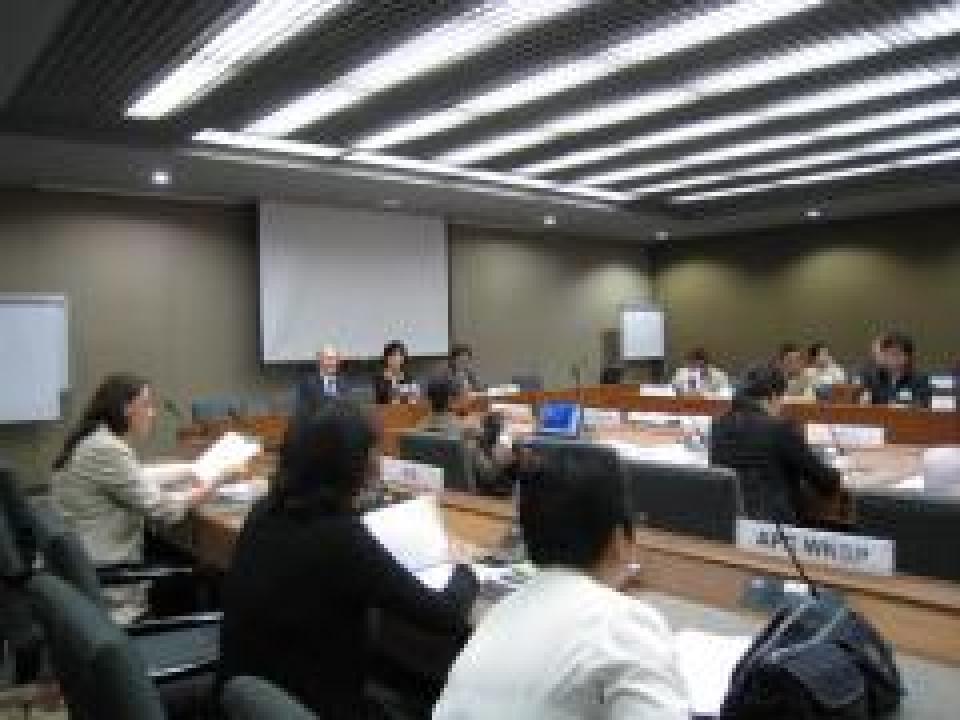 One year after attending the Beijing+15 review by the Economic and Social Commission for Asia and the Pacific (ESCAP), I was back at the United Nations Conference Centre in Bangkok.
APC WNSP was invited as an NGO expert to participate in the "Workshop on Strengthening National Capacities to Collect Violence Against Women Statistics in the Asia-Pacific Region" held on 20-21 September 2010. With the online and offline collaboration and support of the entire APC WNSP staff who have been with the Programme longer than I have, I came to the workshop representing APC WNSP.
We were invited to make a presentation under "Agenda item 4: Knowledge communities" which is aimed at creating "a knowledge community and website/electronic workspace for information sharing and collaboration on violence against women statistics and related VAW information." The community is one of the main objectives of the project, and indeed, we were invited to talk about takebackthetech.net as APC WNSP's platform for VAW activists and Take Back the Tech (TBTT) campaigners during the 16 days of activism against violence against women. I gave them snapshots of what the website contains – resources, daily actions, localised campaigns – and in the short time allowed for me, I covered ftx.apcwomen.org and genderit.org.
Anyway, it was not necessarily for that that I am writing this blog. I needed to write more than the original intentions for our participation. Reality is, I have been involved in all of the Agenda items set for the workshop. I had more need to write the anecdotes I have shared at the workshop, which in the UN are formally called statements or interventions, which pretty much capture my participation at the recent workshop.
Official data only as good as governments' understanding of VAW
"I learned the importance of working with the statistical community at this workshop. As an NGO, we have been working on gaining an audience from the government in our policy advocacy work. I have seen that the production of official statistics, being the basis for policy formulations, is very crucial in our work, because as it is, the survey questionnaires in collecting VAW have yet to include the many incidences of VAW including those happening online and electronically. Without such, our official data on VAW and any national survey output leave us wanting for more, precisely because they are only as good as the governments' understanding of Violence Against Women."
I said this at the last hour of the Workshop on Strengthening National Capacities to Collect Violence against Women Statistics in the Asia Pacific Region. At the last hour, everyone was given one minute to speak at the Tour de table on lessons learned at the workshop.
"I learned that in discussions of violence against women, that we should not forget the electronic nature of it as presented by our colleague from APC WNSP. We easily overlook it but it is very, very important," said Henrica AFM Jansen, the UN Consultant of the workshop and a project on improving VAW statistics in the ESCAP region.
The workshop participants echoed similar learnings. The workshop is part of inter-regional efforts to develop indicators to measure violence against women. The result of regional consultations will feed into the UN Statistical Commission's finalization of international indicators on VAW. The Commission was tasked by the General Assembly in 2006 "to develop and propose a set of possible indicators on violence against women in order to assist States in assessing the scope, prevalence and incidence of violence against women." In 2007, the Commission had set out "to undertake the work on identifying statistical indicators on violence against women."
For this year, such effort will serve part of UN Secretary General Ban Ki-Moon's UNiTE to end Violence Against Women that will be highlighted on 25 November, the International Day of Ending Violence Against Women and the start of the Take Back the Tech campaign of APC WNSP's 16 days of Activism Against Violence Against Women.
Indicators on VAW
"I note that we use 'violence against women' and 'domestic violence' interchangeably. Measuring VAW covers as wide a range as the Section D of the Beijing Platform for Action. The Platform expounded on the wide range in which violence against women occurs, and that includes the home, the workplace, in conflict and post-conflict situations, among others. Suffice to say that when we develop indicators covering domestic violence, they are not indicators of the larger scope of violence against women. They are 'merely' indicators of domestic violence.
"Be that as it may, even violence in intimate relationships and/or domestic violence cover a wider range than is currently appreciated. Many women have been put in abusive and dis-empowering situations by their intimate partners, whether by uploading intimate videos or distributing compromising images online, via mobile phone or the internet or both, to debase the woman and these had real effects on the woman offline. By all means, these comprise violence by an intimate partner and it would be best to reflect them in the ongoing formulations of indicators, as we reflect on the usefulness of the indicators in these highly digital times," I said on the first day of the workshop.
The proposed set of indicators on VAW covers three areas: physical violence, sexual violence, and both physical and sexual violence. These areas however measure only domestic violence or those committed by a woman's intimate partner. Physical violence measurement being explored ranges from a partner slapping, pushing, kicking, choking, and using a weapon against a woman. Sexual violence is measured in terms of a forced sexual intercourse or sexually degrading and humiliating acts against a woman. Each act of abuse is classified as whether falling within the past 12 months only or during a woman's lifetime.
Moderate or Severe?
The survey module being developed to measure the above builds on tested instruments, such as the WHO Multi-country Study on Women's Health and Domestic Violence against Women, which also includes other areas: controlling behaviour by partner, economic abuse and emotional violence. In all of the questionnaires, each area is classified as either moderate or severe, depending on the answers ticked. For physical violence, for example, slapping, pushing or pulling a woman's hair by the partner would be considered "moderate". Hitting with a fist, kicking, choking, threatened with a gun, among others would be considered "severe".
"I am very curious about the classification of violence as whether it is moderate or severe. From a health perspective, being a WHO instrument, it probably makes sense to gauge it as such. But from a rights-based perspective, violence against women IS violence against women. We at APC WNSP do not classify violence against women according to the severity or moderateness of acts, especially since we take the issue of "harm" as not always necessarily physical or face-to-face in nature. Violence against women also takes place in electronic and digital spaces and such abuse may be perpetrated through actions-from-a-distance. And we are aware that this is already happening in many contexts and countries and much is already being done against this through our Take Back the Tech! To End Violence Against Women Project.
My question relates to the policy implications of such classifications of violence against women. What if it was found that these are "only moderate" in nature, so much so that instead of building women's health institutions, governments can just go for clinics? Or just supply band-aid, or provide alcohol instead? Because it is not too great harm caused to women?"
I stopped because everyone laughed. Then continued.
"I may sound like trivializing violence against women, but seriously, what are we getting at when we seek the level of moderateness or severity of violence? What is the continuation of this survey, is it not policy or policies on violence against women? Isn't an act of violence enough for a holistic and rights-based approach to violence against women?"
Everyone agreed.
Additional Indicators
"It is with great interest to see that 'stalking' is considered as an additional indicator for VAW and we're willing to contribute to its development and work together to this end. This is precisely what we mean by the commitment of violence against women through an action-from-a-distance. Technology has made this even more possible. However, women can also be protected through its strategic use. At this point, it must clear that we get a better sense first of how such violence occurs nationally by incorporating these in national surveys, so we can formulate policies appropriate to our times."
Besides the cited indicators on physical and sexual violence by an intimate partner, called as the"core set of VAW indicators", additional statistical indicators for VAW surveys are still being developed. These are in the areas of:
• economic violence (in settings such as the work environment)

• early marriage, or early union

• forced marriages, irrespective of the age of the bride

• experience of abuse during childhood

• trafficking of women
Indicators that require further work, according to ESCAP Statistics Division's Sharita Serrao, are the following:
• femicide and spousal homicide

• stalking

• recognizing violence as crime
---

*This article was originally written for APC WNSP site: www.apcwomen.org . To view the original article please go to http://www.apcwomen.org/en/blog-entry/collecting-data-%E2%80%9Cdigital%E...
Footnotes
Sources:
Sharita Serrao, Overview of United Nations Initiatives on Violence Against Women Statistics and Indicators. A Powerpoint Presentation at the "Workshop on Strengthening National Capacities to Collect Violence Against Women Statistics in the Asia-Pacific Region" held on 20-21 September 2010. Bangkok.
Henrica AFM (Henriette) Jansen, Core set of VAW indicators: Short module questionnaire to measure these. A Powerpoint Presentation at the "Workshop on Strengthening National Capacities to Collect Violence Against Women Statistics in the Asia-Pacific Region" held on 20-21 September 2010. Bangkok.
Knowledge Community and Website/Electronic Workspace on Violence Against Women Statistics (preparations for Agenda Item 4).SDD/GES/VAW 2010. A Briefing Note at the "Workshop on Strengthening National Capacities to Collect Violence Against Women Statistics in the Asia-Pacific Region" held on 20-21 September 2010. Bangkok.
Al Alegre, Security, Safety, Privacy and ICTs: An Orientation. A powerpoint presentation at the "Feminist Tech Exchange: Training on Secure Online Communications" by Foundation for Media Alternatives and APC WNSP on 1-3 September 2010, Manila.
Beijing Platform for Action