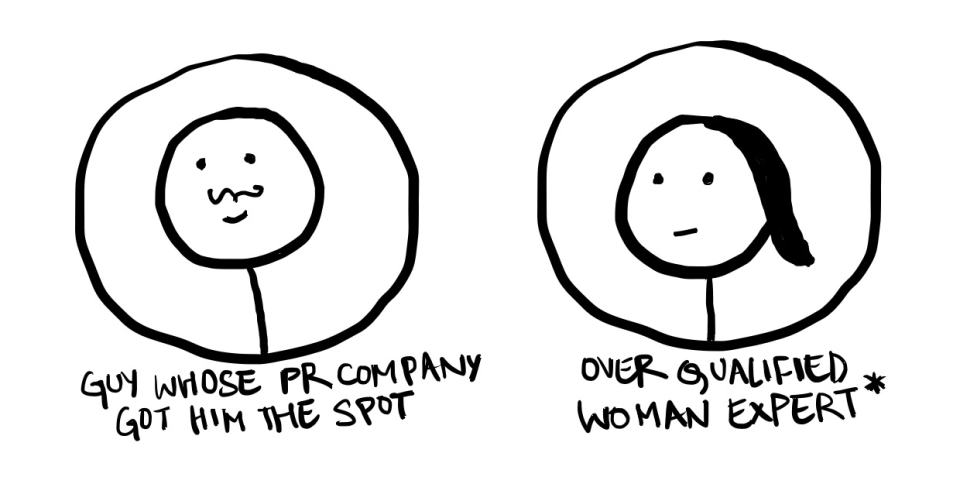 The participation of women in panels in conferences related to technology and science is often very low, and reduced to a tokenistic gesture. And many times women are relegated to panels where issues relevant to gender are discussed as if these are not relevant to men.
Sanitary Panels does a humourous take on manels and makes a standard poster for one such manel. In case you don't know a manel is a male panel, or a panel with largely or only male speakers on a topic on which many qualified women experts are there. Around 2015 this tumblr account created a buzz around the use of the term manel and crowdsourced documentation and photographs of such manels in various sessions and conferences.
In the space of internet policy and governance, APC has done consistent documentation of gender representation since 2011 called Gender Report Cards which you can read about here.
Image description
Poster title (top left): Register NOW to attend a manel on an issue in which plenty of women experts exist.
Profile 1 (man's face inside a round circle): Famous average male speaker
Profile 2 (bespectacled man's face): White man who's vaguely connected to the topic
Profile 3 (man's face smiling): Social media influencer
Profile 4 (man with thin moustache): Guy whose PR company got him this spot
Profile 5 (woman with slight smile, short hair): Over qualified woman expert*
* who will be interrupted pointlessly and on multiple occasions
DATE: Everyday
TIME: All the time
VENUE: At your nearest conference centre