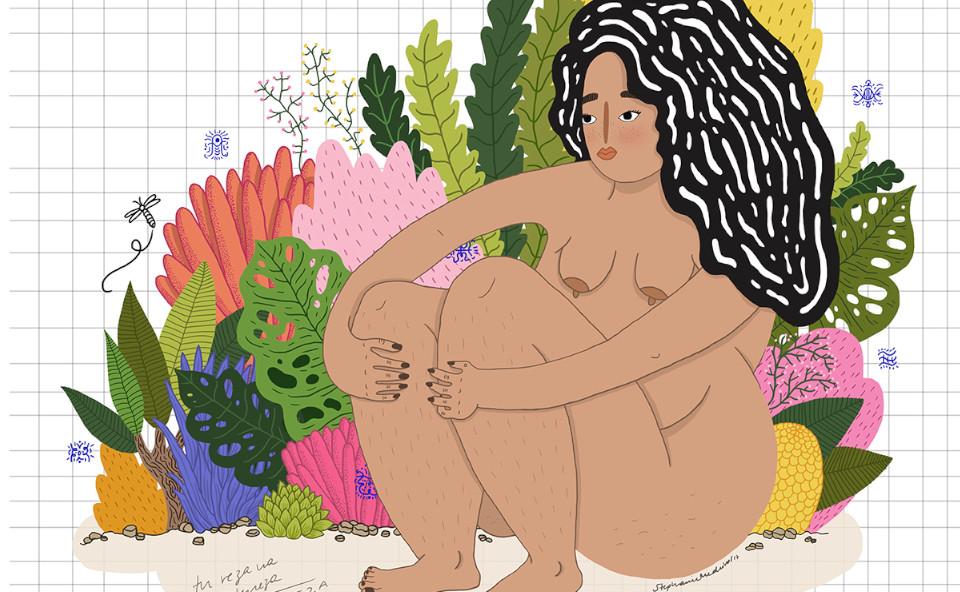 As the end dates of lockdown continue to be ever more elusive, no one truly knows when we will be in polite company again. The tweets are getting sadder and the "I can't stand my household" statuses more prolific. Reaching out and maintaining relationships can be difficult at the moment but simply because we are in the midst of a pandemic does not mean that you now have to become a social recluse. Staying connected in fun and engaging ways, that do not include that suspicious looking "news bulletin" sent by an aunty in the family WhatsApp group, can truly help with one's mental health. Much as there is the risk of the online space breeding great amounts of anxiety, this can also be a time to form different types of human connection, find out more about innovative ways to get off and take a look at your love lives.
Here is how.
Join dating apps: The dating game has never been easy, navigating sexual relationships has always been a minefield and self-isolation and lockdown have not made it any easier to make a connection. The age of social distancing is a perfect time for folks to engage in the world of digital dating. Do not think you're the only lonely heart on there, according to data by Statista the online dating audience is expected to grow to 37.5 million users in the United States alone by 2023. The prospect of finding love has become so nuanced that one can find love according to gender, race, sexuality, kinks and fetishes and even your love of bacon. The online space is now waking folks up to the possibility of a new way of dating. Having all the time in the world coupled with very little commitment means that this is the perfect time to try an array of dating apps. However corona does not mean that everyone is now a good person so staying safe, especially for queer folx in high risk areas, is a big part of swimming in these murky waters. Alternatively if dating apps are not your thing your traditional social media apps like Instagram, Twitter and Facebook are also spaces to find love.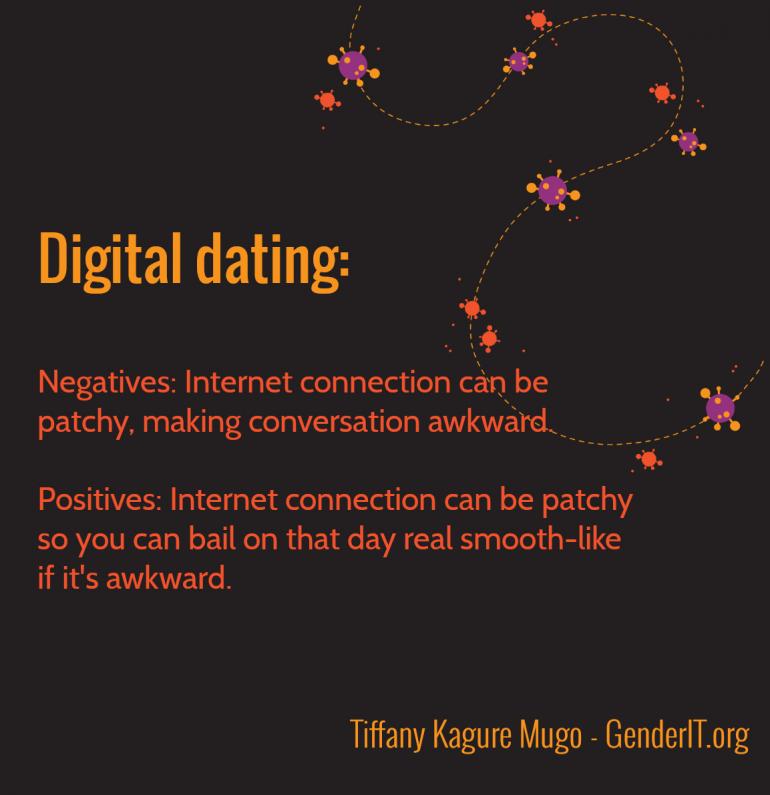 Take your dates digital: Digital dating is a way of keeping the single blues at bay, because making awkward small talk over coffee is now a no go. It is not quite the same but at this point it is better than nothing, one simply needs to take all those zoom happy hours and transform them into one on ones.
Negatives: internet connection can be patchy making conversation awkward.
Positives: internet connection can be patchy so you can bail on that day real smooth-like if it's awkward.
There are also fun ways to play with the background on some communication apps and you can pick the music and not rely on the resident DJ who seems to not know what his sound is. You can serve the bar snacks you want and you can be sure that the wine glasses are clean. Digitally dating also means that you can go on multiple dates with people around the world and not have to put on deodorant once. It's a fun way to connect (digital security issues aside) and also cheaper than going on multiple dates with people you might end up not chatting to later anyway.
Watch feminist porn: The down time gives a person time to really expand their porn collection. Time pressures and life pressures often mean that our consumption of porn is quick and easy as we gravitate towards (problematic) spaces such as Porn Hub. Now is a good time to unpack one's sexual fantasies and explore healthier more sex positive options (whilst also supporting sex positive sex work).
Now is a good time to unpack one's sexual fantasies and explore healthier more sex positive options (whilst also supporting sex positive sex work).
Get (sex -) educated online: Queer and POC sex educators are beginning to increasingly take their offerings online, opening up doors to folks who wouldn't normally have engaged with their wisdom. Instagram faves such as SexWithAshley, TheSpreadPodcast and Glamazon Tyomi create pop up classes and sessions that add to the much needed sexual knowledge in the world, which you have a whole bunch of time to consume. There is also sex positive content that is specifically created around and about this COVID such as Erika Lusts Sex In A Time Of Lock Down.
Send nudes and sext: This is the most brilliant time to keep things spicy (and safe), because physical touch is a no no. Although it is a great way for established couples to keep things going it is also a fun (somewhat risky) way for new couples who meet on dating apps and other online platforms. Sending a nude is not only a great way to connect with your partner(s) but also a great way to get in touch with your body and feel good about yourself during a time when everything feels claustrophobic and sticky.
Taking it further many folks are currently setting up Only.Fans page (a platform which is said to have revolutionized sex work) and monetizing their sex positive, self love whilst also sending a message about bodily autonomy and ownership. Page admins do everything from dance, to squat in leggings to reading poetry in an erotica manner.
Obviously staying safe is a huge part of this as the Non-consensual Dissemination of Intimate Images (NCII) is a deep dark part of this whole back and forth. Although this can happen to anyone a disproportionate number of victims (90%) are women and it can cause psychological, economic as well as social harm to the victim e.g. depression, cyber harassed or getting fired. Tragically the onus is on the creator of the nude to be safe so it is best to keep such tips as "no face in the photo".
Obviously staying safe is a huge part of this as the Non-consensual Dissemination of Intimate Images (NCII) is a deep dark part of this whole back and forth.
Also before you send a nude remember sexting etiquette:
Ask for consent before you send.

Figure out your angles.

Wipe the mirror down to minimise those weird splodges.

Clean your room.

Keep them off the cloud.

Moisturise.
This time can be one wracked with loneliness and can be a difficult one to navigate. Feelings of horniness and wanting to call your ex might actually stem from a deep seated feeling of insecurity that is rife during this time. Exploring ways in which the online space can help with horniness, loneliness and a need for connection has never been more important.