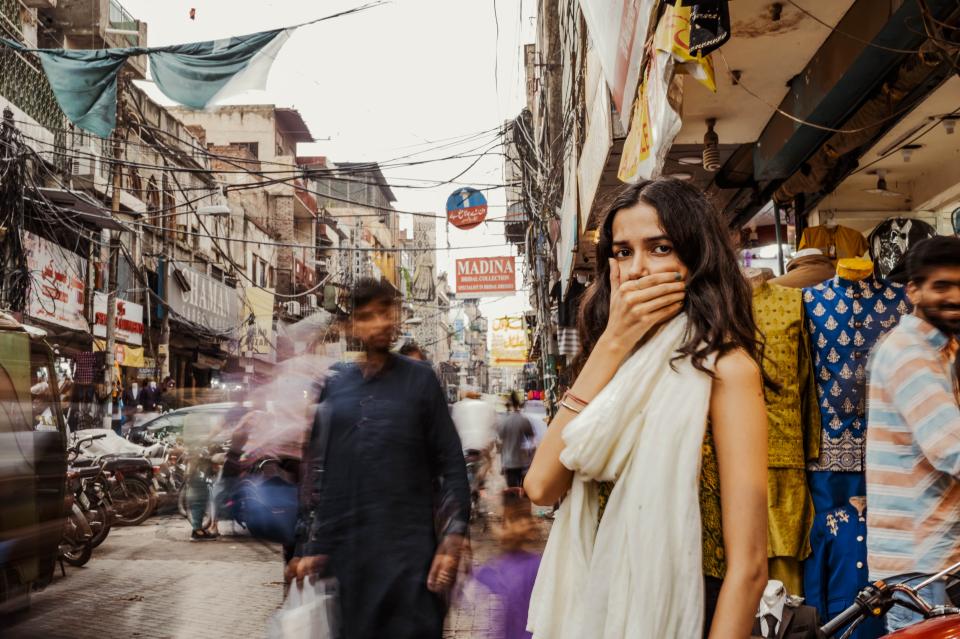 It is as simple as it is complicated: safeguarding digital rights and freedom of expression for women and gender minorities are more sabotaged than ever before in today's Pakistan.
There is a long and sordid history of employing censorship of cultural products during military regimes or times of political instability in order to protect the 'Pakistan ideology' which, to the vast majority, is fundamentally rooted in the majoritarian interpretation of religion. To other state institutions, this ideology is the loose and vague definitions of national security and protection of sovereignty – definitions which should ideally be flexible to mould and use as circumstances require, is paramount to the idea of being Pakistani. Films, music and art along with political speech have been subjected to this ideology-based censorship. For example, the recent Barbie movie was called off the cinemas in the country because the government deemed it against the Islamic principles. In addition, in 2020 the Punjab government released a list of as many as 100 textbooks that were banned in the province for containing anti-Islam or anti-Pakistan content. Art exhibitions and artworks have also been routinely shut down and removed for allegedly challenging the status-quo or for hurting religious sentiments. Along with this, stifling of dissenting voices such as political opponents, activists, journalists and minority groups who challenge dominant and mainstream majoritarian narratives, has been rampant in Pakistan practically from the get go.
In today's digital world, where access and control of information is the true capital, social media platforms have empowered Pakistani citizens, especially women, to have a voice, and to express political dissent. But the phenomenon of having a voice is rather new to the average Pakistani. In lieu of citizens exercising their constitutional right to freedom of expression, state actors are tightening the noose around civil liberties unlike ever before. It would therefore be remiss to not consider that certain recently-introduced media-related legislation in the country amidst political polarisation, fiscal exploitation and civil-military tensions could not only further endanger Pakistan's chances at social cohesion and stability, but also affect development of advocacy and activism – especially for women, gender minorities and oppressed groups such as transgenders, who exist on the very margins of the country's social structure and routinely face the brunt of these tensions more severely than others.
No Protection for the Oppressed
Evidently in Pakistan, there is no such thing as 'over-legislation' when it comes to the internet and cybercrime laws. The country already has a law, Prevention of Electronic Crimes Act (PECA), that was passed in 2016 to supposedly curb cybercrime and protect people on the internet which has received rightful criticism from civil society and the technology sector for its rights-restricting nature. Despite this, in July 2023, a new, rather secretive E-Safety Bill was given principle approval by the then-governing Federal Cabinet. The non-public discussion draft that civil society gained access to through sources within the media fraternity, says that the primary purpose of the bill is "to protect the fundamental rights of the users of Social Network Platforms" in general, and "prevent deceptive and unfair acts or practices and to monitor Social Network Platforms accordingly." According to the lawmakers, the E-Safety Bill aims to prevent crimes such as online harassment, cyberbullying, blackmailing, and to protect women on the internet. However, experiences of dealing with implementation of PECA teach us otherwise.
Most of what is taken off TikTok for being obscene is just women or queer communities expressing their sexuality.
Dr. Mehrub Moiz Awan, a transgender rights activist and queer content creator, told me, "If this Bill is truly being enforced to protect digital rights of internet users, it should unequivocally, categorically, keep the most vulnerable and sensitive minority groups at the heart of its provisions; specifically, women, transgenders and the queer community." Given Mehrub's identity as a trans woman and her views on social media against oppression, she is constantly targeted with hateful commentary from people who may disagree with her beliefs or opinion. To this end, she has attempted to file online harassment cases under PECA with the Federal Investigations Agency (FIA) twice, but till date the Agency, without citing their reasons, had not begun any investigations on her request. 
Referring to the 13-member E-Safety Authority to be constituted under the proposed E-Safety Bill, Mehrub says, "You can't claim that [the] safety of users is your primary goal and then constitute a 13-member committee with just one woman, or one representative of the trans community." Laws like this that mandate token representation of marginalised communities rarely ever intend to protect these communities, and most often than not only serve the interests of the policymakers and majority oppressors.
Mehrub also says, "[Gender minorities] must make up the majority of representative committees once the bill comes into effect."
Shmyla Khan, the Director of Research at a digital rights organisation in Pakistan, Digital Rights Foundation (DRF), says she does not believe this new bill is supposed to make online spaces safer for women or marginalised groups. "The bill [says] that it is prohibited to incite violence against any individual on the basis of caste, ethnicity, religion, or gender, but this is too wide an umbrella to believe that this will be the primary focus of the bill. I think it's clear that most of it has to do with restricting speech."
Women and Trans Content Creators and Gender Politics
Pakistan has a history of censoring femme bodies in the name of obscenity, an example of which can be seen in the way short-video platform TikTok has been banned four times in the country on the same grounds. It was only unblocked after the social media platform struck a deal with the government ensuring Tiktok will take down any content that the authorities deem 'inappropriate'. Sabah Bano Malik, an outspoken radio-jockey and content creator, has been a victim of this vague censorship and says that TikTok took down one of her fashion videos in which she was wearing fitness attire, on grounds of 'exhibiting sexual material'. "I would have walked in front of my father wearing that," she says, implying that there was nothing objectionable in the clothing she wore. "I have no idea what kind of arrangement TikTok has with local authorities regarding what constitutes as sexual," Sabah added. Shmyla of DRF also said, "Most of what is taken off TikTok for being obscene is just women or queer communities expressing their sexuality."
The arbitrary takedown of content and penalties not only force women and gender minorities to self-censor online, they also restrict the variety and quality of content they produce. It then limits diversity of voices and opinions on the internet by restricting half of the population's engagement on the internet along with stifling innovation in the Pakistani online community.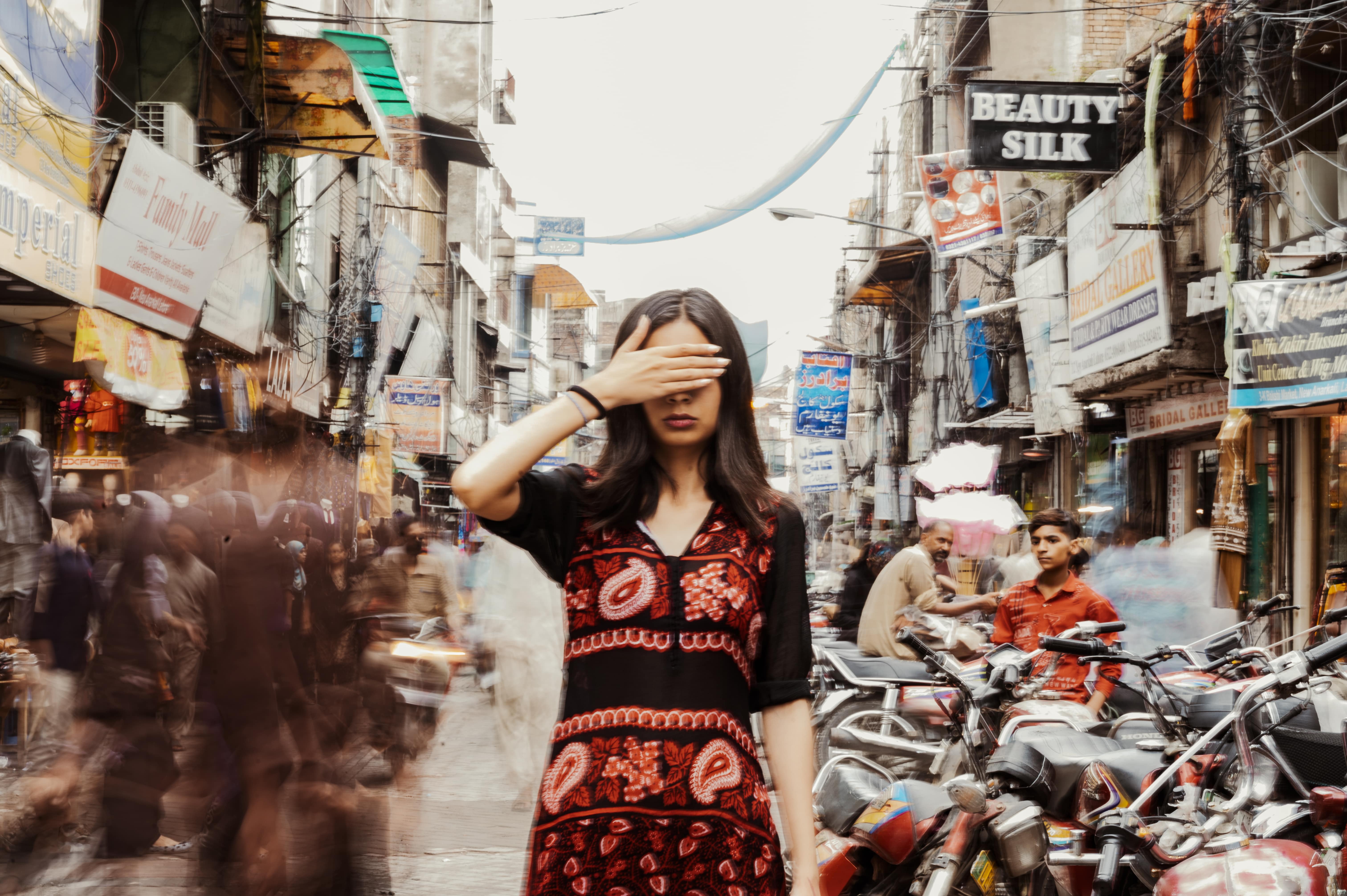 Photo by Moaz Bhangu for GenderIT
Where state and corporate censorship have been limiting factors, gender-based violence is another aspect that promotes this censorship amongst content creators. Shumaila Bhatti, an alias used by Dr. Mehrub Moiz Awan for a short video series she started a few years ago, turned out to be a catalyst of queer content in Pakistan. Mehrub would put a Snapchat filter of a deer on her face to channel the character of a middle-class Punjabi girl named Shumaila Bhatti, and would talk about social issues with a tone of sarcasm, like toxic wedding culture, marital abuse, and others through her videos which also became Mehrub's claim to fame at the time. This paved the way for several members of the trans community to launch similar, unique formats of content streams. But over time, due to increasing hate, abuse and backlash, most of them stopped creating content, and the space for any form of counter-culture from minority groups continued to diminish more and more. In such cases, while censorship remains a major concern, what is an even greater loss is the creative value and potential for growth of innovative content that we are missing out on. 
Sabah believes that her privilege means it is her duty as a content creator to use the platforms at her disposal to raise her voice and create avenues for progressive socio-political dialogue, especially for vulnerable groups. But despite this privilege of having a voice and a platform to share it on, she still feels unsafe while doing it. 
Talha Ahad, the founder of a popular digital news platform and YouTube channel, The Centrum Media, expressed grave reservations at the restrictive nature of the E-Safety Bill and its implications on women content creators. He says, "For half the population, that is the female population or gender minorities, any modicum of 'independence' or uplift through content creation seems to become impossible by looking at the bill."
Sabah also does not believe that the E-Safety Bill will make anyone feel safe, especially not those who are constantly targeted with vile hate campaigns, including women and trans folks. She says, "In the last year or so, mirroring what is happening in conservative Western Politics, we have somehow ludicrously turned our tiniest gender minority, the trans community, into public enemy number one in online spaces. The arguments made online against the trans community, and the vocabulary used, is telling of the fact that they [hate-mongers] want to incite fear. Because if you challenge them, they're going to start calling you anti-state, anti-religion, anti-Pakistan, anti-this and that. And then all of a sudden, your life is in danger." All of the interviewees for this story believed that we do not need new laws to counter this deeply embedded rot, rather better implementation of existing laws is what is required.
Shmyla of DRF adds, "I am yet to see any sort of action taken by PTA or FIA against the online abuse [faced by] the trans community over the past year. One more law which is so similar to previous laws [like PECA] is not going to change that."
The backlash that women who actively engage in conversations [online] receive serves as a chilling reminder that it could also be directed towards me, and this realisation sometimes takes centre stage, casting a shadow over open discourse.
Women content creators like Sabah or minority rights' activists like Dr. Mehrub stand to face a host of increasing insurmountable challenges, including steeper bureaucratic processes such as the bill's proposed mandatory registrations for any and all social media platforms, as well as diminishing freedom to challenge mainstream narratives of gender. Digital platforms are used by women and other oppressed groups to promote social change and contest prevailing patriarchal gender narratives. In the name of preventing online harm, the E-Safety Authority gives itself the way to target feminists, gender activists, and members of underrepresented gender groups who work to subvert traditional stereotypes. Maryam Saeed, a PhD student of Digital Society and Economy, says, "Discussions about women's rights, LGBTQIA+ problems, and other delicate subjects could unintentionally be censored due to the subjectivity of what constitutes 'harmful' or 'offensive'."
Maryam adds, "The backlash that women who actively engage in conversations [online] receive serves as a chilling reminder that it could also be directed towards me, and this realisation sometimes takes centre stage, casting a shadow over open discourse."
The existing cybercrime law that criminalises online gender-based violence in Pakistan is believed to be one of the most progressive laws on paper, however its effective implementation has been a challenge that victims and survivors of violence have routinely faced. Much like the E-Safety Bill, the law was passed with an aim to "protect daughters of the nation," but it has done very little to extend this protection to women or gender minorities; rather, it has been constantly weaponised against them by perpetrators of violence, and also against dissidents and their freedom of expression. It is imperative to understand that when new laws are introduced instead of strengthening existing laws, it is more often than not, intended to widen the ambit of the government's control over civil liberties. Add secrecy and lack of public consultation in drafting these laws, and we have a perfect example of a draconian law, such as the E-Safety Bill in Pakistan.