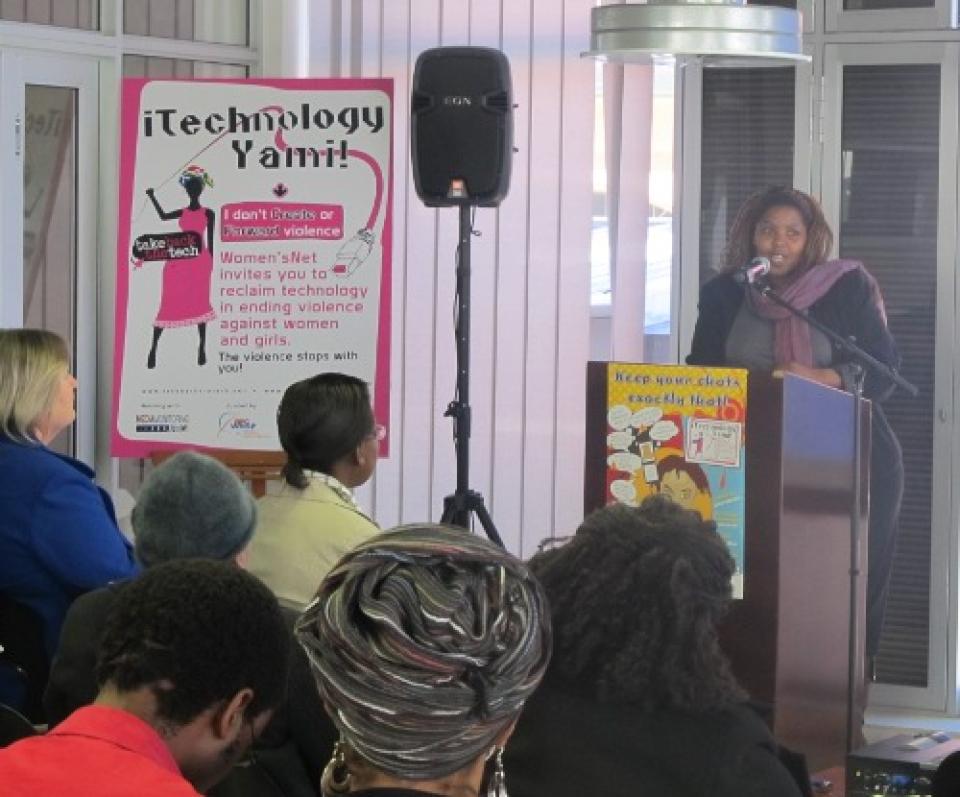 On 17 August, Women's Net hosted a public seminar in partnership with Media Monitoring Africa titled: "When Technology Hurts: How Technology is changing Experiences of Violence". Women'sNet has been doing work in South Africa looking at the role that technology play in women's rights and gender equality; and has observed in the past years a growing trend where technology is implicated in acts of violence, especially in perpetrating violence against women.
The seminar was aimed at getting different stakeholders to draw on opportunities where they have used technology in the fight against gender-based violence as a start point to challenge the problem. The participants were invited to comment and discuss issues faced by women with regards to technology. Five panellists started the discussion:: Anne Shongwe, Director of Afroes, Nhlanhla Mokoena, executive director of POWA, William Bird of Media Monitoring Africa, and Kate Skinner of the Right to Know (R2K) Campaign. Participants in attendance and those who were not able to attend were invited to join the tweet-up commenting and reporting on the event using the hash tag #TechVAW. The #TechVAW topic was a Twitter trend in the Johannesburg area by the end of the seminar, making it one of the most popular issues of the day on the social network.

A main concern raised by participants, online and offline, was the education of learners against gender based violence(GBV) through technology. Some participants called for better education campaigns in schools since users of social media platforms, where cyber-bullying often occurs through the distribution of videos and pictures are mostly used by young users. Anne Shongwe presented the Moraba Game, a UN Women game distributed on mobile phones where young people are challenged to identify what GBV is and to take action against it.
Another issue identified both by Kate Skinner and William Bird was the coverage of mainstream media of Gender Based Violence issues. Bird, commenting on a recent story that broke in the Sowetan about a correctional officer and a police woman having sex: "Without technology, video of two officers would never have ended up online. There is interchange between media and technology". Skinner urged women's rights organisations to become content producers in the digital broadcasting era.
Finally Nhlanhla Mokoena brought the reflexion on the uses of technology for and against VAW. In a practical note she reported that many cases of cyber-stalking, where mobile phones are used to track women's whereabouts and intimidate them, are causing growing concerns. Mokoena encouraged women to archive mobile messages to use as evidence when reporting violence to police. She also emphasised that it was important that women be present in ICT spaces so that their voices be heard.
Throughout the discussions and debates that where raised in the seminar, participants agreed that the response to violence against women through technology should be education, not restrictions or censorship.
Lebo Marishane, Women'sNet co-director asked a very critical question in her closing remarks. She asked "where are women in ICTs?" She urged that we constantly be innovating, but also get involved in the politics of ICTs. Delegates took a personal pledge saying "I don't create or forward violence" a key message from the seminar that will be carried as a campaign with multiple stakeholder going forward.
Interesting questions or comments from Twitter users
africamedia_CPJ 9:00am via Twuffer

@genderlinks report on #VAW #journalists (http://j.mp/jwvakK) might enrich #TechVAW discussion #women
r2kcampaign Aug 17, 6:21pm via Twitter for BlackBerry®

RT @thandismith: How do people without internet/PC access get info to be involved in various campaigns eg @r2kcampaign #techVAW
jehan_ara Aug 17, 3:51pm via TweetDeck

RT @jen_ct: response to #TechVAW should be education not restriction censorship Take Back the Tech! #TBTT http://t.co/mXybU8c
nighatdad Aug 17, 1:33pm via HootSuite

RT @Cergori: Q: if victim of unauth. distribution of images wants stop redistrib. & seek justice where she can turn to? which laws can be used?
BruceRelates Aug 17, 1:16pm via web

RT @MediaMattersZA: RT @MizLadyJacki Can #TechVAW awareness not be rolled out in schools, since youth are widely exposed to social media?
GenderITorg Aug 17, 12:52pm via HootSuite

but who holds accountable us/users? RT @gendermattersza: Bird: ICT allows public hold media&authorities accountable #TechVAW #genderit
SOS_ZA Aug 17, 12:41pm via Twitter for BlackBerry®

Women's Net workshop: we need to support campaigns such as R2K and SOS. We will be putting out a statement of resolutions. #TechVAW
Cergori Aug 17, 12:31pm via HootSuite

What security measures POWA use to protect safety of their clients, especially those reporting violations via email #genderit #TechVAW
GenderMattersZA Aug 17, 12:13pm via web

RT @jen_ct #TechVAW what strategies to get online safety/gender equality into school curricula and teacher training prgms?
mobisoul Aug 17, 12:07pm via Snaptu

Until such a time that man are at the forefront & champion gender issues,change wil remain a struggle #techvaw @gendermattersZA
jen_ct Aug 17, 11:36am via TweetDeck

#TechVAW can we come up with a statement or recommendations out of this very valuable seminar? particularly policy responses?
katzav Aug 17, 11:00am via HootSuite

RT @womensnetsa: Following IDEX grantee Women's Net in South Africa on seminar: How Tech is changing experiences of violence #TechVAW.
Photo by Women's Net
Lerato Legoabe is the co-director of Women'sNet. , Women'sNet is the member of APC, and the South Africa partner of the MDG3 Fund: Take Back The Tech project coordinated by APC Women. Lerato lives in Johannesburg.