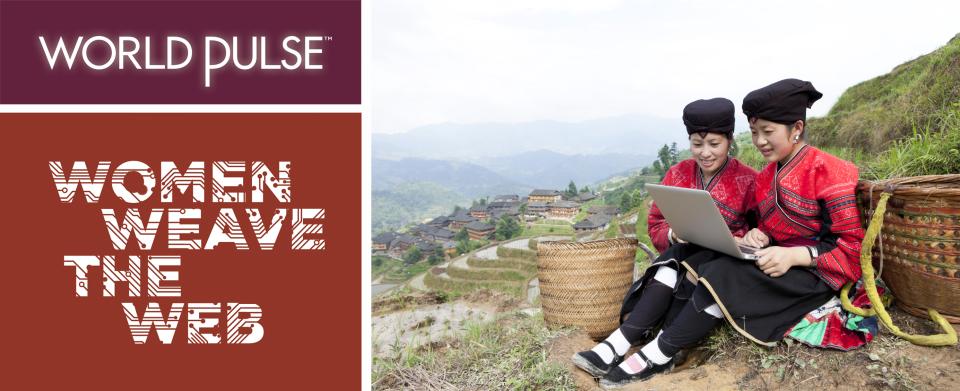 Want to learn more about the Women Weave the Web Campaign? You've come to the right place! Take a look at this page to get answers to all of the questions you may have about Wold Pulse's Digital Action Campaign. If you are looking for more general information on our Campaigns, please see our What is a Campaign? page.
Why participate?
By participating, you will be joining a global community of women speaking out on the importance of digital inclusion and empowerment for women. Your voice will be delivered to powerful decision makers such as government officials, leaders in the technology industry, and policy makers at international organizations. In addition to influencing global agendas, your submission to the campaign will open the door to incredible opportunities such as:


Being selected to represent World Pulse at influential international forums. This is your chance to meet key players and make your voice count!


Connecting and building relationships with grassroots women leaders around the world. Be part of a community of thousands of women speaking out on this issue!


Exploring and sharing resources for your work on our Campaign Resources page. Find support for your initiatives from funding to volunteers and supporters!


Getting your voice heard on a global scale! World Pulse will analyze and collate your stories to deliver recommendations to influencers and decision makers on a global scale.


Getting visibility and support for your work. Your story could be feature on our site, included in an e-magazine, or even published by well-known media outlets!


Winning incredible prizes to empower you and your work


.
Who can participate?
Anyone and everyone interested in supporting women's empowered access to the Internet is welcome to participate! Register for, or Log In to your "Online Community": account and follow the instructions on our How to Participate page to learn how to submit to the Campaign.
What are the campaign phases? When can I submit to each phase?
The WWW: Women Weave the Web Campaign will have three phases, which follow the journey of women connecting online:


Phase 1: Digital Access – addressing both the barriers that women face in getting and participating online, and how grassroots women leaders around the world are generating solutions to connect to the web.


Phase 2: Digital Literacy – prompting testimonies and ideas about the tools, resources, and training that women need to espouse the Internet and truly take advantage of its benefits.


Phase 3: Digital Empowerment – crowdsourcing the wisdom of grassroots women leaders on how the Internet can support groundbreaking initiatives to generate positive change for communities all over the world.


The first phase, Digital Access, is currently open for submissions! Throughout 2014, World Pulse will post blogs and send information via email to update you as we roll out the upcoming phases of our campaign; stay tuned!
Where can I learn more about the prizes?
World Pulse, in conjunction with our partners, will be offering some incredible prizes to campaign participants! To find more information on the prizes and eligibility requirements, take a look at our Prizes page. All prize applications require you to participate in each phase of the campaign; go to our How to Participate page to submit your story now!
Download the file below to know more about the campaign and to read and share the social media suggested posts