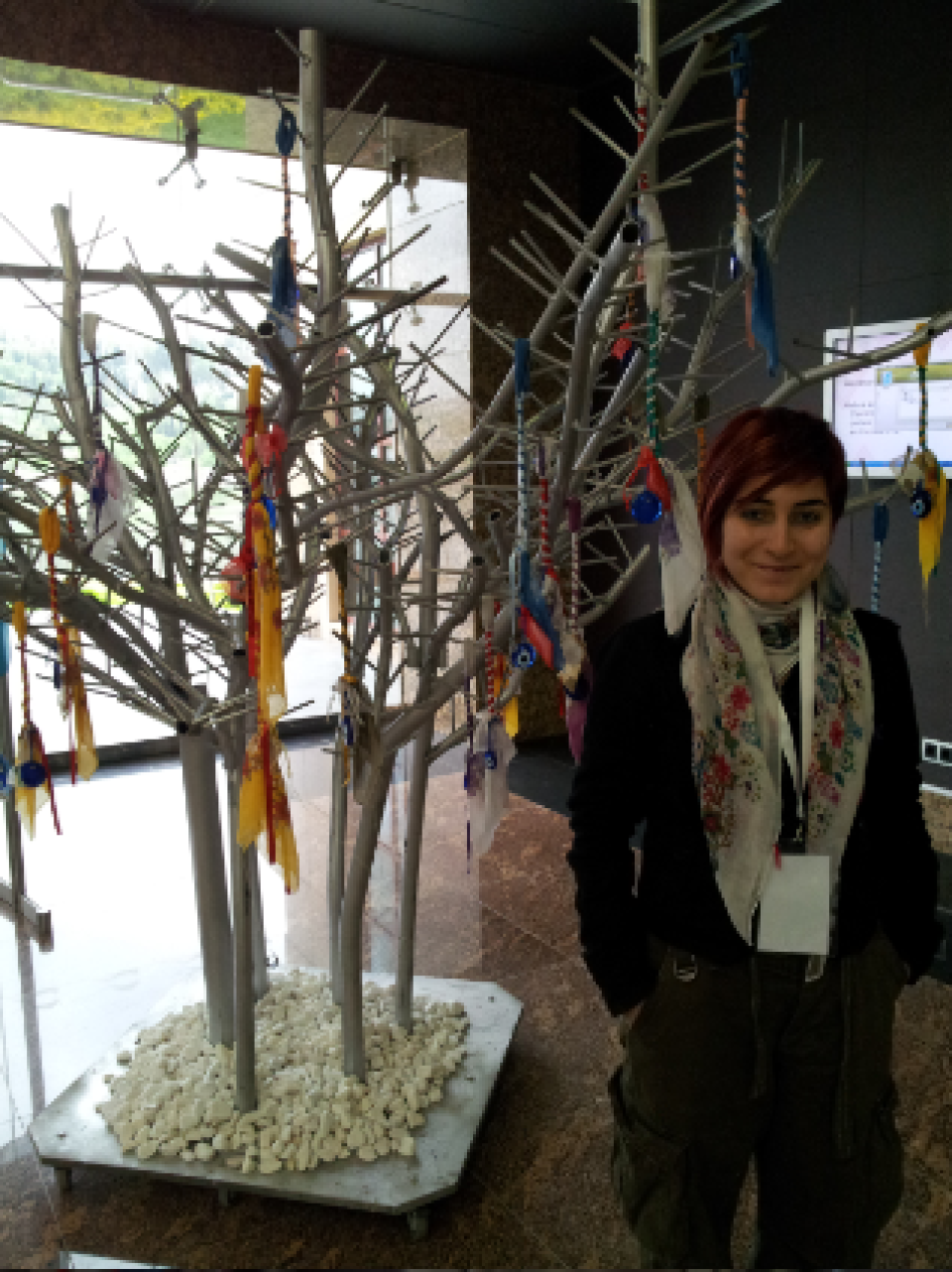 A graceful tree glimmering with scarves and blue beads to ward off the evil eye greeted us every day during the 12th AWID Forum: Nazar Degemesin – "May the evil eye not touch her".
Every morning participants could share their message and hang the bead, scarf and satchel (and coin if they had one) for another participant to find at the end of the day. I brought my well-wish home and opened it with my daughter back in Mexico, what a surprise to see it was from a participant from Spain, in Spanish!
This visionary sculpture by artist and welder Ece Budak of Turkey enchanted and inspired me, and it's beauty and simplicity wove together so many ideas flitting through the Forum – about collective action, unexpected community, the gift economy, sharing and building safety and well-being among feminist activists, el "buen vivir".
I so appreciated AWID's bringing art to the forum – with this sculpture, the thoughtful exhibit of cherished women human rights defenders who are no longer with us, and graffiti too. Not to mention the exceptional creativity and eye for beauty that participants shared in their exhibits! Just as I also appreciate that AWID put economics front and center at this Forum, no skirting the issue when national economies are collapsing left and right and our planet is about to implode.
I struggled through but enjoyed the "economics" plenary – AWID called it their "Aha!" plenary (I wouldn't go that far). I loved the trashing of indicators models, and questioning how we have come to the extreme moment of monetising and commmodifying everything – from the (poor) air we breathe to "happiness". In the APC women's programme we are clear about how the commodification of our private data is a major money-maker most are blind to. I recognise the vital work of so many feminist economists examining the value – in the capitalist scheme of things – of billions of hours of unpaid labor in reproduction, education and care. Such research and framing have helped get across important concepts such as the "cost of violence against women" for those governments-policy makers-people who for some reason are not convinced that violence against women must be addressed.
Had a hallways conversation with the ever-provocative Dr. Wanjiru Kamau-Rutenberg, founder and executive director of Kenya's Akili Dada talking about the way funders themselves push women's rights advocates and organisations down the indicators and commodification path. Some of the most vital networking, communicating, and day-to-day survival of organisations can't get support – those hours invested in "reproduction, care, education" in our own community spaces – because quantitative value cannot be assigned.
Sessions about labor and deepening thinking about the economy were ones I would have most liked to attend if I hadn't been all about secure online communication with the internet, and privacy and pleasure online . For example I'm curious about gift economies and their feasibility, especially from a feminist perspective. The free and open source software and copyleft (and creative commons, too) licensing models are very interconnected with gift economy philosophy. And there are interesting initiatives to crowdsource funds and gift time thanks to social networking, tho I am more familiar with western models. (Had the privilege of talking with SPARK folks and their gifting enthusiasm is indeed contagious).
I didn't have a chance to go to any session that talked about "Buen Vivir" or "Good Living" but when you talk about it with anyone, you walk away hopeful. We can and should be angry and criticise the scarcity, violence, competition and war imposed upon us by capitalism, but in such outcry there is rarely room for hope.
Which is why I loved this tree. The artist built it from industrial waste and the AWID community adorned it with feminist vision. Budak sees it as a "continuum of good wishes":
"Our collective action will unearth change. We don't have to accept things as they are. We can restructure the economy in a more equitable and just manner and create alternate modes of trade and economy. The tree enacts a cycle – it is bare, then blooms, and the fruits are picked by women. Nazar Degmesin underlines this cycle within the nature of everything. Through participating in Nazar Degmesin, i want women attending the forum to recollect this gathering and the promise they made to enact change."
You walk away hopeful, and committed to making change happen.