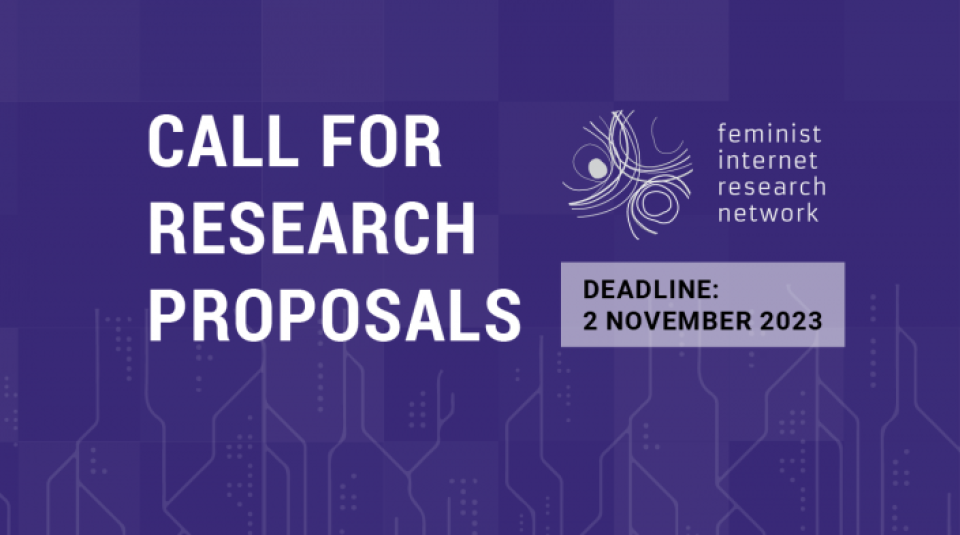 The Association for Progressive Communications Women's Rights Programme (APC WRP) invites you/your organisation to submit a research proposal as part of the Feminist Internet Research Network (FIRN). In this project cycle, FIRN is supported by the International Development Research Centre (IDRC), which aims to undertake data-driven feminist research on critical and emerging issues related to technology-facilitated gender-based violence (TFGBV).
Background
The FIRN project understands that the making of a feminist internet is critical to bring about transformation in gendered structures of power that exist online and on-ground. The objective is to ensure that the needs of women and gender-diverse and queer people are taken into account in internet policy discussions and decision making. This is to be achieved through the setting up of a feminist internet research network where members can undertake data-driven research that provides substantial evidence to drive change in policy and law and in discourse around internet rights. The network will also be a space to facilitate exchange of learning and capacity building among the network members and practitioners in the field more broadly, including affected communities and activists, researchers, academics and tech developers, especially those who engage with issues on digital technology and human rights.
Since 2018, FIRN has continued to engage with and respond to several gaps in the field of gender and ICT research. These gaps include: the lack of global South perspectives as well as integration of feminist scholarship in ICT-related research; the need to engage in context-specific analysis that considers intersectionality as well as power dynamics and structures; and the need to engage key actors from women's rights, sexual rights and feminist advocates and activists in policy advocacy and reform. The network has been advocating for innovative feminist methodologies around the ecosystem and landscape of digitally networked technologies that impact and intersect on different dimensions of human life – including ethics, reflexivity, position, methodology, process and outcome of research and the politics of knowledge.
Research questions
A feminist understanding of violence against women and people of diverse gender expressions and sexualities (namely LGBTQIA+ persons) aims to understand the multi-layered complexities of technology-facilitated gender-based violence (TFGBV) and online gender-based violence (OGBV), and reveal the embedded structures of hierarchical, patriarchal and gendered power. This widespread challenge of online violence is evident, particularly in the post-COVID era, in the anti-gender backlash in public and legal discourse, targeted attacks on women in public roles, gendered disinformation, intimate partners using technology for invasion of privacy and violence, and technology-facilitated war and conflicts. This third phase of FIRN, supported by IDRC, will explore and deep-dive into TFGBV and contribute to bridging the feminist knowledge gap that exists in this field.
The overarching research questions are :
1) How does TFGBV/OGBV profoundly shape the experience of women and LGBTQIA+ people and how does it limit their access to human rights, expression, pleasure and play on the internet? How pervasive is this phenomenon that affects access to human rights for more than half the population in the world?
2) How does TFGBV/OGBV take place in varied contexts across the world, and what forms does it take depending on regional and contextual differences, race, caste, ethnicity, class and diverse identities of women and LGBTQIA+ people?
3) What policy reform can and should be made by state actors in relation to TFGBV/OGBV and what are the potential/actual impacts of proposed technological solutions towards ending TFGBV/OGBV?
What are the problems and issues (legal, cultural, social, technological, etc.) that arise at the level of implementation of legal and policy reforms that attempt to address TFGBV/OGVB (while making a complaint, investigation by police, the judiciary, etc.)?
What are the emerging areas of concern, such as the growing power of multinational tech giants and companies vis-a-vis international entities, national governments and institutions; design and exclusions embedded in technological infrastructure; the changing nature of social media platforms; extended reality (augmented, virtual), the role of artificial intelligence as tools to abet or counter TFGBV; and so on?  
Through intersectional and feminist analysis, this project is intended to provide evidence-based interpretation of the continuum, overlap and differences between violence faced by women and LGBTQIA+ groups on-ground and what takes place online as well, and the pervasive gaps in legal and psychosocial responses. The network, which has now been in existence for five years, is a  space to facilitate exchange of learnings and capacity building among the network members and others, through the main activities that include annual convenings of research, participation in key events around TFGBV/OGBV and internet rights, and engagement with a wider community of policy actors and practitioners, through dissemination of research findings in short-form materials such as policy briefs, guidelines and visuals, and in peer-reviewed academic journals.
Additional resources
For more information on the key issues that FIRN has been engaging with and research reports, please refer to the FIRN website and the latest edition of GenderIT.org.
For a deeper understanding of a feminist internet, please refer to the Feminist Principles of the Internet (FPIs) that were collectively crafted by feminists and activists located in the global South.
Please refer to this appendix for a more detailed outline of the areas identified for research projects focused on TFGBV/OGBV. Please note that applications are not limited to the specific questions outlined above. We recognise and value your knowledge and experience in the field, and welcome research questions and projects that go beyond the identified research questions within the thematic area.
Call for submissions process
The call for submission of research proposals is an open call to individuals and/or organisations with experience or prioritised interest in engaging with feminist research in the field. Priority will be given to researchers and/or organisations based in the global South.
For the purposes of transparency and accountability, the criteria for the selection of individuals/organisations invited to submit proposals are:
Established experience in feminist and/or internet rights research in the field that integrates gender with an emerging interest/commitment to feminist research.
Individuals/organisations committed to regional thematic priority with an intention to show the intersections between regional and global dynamics in the sector.
Work with communities where research or knowledge on the area of gender, feminism and the internet is currently lacking.
The research period is from February 2024 to August 2025, including data collection, analysis, writing, participation in events, and implementation of communications and advocacy strategies. The research budget is between USD 30,000 and USD 40,000 per project, which includes all costs related to the research for its entire duration.
Eligibility
We will accept applications from individuals and organisations in the global South. You can also apply as a research team. All applications should identify a lead researcher and host institution. Any type of legal entity, including universities, research centres and civil society organisations can host the lead researcher. The lead researcher does not necessarily need to be working at the host institution at the time when the proposal is submitted. However, a mutual agreement and the host institution's commitment on how the relationship will be established are necessary to be included as part of the brief.
Representatives from the research teams are expected to participate in at least three research-related workshops. The first workshop will be held by the end of January 2024.
The deadline for applications is 2 November 2023. For any questions about the application process, please email: firn@apcwomen.org (with the subject line "Query on research brief 2023").
Applications should include
* Please use this application template to prepare your responses in advance and ensure that you have included all the information needed before entering the online application platform.
1. Concept note for the proposed research (not more than five pages), including:
Thematic area
Brief context/rationale
Main research question/objective and proposed methodology. Please indicate the feminist theoretical framework and methodology that are proposed for the implementation of the research project, including data collection and analysis.
Community of engagement. Please locate your/your organisation's positionality in relation to the prioritised community.
Ethical considerations.
Proposed research outputs and ways of engagement with findings (please also include priority stakeholders).
Research team members.
Proposed budget.
2. Curriculum vitae of lead researcher and research team members with relevant experience and skills, including previous research projects and related networks they are affiliated or connected with.
3. Letter of interest (profiling area of work that has been done with civil society as a policy advocate, researcher, activist, etc. by the organisation/individual)
4. Most recent/most relevant research undertaken in relation to gender and technology. Please include a URL linking to the study or an attachment if it has not been published online.
NOTE: Please note that applications will only be accepted through the online portal, which can be accessed here. For the budget, please use the template provided at this link.
Selection process and criteria
FIRN aims to support the implementation of eight to 10 research projects to be completed within 18 months. Selection will be made in consultation with a group of peer network advisors made up of six individuals who have different experience, knowledge and expertise in the field, based on the following criteria:
Relevance to the thematic priority and project aims, in particular, to meet knowledge gaps.
Integration of feminist research methodology and theory. We welcome innovative approaches in this respect, particularly on feminist digital research methodology and theory.
Integration of a feminist and intersectional approach.
Potential impact on and contribution to the realisation of a feminist internet and policy advocacy from the specific area of the research.
Feasibility.
Regional, thematic and methodological balance.
Expected key deadlines until February 2024
2 November 2023: Submission of research brief
15 December 2023: Announcement of eight to 10 research subgrants
First half of Feb 2024: First inception meetings online or face-to-face combined with submission of first draft of research proposal by the selected research partners (exact dates to be confirmed)
Mid-March 2024: Submission of final research proposal
End March 2024: Start of the supported research projects
About APC WRP
The Association for Progressive Communications Women's Rights Programme (APC WRP) collectively works with actors who are primarily feminist activists or organisations working in different capacities on digital rights, sexual rights and/or women's rights. Some of our ongoing initiatives are the Feminist Principles of the Internet (FPIs), Take Back the Tech! (TBTT), Exploratory Research on Sexuality and the Internet (EROTICS), Feminist Tech eXchange (FTX) and GenderIT.org. These diverse but intersecting feminist initiatives collectively create a kind of a "home" for a shared political language and framework of analysis to engage and unpack emerging issues in an increasingly digitally interconnected landscape for transformative justice.
APC intervenes on a broad range of rights, from civil and political rights to economic, social and cultural rights, as they relate to information and communications technologies (ICTs). APC WRP integrates a feminist analysis and women's and sexual rights perspective to this work. We address these issues from a global South viewpoint through a range of interrelated core strategies: knowledge building and research, capacity building, policy advocacy and movement building.
We work with individuals, organisations and networks engaged in women's rights, sexual rights and internet rights issues, to bridge the gap between the work of different movements, and to centre the perspectives and priorities of feminist and women's movements. Most importantly, we prioritise collaborative work that is led by actors in the global South. We believe that contextualised and impactful feminist work produces knowledge that is grounded in and amplifies the lived experiences of diverse women and trans, gender non-conforming and queer persons. This in itself is an important rupturing of power dynamics in the field of digital rights, as well as in movement organising as a whole. The FIRN project forms a critical component of our current knowledge-building strategy.
Thank you!
We thank you hugely for your consideration, and should you accept the invitation, for your labour involved in the submission process. We greatly value your work, and hope that some level of engagement with the FIRN project will be possible regardless of the outcome.