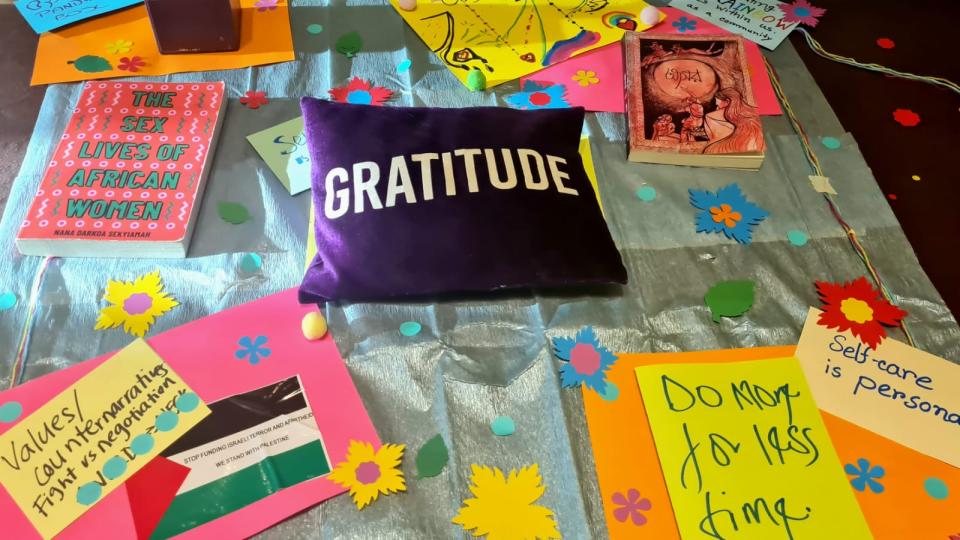 Every year, governments, corporations, civil society, academics and technical experts come together from around the world to convene the Internet Governance Forum (IGF) and discuss the public policy issues related to the internet as we know it today, and how its future should look like. The annual IGF is organised by the United Nations (UN) in agreement with the host country's government to convene the gathering. In its 17th year in 2022, the IGF will take place from November 28 till December 2, 2022 in Addis Ababa, Ethiopia under the overarching theme, "Resilient Internet for a Shared Sustainable and Common Future."
This year at IGF, the Association for Progressive Communications (APC) will be joined by the partners of its Our Voices, Our Futures (OVOF) consortium from two continents – Asia and Africa, to discuss the challenges and opportunities that exist in accessing the internet for women and gender diverse folks in these geographies. Various organisations from six countries: India, Bangladesh and Lebanon from Asia, and Sudan, Kenya and Uganda from Africa, will come together to bring #OurVoicesAtIGF to amplify the voices of structurally silenced women from these countries, advocating for their rightful places and participation in civic space, including online and offline, and legal and policy spaces.
OVOF is a South-led consortium with partners from Asia and Africa who work in their countries to highlight the oppression of women and structural inequalities that they face within and outside of their communities. It works to amplify voices of women who have even been excluded from feminist movements at large, including lesbian, bisexual, transgender and LBT people. The consortium also aims to bring forward the voices of those who have been kept away from the discourse of rights because of their choice of labour, like sex workers, or their activism like the human rights defenders. The partners and consortium members recognise the need to bring these individuals and their community voices to the table of discussion to amplify their needs through policymaking discourse.
Learn more about OVOF and its areas of focus here.
At IGF, the OVOF partners bring their work consisting of years of research, community work, mobilising and campaigning, and along with it, the voices of their communities this year to demand policymakers and technology companies to pay attention to the safety of the structurally silenced individuals on online platforms.
Here are some of the partners of OVOF who will be at IGF, ways to learn about their work, and reach them to know more about Our Voices, Our Futures (OVOF) and how they are amplifying the silenced voices through their discussions during the annual convening;
Country: India
Continent: Asia
Point of View is a non-governmental organisation working to build and amplify the voices of women and other marginalised genders in India. Through their work, they aim to create a just environment for all genders and sexualities where everyone has rights and freedoms. Point of View builds and promotes its work through research, knowledge building, campaigning and advocacy via three core areas; gender and technology, sexuality and disability, and digital storytelling.
Point of View At IGF: 
As the Dynamic Coalition on Gender and Internet Governance, Point of View in collaboration with APC, will be focusing on the intersection of advanced technologies, gender, sexuality and race, human rights online, especially freedom of expression of marginalised communities.
Point of View will be talking about,
Building and amplifying the voices of marginalised communities including women, gender and sexual minorities, and women and marginalised genders with disabilities in the Global South in internet governance processes and the IGF;

Demystifying internet governance, understanding data governance in relation to gender and sexuality, and thinking of how we bring our issues - gender, sexuality and social justice into internet governance.
Find Point of View sharing their work in these sessions at the IGF:
DC-Gender Session: Who's watching the machines? New tech, gender, race & sexuality
Organisers: Point of View, Association for Progressive Communications
When: Wednesday, November 30, 2022 at 8:15 am UTC
Where: Room CR2
Details: https://intgovforum.org/en/content/igf-2022-dc-gender-whos-watching-the-machines-new-tech-gender-race-sexuality
The DC on Gender and Internet Governance session will be a roundtable discussion on the intersection of advanced technologies, gender and sexuality, human rights online especially freedom of expression, and marginalised communities. They will be unpacking several questions around the impact of advanced technologies on different communities, and what needs to be done to course correct. Do we want to reject certain technology, like banning CCTV cameras with facial recognition in some places? How are advanced technologies undermining our right to freedom of expression, among other freedoms? Who is profiting off these technologies? How do we understand and address the role of big data and data systems in talking about new technologies and how they impact our rights?
 
DC-Main Session, IGF Day 2
When: Wednesday, 30 November 2022,  10:50 am UTC

DC-Gender will be represented on the second panel on contributing to the thematic areas of the Global Digital Compact/proposing additional thematic areas for the GDC.
"It's important to demystify jargon around internet governance through public engagements that bring in non-tech policy stakeholders and audiences. We need to start thinking of participatory futures in internet governance and policy where stakeholders from structurally excluded communities have a seat at the table. It's crucial to have diverse voices in internet governance processes. Discourses and information need to be made accessible in simple language relatable to grassroots, marginalised communities, and also in local languages. We also need to rethink how we disseminate information and knowledge around tech policy and governance among communities that don't have access to policy conversations. We must have conversations with grassroots communities, create a knowledge bank of their lived experiences and the governance/policy-related challenges they face, and amplify this to relevant stakeholders."

– Conversations at a recently concluded GigX workshop in Mumbai, organised by Point of View as part of the OVOF collaboration.
Relevant work:
Follow Point of View's work:
Contact them through their,
Facebook: @POVMumbai
Instagram: @povmumbai 
Twitter: @povmumbai
Or email at info@pointofview.org 
Women of Uganda Network – WOUGNET
Country: Uganda
Continent: Africa
WOUGNET is a network of 17 women's rights organisations in Uganda that works on developing the use of information and communication technologies (ICTs) as tools for women to address related issues in the country. Established in May 2000, they have been working to advance women's access to technology through research, policy advocacy, technical support, and information sharing and networking.
WOUGNET At IGF: 
At the IGF, WOUGNET is representing the structurally silenced women and women rights organisations in Uganda, and will be supporting women parliamentarians to attend the convening.
They are invited to attend different conversations like the regional convening on freedom of expression and online gender-based violence scheduled for 27th November. WOUGNET will also attend the different interesting sessions organised by APC members, partners and potential partners.
WOUGNET will be talking about,
Online gender based violence against young girls and women, and women politicians and journalists

Data governance

Organising online successful campaigns
Find WOUGNET sharing their work in these sessions at the IGF:
WS #484: Data Justice: Lessons Learned in Africa, Latin & South America
Details: https://www.intgovforum.org/en/content/igf-2022-ws-484-data-justicelessons-learned-in-africa-latinsouth-america
This session intends to share perspectives on how policymakers, civil society organisations, developers, and impacted communities have been able to move beyond just governance of data to understand the clear relationship between compliance matter of privacy and ethical design to enable them to prioritise gender equity and justice in terms of access to, visibility and representation in data used in the development of AI/ML systems. The session will be informed by incredible research findings around six pillars of data justice; power, equity, access, identity, participation, and knowledge, done by Women of Uganda Network (WOUGNET), AfroLeadership, Internet Bolivia Foundation, and Gob_Lab UAI, Adolfo Ibañez University Chile in Uganda, Cameroon, Bolivia, and Chile respectively.
Side event: Online violence for women in politics
When: Sunday, November 27, 2022
WOUGNET will use the presence of the members of parliament through the African Parliamentary Network on Internet Governance to discuss this issue, sharing the intensive work, research and policy gaps in tackling OGBV.
Relevant work:
Follow WOUGNET's work:
Contact them through their,
Facebook: @wougnet
Instagram: @wougnet
Twitter: @wougnet
Or email at info@wougnet.org
--