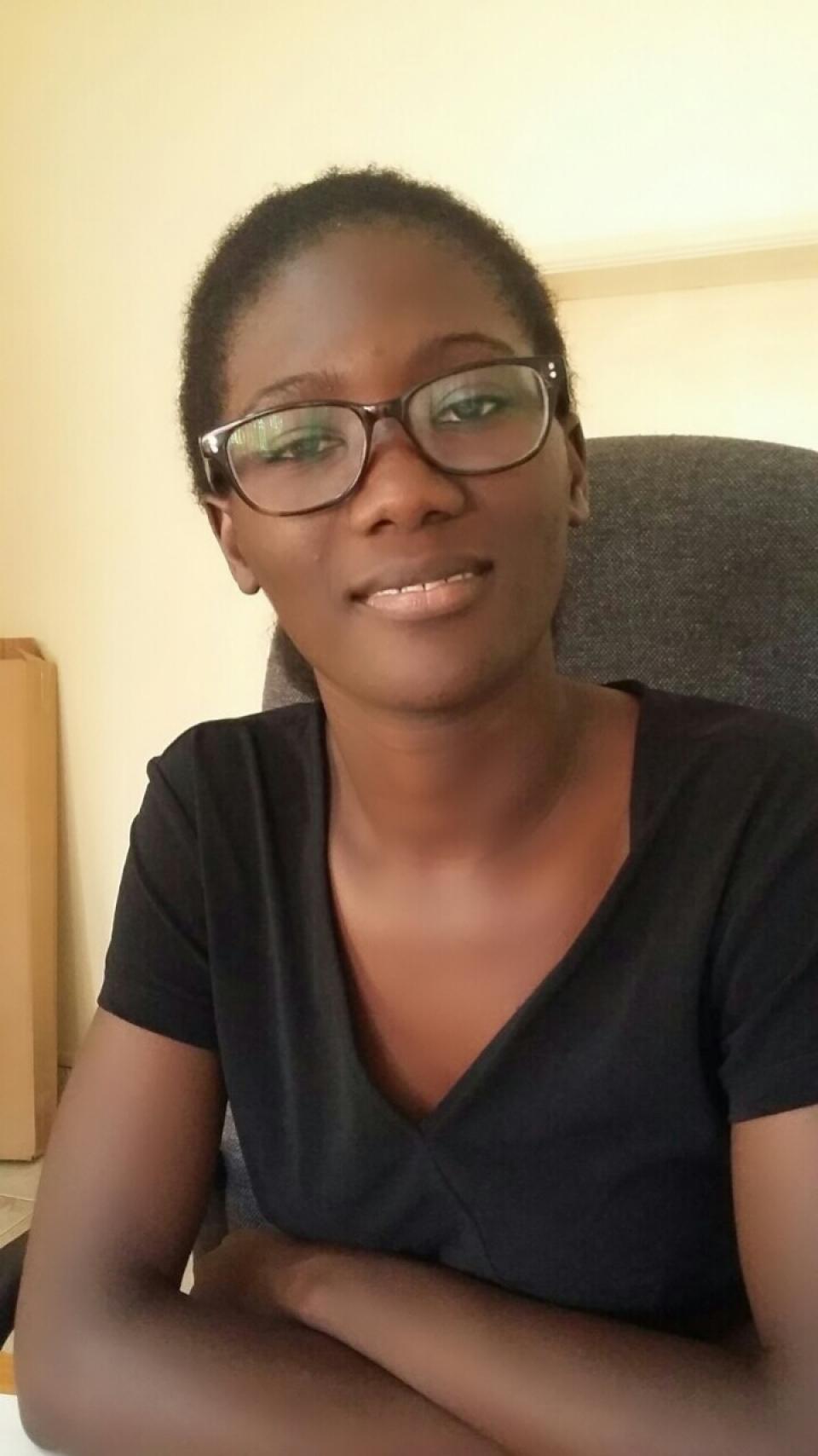 "In a continent where women form a majority of the population and half of the workforce, it is an anomaly that the percentage of women working in technology is less than 15%. Technology is one of the key factors driving Africa's projected economic rise. As such, there is enormous potential for maximizing the growth of technology through increasing the number and quality of women in technology." [1]
Jennifer Radloff spoke with Yvonne Oluoch via Skype about what inspired her to develop the Socially Keen Individuals Redefining the Tech Space initiative to address cyber bullying and cyber insecurity within the Kenyan online space for the #IncYOUbateIT competition and what it means to have won. The competition was developed and hosted by Making All Voices Count.
Jennifer Radloff: Tell me a bit about yourself
Yvonne Oluoch: I was born on the 5th February 1988 in Kenya and come from family of 6, my parents and 2 brothers and 1 sister. I studied Information Technology at KCA University and Human Resource Management at the University of Nairobi. The HRM classes were balanced in terms of gender, so it was quite a normal set up but in my IT classes, I was shocked to find out that we were only 2 girls out of a class of 20 people. My female class mate was married by then and had so many challenges for coming to class. She kept having to postpone her studies which really made me think about the challenges women face in studying and how low the number of girls there are studying IT. When I completed my studies I started looking for initiatives that supported women's representation in technology. It was so difficult finding a job in technology as a woman.
That is when I found AkiraChix. I started doing volunteer work with AkiraChix and got to interact with people at the iHub centre. This I found inspiring and increased my desire to work with women in Technology. AkiraChix's mission is nurturing generations of women who use tech to develop innovations and solutions for Africa and aim to provide training, mentorship and outreach programs to increase the number of skilled women in technology and positively impact the community. [2]
JR: Describe your work with AkiraChix and how SKIRTS was developed.
YO: I started training in tech with women. The first I did at a local institute in collaboration with St.Paul's University where I used to train young girls and boys who had completed high school and were ready to go to University. I did that for 2 years through. I then decided to partner with women who were doing Small and Medium Micro Enterprises to see how doing business in technology can be effective for women. So far I've trained 2 organisations. During these trainings is when I was informed by AkiraChix, about the Making All Voices Count's #IncYOUbateIT and I decided to enter.
There were 2 categories: "Tech for Change" and "Securing women's spaces online." Why I was captivated with securing women's spaces online is that I know that I am good at advocacy and advocating for women's spaces on the internet.
In developing the S.K.I.R.T.S. (Socially Keen Individuals Redefining the Tech Space) proposal, I started by identifying the key problem. For me it was harassment and sexism online. When I tried tackling those issues, which I workshopped with a local group of women, I discovered that many said "oh it is just social media and it does not affect us." In our society there is a lot of offline violence but now young people, who were born in 1990s, are experiencing a lot of online harassment. What I want to achieve with SKIRTS is to integrate the two and see how we can solve this issue using online platforms to address both online and offline harassment.
Initially I did not have a name – so I worked with names such as Freedom of Speech as the internet is not so free for women and should be. We see that even if you change your name in social media to be anonymous, it does not give you the right to harass people via net. As a woman I want to talk freely online without harassment. You realise that even bold women in society who want to talk freely around issues such as governance, they are perceived as too bold so people try and intimidate them into silence. They use various ways such as creating derogatory videos and pictures that have been photo-shopped into degrading and humiliating versions. Even tech-savvy women who have strong voices who want to speak out are being harassed. These include women who are fighting violence against women. But it seems merely being a woman online makes you vulnerable to these attacks.
I would like to create opportunities to run digital storytelling workshops so women who are experiencing offline violence can work with technology and tell their stories which can go online. Women suffer and they think they are alone in this and have depression and sometimes their self-esteem destroyed.
Addressing online issues like misogyny you need a platform with a forum for women who are vocal and let them have a space where they can talk and air their opinions freely and without interruption. We also need to support ourselves and secure our online spaces. Many fellow women tend to start avoiding online spaces as men are there ready to digitally attack vocal women. With SKIRTS, I want to encourage other women to speak freely and proudly about their rights. Creating a forum and a website where women who have a strong sense of leadership can express their views and discuss various issues.
JR: Are you aware of any cases in Kenya where women are or have experienced online harassment?
YO: Yes, one very open and strong woman named Njoki Chege, who is a newspaper Editor and journalist and a very strong woman who is not afraid to speak her mind has been harassed via her blog and twitter. She receives many attacks and harassment by twitter trolls and via her blog who are mainly men. This has been horrible as we fear to support her because of these responses.
Another vocal woman is Brenda Wambui. She used to get trolled so she decided to not share her views on twitter. Brenda switched to blogging but still trollers are following her. She has strong ideas on what she wants to share but she chooses to narrow this down. This means that a strong woman is silenced through this harassment and her freedom of expression is being curtailed.
Even the very vocal Esther Passaris had abuse hurled at her on twitter during the #MyDressMyChoice campaign by a male blogger who felt that the campaign was uncalled for. Which makes me question,"what does my private life and relations got to do with my work?"
Everyone should be free to speak out for themselves and be listened to. Having that fear that when I speak freely and I will be abused is not right.
Another event that was huge that influenced me in my SKIRTS proposal was an action called "My dress my choice". Women in the city of Nairobi were being stripped naked because of what they chose to wear. Women from all walks of life, many of whom work in media, decided that we are not going to tolerate this as this happens often and we had a lot of men doing this so women feared going outdoors. Women students, NGOs, women in media got together and marched in the streets of Nairobi and brought overwhelming experiences of solidarity. It sent a message to everyone including government. The demonstration helped in spurring the authorities to arrest the men responsible and when guys taken to court it helped in the judgement. It showed that it was a violation of human rights. What I am happy about is that the government took it seriously and the guys who did that were put behind bars.
My dress my choice gave us a space where we could express ourselves through marching and through posting pictures of ourselves dressing the way we chose and advocate for the rights I have and not be told how to dress or what to wear by men. The trolls are still there and we received some very harsh, abusive and derogatory comments. At the end of the day we achieved the message we wanted to send out.
JR: What about policy advocacy around these issues?
YO: So far when it comes to policies in this area. I don't have much knowledge on this but want to get involved with organisations who do policy advocacy. Some policies I want to advocate for on internet space you can say for example in our country we need to advocate for posting photos requires to ask for consent and letting people know that it is not right to post humiliating photos. We really need to do campaigning around this. So often we see with young women that when a relationship ends, photos you took together are then made public by the ex-boyfriend. This is using technology against women and we need to do campaigning around this.
JR: Where do you see yourself moving now?
YO: I would love to be more involved in policy advocacy, so am looking for people to work with and learn from to share ideas and see the way forward. I would like to take human rights online further in Kenya and would like to find people working in this area. We need more people to advocate for fighting online violence against women.
JR: What does it mean to you to win this competition?
YO: First thing, when I heard I won it – I thought – when you think of ideas, you think you are crazy and should rather adjust to the norm but you want to speak out and reach the people who also see this. I see that I am not alone in this campaign and we need more campaigns. SKIRTS is a step in the good direction and encourages you to get on!
What comes with winning is 6 months to incubate the project with mentorship and will enable me a more dynamic perspective and be able to write proposals and win some grants.
JR: What is your dream for the next steps?
YO: My dream is to have all women know their rights and to advocate for these in Africa. It is so important for women to perceive themselves as worthy as I have seen lots of strong women getting lost because of abuse. I want to see gender equality to be the norm.
JR: Who has influenced your activism?
YO: One person I admire is Wangari Maathai. She walked her talk and believed in what she was doing. I admire women who do not just sit back and complain but do things to create change because change starts with you.
Yvonne's project is Socially Keen Individuals Redefining the Tech Space- An initiative to address cyber bullying and cyber insecurity within the Kenyan online space; following increased cases of online spaces being used to perpetuate ethnic hatred and attack ordinary citizens, celebrities, and politicians, especially women. The idea addresses a central problem in the current Kenyan context on cyber bullying and the perpetration of hate speech in Kenya. The idea could be scaled for legislative lobbying around online spaces.
APC is the gender advisor to the Making All Voices Count initiative. Making All Voices Count is an international initiative that contributes towards effective governance and accountability by enabling citizen engagement and open, responsive government in 12 countries in Africa and Asia.
Footnotes