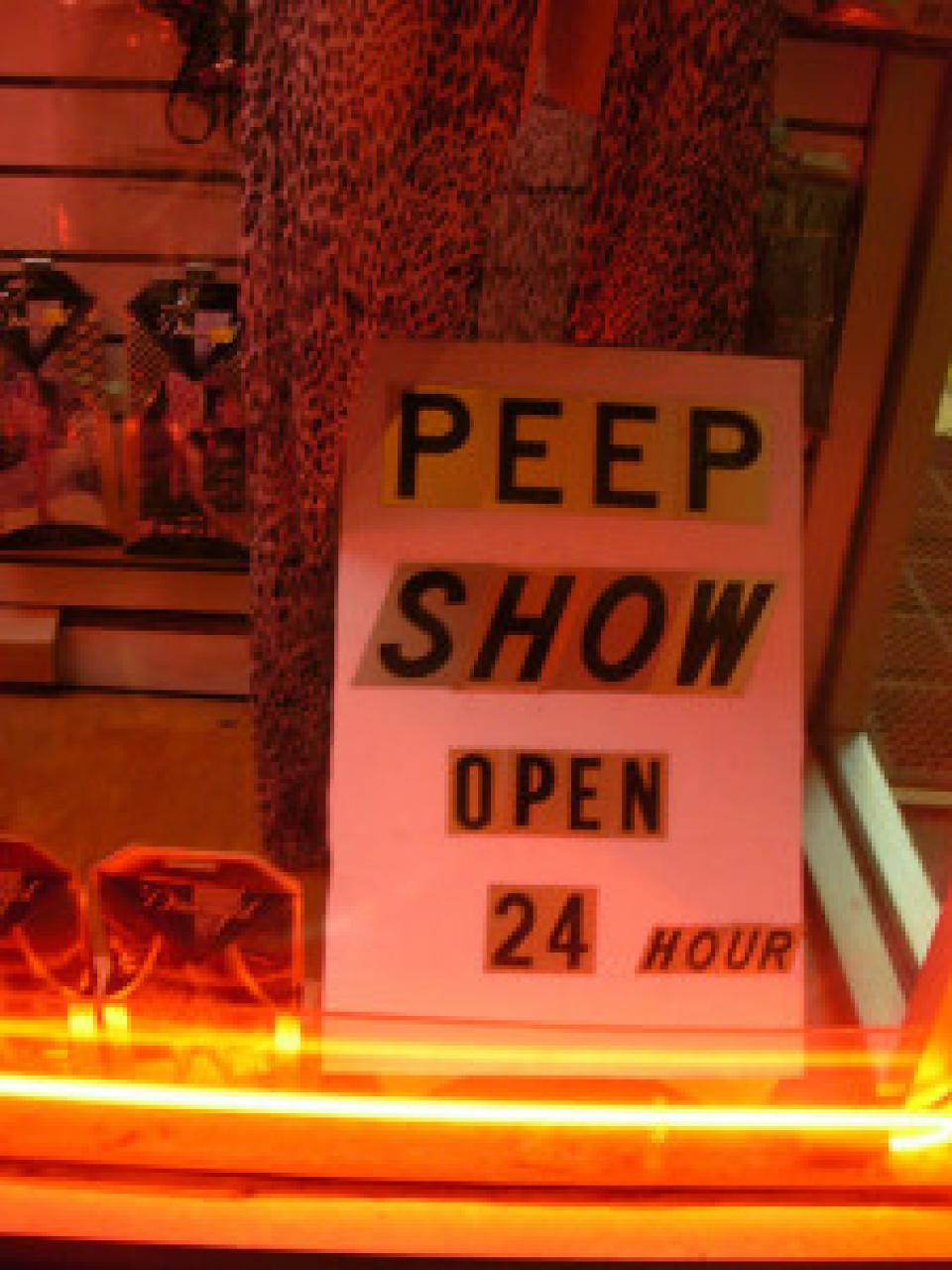 Unlike porn actors who sign release forms, victims of amateur porn are at the mercy of whoever first possesses or chances upon their footage.
A couple makes out inside a cyber cafe cubicle in a city crunched for space and privacy. A woman bathes and changes clothes inside her hotel room. A honeymooning couple films its first time together, possibly to preserve the memories for a lifetime. All of them are oblivious to either being captured by hidden cameras or the possibility of their footage being leaked online. Voyeuristic websites and message boards and the ubiquitous mobile phone camera have ensured that Peeping Toms never run out of free, copious pornography.
For many, the appeal of a grainy, badly-lit, jumpy, sloppy "amateur" video outscores that of the mise en scène of a professionally shot pornographic movie because it is real, Indian, and dirt cheap. Almost a decade ago, Mysore Mallige, a leaked video of the love-making of a college-going couple spurred the proliferation of sex tapes, MMS clips, home videos, and explicit photos on adult discussion boards, peer-to-peer sharing networks, video and photo hosting services, and blogs in India. We take a look at some of these online spaces to examine amateur porn in terms of voyeurism, exhibitionism, privacy, consent, and censorship.**
Privacy and consent
It is obvious from some videos and photos that they are clandestinely shot (cameras inside bathrooms, lamp shades, etc). In others, at least one of the persons in the clip or photos seems to be unaware of being filmed. In consensually recorded content, it is unclear if those captured have agreed to its circulation. Some uploads have been identified as content submitted by exes and jilted lovers presumably to take revenge for rejection. Faces are unidentifiable (out of the frame, digitally glossed over, or physically covered) in some of the photos and videos. In what seems to be the only exhibitionist content, nude women hold up placards with the name of the blog.
Ironically, the Terms of Service prohibit users from submitting "material that is unlawful, obscene, defamatory, libelous, threatening, pornographic, harassing, hateful, racially or ethnically offensive". Some sites have included a clause restricting the submission of content that invades personal privacy. As per the ToS, all the content is submitted by users, and the service does not assume any liability or responsibility for 'damage' caused by it. The ToS mandate written permission from every identifiable individual in the submission. Unlike porn actors who sign release forms, victims of amateur porn are the mercy of whoever first possesses or chances upon their footage.
Ramifications of easy dissemination and availability of amateur porn
There is, however, recognition of consent in the law. Section 354© of the Criminal Law (Amendment) Act 2013, also known as the "voyeurism section", criminalises shooting and distributing images of a woman in a private act in spaces where she would have a reasonable expectation of privacy. Section 66(E) of the Information Technology Act criminalises the publication and transmission of images of an individual's private parts without his or her consent.
Notions of honour and chastity, taboos around sex and especially premarital sex, and a general culture of blaming the victim turn amateur porn into an easy tool for unsettling the lives of those filmed. Women are raped or coerced into sex, filmed, threatened, and blackmailed over the release of the footage online. If a relationship sours, consensually or clandestinely recorded content is used as revenge porn. Women whose identities are outed face social stigma and discrimination. A government job offered to a woman whose ex-lover circulated MMSes of their intimate moments was withdrawn after a background check. The staff of the hotel where the hour-long Mysore Mallige video was shot was sacked wholesale and the couple forced to marry. Members of adult forums try to establish the real identity of women in the photos and videos by finding and pooling bits of information in a "Who is she?" section, potentially leading to horrific situations for the women — disclosure of personal information, the risk of sexual harassment or assault, and even malicious pranksters linking the content to unassociated women.
Amateur porn content is often taken down after complaints from the authorities or the victims. According to the Google Transparency Report published in October 2012, between January and June 2012, Google removed search results to 360 web pages containing adult videos that allegedly violated a person's privacy, following a court order. However, not everyone is as fortunate. Like everything else in the digital world, every "sex scandal" comes with an indelible footprint. Such footage is shared and re-shared virulently online and offline; once the genie has been let out of the bottle it is impossible to put it back in. The usual methods of weeding out web search results and directing ISPs to block URLs are mostly ineffectual. Content censored for such privacy violation needs to be taken down from the host, but it would still be available in assorted web archives and caches.
Child pornography
Most of the blogs, file hosts, and message boards we viewed either displayed a disclaimer that all persons were at least 18 at the time of filming or warn users not to upload content depicting a minor. They claim to operate under the 18 USC 2257 rule of the US, which requires publishers of pornographic content to retain records that indicate the subjects filmed were aged 18 or above at the time of the shoot. It is difficult to tell if the college-aged students present in some clips are on the right side of 18, but it seems that these spaces have largely managed to steer clear of the bugbear of child pornography. The most prolific amateur porn video from India featuring minors is arguably the Delhi Public School MMS scandal.
Arbitrary censorship and the business of amateur porn
The ilk of amateur porn websites — seemingly ungoverned by rules of privacy or consent and creating "scandals" out of the primordial act — survives while a fictional porn cartoon strip such as Savita Bhabhi was censored and snuffed out in 2009. (She was quietly resurrected in a subscription-based service a few months later.) Savita is the woman next-door, dissatisfied with her husband, delightfully uninhibited and unabashed about her sexuality, playing out her fantasies, assertively seeking gratification from men young and old, and perhaps too sexually liberated to escape the machinations of the state.
Every now and then, the government imposes blanket bans and blocks on pornographic websites, file hosts, and online forums or tries to obscure them using keyword filtering. Thirty nine porn and porn-sharing websites were blocked in June 2013 without any reason provided for the ban. A blog that has been running since 2005 monetises user submitted content — most of it is Indian amateur porn — with its archives that are stashed behind a paywall. In light of selective blocking of porn websites and no reasons being provided for blocks, such censorship seems arbitrary. As the creation and distribution of amateur porn involves the use of inexpensive technology, it is a lucrative industry encompassing elements from hotels to mobile shops to video parlours. It is important to differentiate between exhibitionism, sexual expression, and pornography created out of unsuspecting individuals, and legislate and censor only that which is not consensual. Nothing sells like sex and therein could lie the answers to the conundrums about amateur online pornography in the subcontinent.
**The names of most of the websites, blogs, messages boards, file hosting services, and the specific content we studied have not been included to avoid inadvertently publicising them. In case you would like more information about the sites referred to, email rohini AT pointofview DOT org.