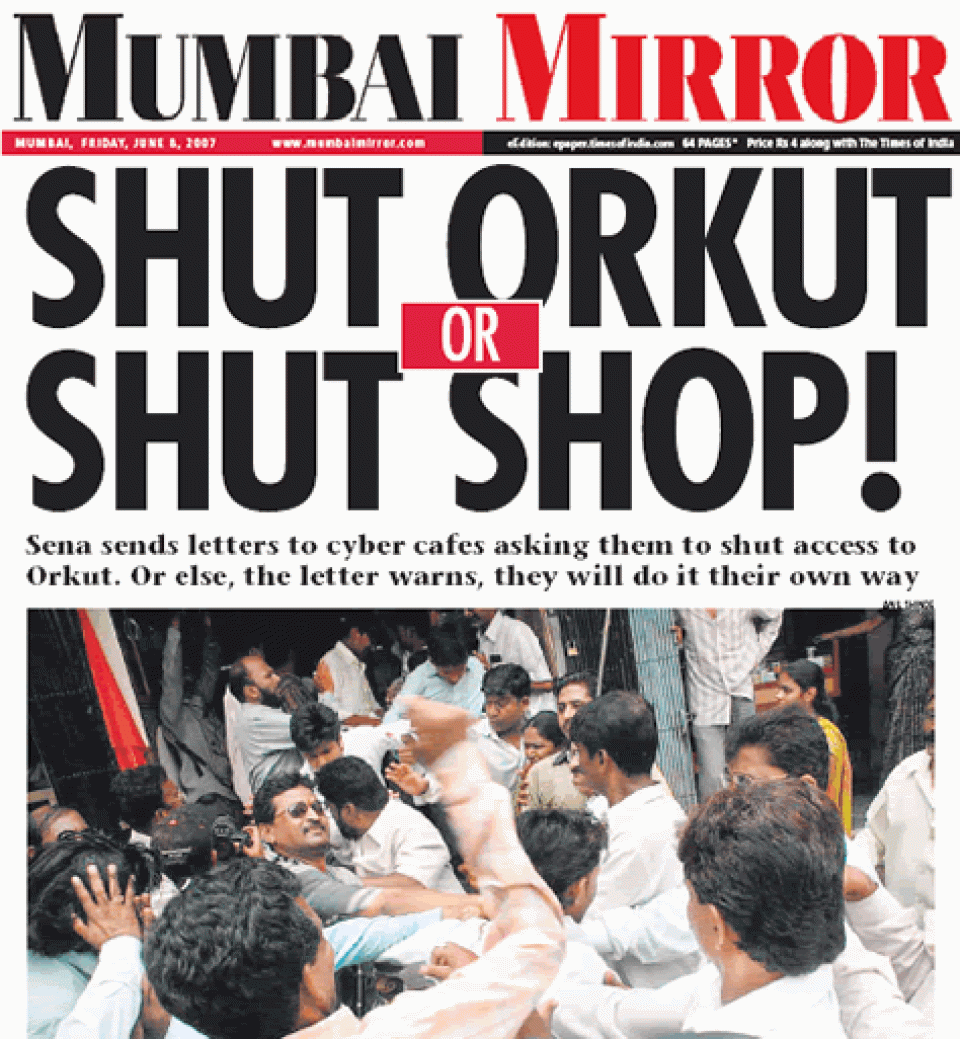 As personal computers became relatively inexpensive, the Internet has become an ever-increasing part of people's day-to-day lives. People use the internet to communicate, educate, organise as networks, access information, find jobs -- the list is endless. The World Wide Web however, is being progressively devoured by the implementation of national intranets whose content is "approved" by the authorities. In 2009, some sixty countries experienced a form of Web censorship, which is twice as many as in 2008.
Governments have come up with different ways to censor information on the internet including banning and blocking of sites, censorship of material by Internet Service Providers (ISPs), content filtering by key word and so on. During 2008 – 2010, the Association for Progressive Communications (APC) conducted the Exploratory Research on Sexuality and the Internet (EroTICS) to find out how different people are using the internet in relation to their sexuality. The research was conducted in Brazil, India, Lebanon, South Africa and the United States. I talked to the researchers from India and South Africa to find out their experiences and their take on the findings.
This research was special because it was among the first to bring to the fore issues of sexuality and the internet. Manjima Bhattacharjya one of the researchers in India explains that the project was special because, "it was on a theme that was under-researched in India (while doing our literature review we had difficulties in finding enough relevant literature on how women were using the internet)," she said. "It was with middle class women in urban India --especially young women who are on the whole under-represented in feminist research in India; and it was a cross country project - which meant that the theme was in many ways universal," she adds.
With the research being conducted in five different countries on separate continents, the research gives a sense of how cultural differences make such a difference to the ways in which the internet plays out in peoples' lives, but also how universal the need for free expression and access to information is.
Interesting stories from the research
The research unearthed some interesting stories on the right to freedom of expression and information. Manjima tells the story of a stunning young woman called Rumi who was born a man. Through the internet she found out that she was 'gender dysphoric' - a term that finally explained to her why she always felt like or wanted to be a woman, when she was born physically a man. She finally undertook a sex change operation in her early 20s - again finding out about other experiences and positive stories through the internet. She now runs a blog to share information and dispel myths about gender dysphoria.
Rumi was one of the respondents in the research. There are many stories of young women taking advantage of the normalcy of using online chat rooms in adolescent romance which if was done face to face, could have then labelled them as "promiscuous" with long term social costs, and housewives who overcome the limitations in access to information on sexuality by distributing porn sites/CDs as part of 'sex education' training for brides-to-be in cake-making classes.
There are many heart-warming stories of friendships and relationships with strangers online and of trans gender persons in South Africa using the internet to build a community where they share issues that affect them and the challenges that come with their sexuality.
At the same time, the research also raised troubling stories of cyber harassment and bullying from people who - contrary to the discourse of "stranger danger" - turn out to be known to the internet user, such as ex-partners, colleagues or friends.
Emerging trends
In India, there has been a burst in writing and concern on issues of internet and sexuality since the time the research was conducted (2 years ago). "There has always been interest in the research from the media. Earlier on, we would get emails from newspapers asking if they could do a story on the study. But now we are seeing interest from academics, as well as in feminist circles in debating and engaging with this issue," Manjima explains.
In South Africa, Prof. Jeanne Prinsloo explains that at the time the research on lesbians' internet use was conducted , the internet was seen as a very quiet space. "It's vital that this not be seen to define the lesbian websphere, though. Recently the Internet has served as an incredible public space for lobbying around lesbian issues in South Africa. Those sites that were quiet during the research period became charged. They sent out calls and lobbied - around a clear event. For example the atrocious rape and murder of a lesbian was met with calls to attend a funeral. People converged at Parliament and held vigils," she explains.
Prinsloo explains that it was clear that the Internet becomes a public sphere during such moments when there is a key event to focus its energies. Among the emerging issues, Prinsloo points to the recent anti-gay bill in Uganda and the efforts to suppress it. "In the same way, the possibilities of the Internet for queer politics and lobbying were wonderfully evident in Uganda recently. The bill attempting to get Uganda's anti-gay law passed which would carry the death penalty was dropped after a massive campaign  - a good deal of it conducted through internet lobbying." The campaign itself resulted in 1.6 million petition signatures delivered to Parliament and a massive global outcry according to avaaz.org.
Nyx McLean also notes that the idea of online communities has shifted over the last four to five years. "Initially people would form groups online behind masks, but the growth of social networking sites like Facebook have focused on more private issues as opposed to communities and have also contributed to the erosion of walls behind which lesbians felt safer to operate in without being identified, especially in places where cultures are not open to lesbians, gays, bisexual, transgender and intersex (LGBTIs)."
Challenging norms
The research also challenged norms and some of the conventional thoughts. "I was personally taken aback by some of the mommy bloggers who apart from taking and publishing stuff about their children appeared to be actively and critically thinking about many other things including domestic violence, child sexual abuse, reproductive rights as well as other important feminist issues like care work and the gendered division of labour," Manjima explains of Indian middle class women who were part of the study.
She adds that "these are conventional middle class women who did not go to Feminism 101 (an introductory class on feminism) but discovered it themselves somewhere along the way, and have found a community of women to share this sense of politics with."
Impact on the women's movement
The EroTICs research has given the women's movement around the world new avenues to consider. In Uganda for example, lesbian causes are always held outside of other women's rights issues. This research therefore gives ground for activists to consider lesbians and transgender persons as part of the women's movement in any country.
The research - though focused on issues of sexuality - brings to the fore the need to creatively use technologies more strategically to advocate for and rally support around causes that affect women more broadly.
"As part of the Indian women's movement though, I feel this project has also made me a medium for the message to get to the Indian women's movement! In many forums since the project began I have begun to have a dialogue on these issues with older generations of feminists in India, and with local feminist groups who are yet to fully discover the potential of the Internet," Manjima explains.
As a result of this research work, Manjima explains that it has given her opportunity within the Indians women's movement to strategically advise some organisations to use the internet and new technologies in new creative ways. "I am able to take strains of this project - and a fearlessness of ICTs - into other projects and work relationships I take on. For me, this is a rare but very valuable out-take to have from a project," she noted.
Censorship or not
"What worries young women more is the real life 'censure' in the form of surveillance that they may face from family members/ spouses/ relatives, and the self-censorship they have to exercise online so there are no implications in real life," Manjima explains.
This may also be the same explanation for the numerous attacks against lesbians in countries like South Africa or name calling for Indian women who seek information or express themselves in ways that challenge societal norms.
When it comes to issues of the internet and sexuality, broader challenges of gender discrimination must be dealt with. These are the same issues that the women's movement in different countries the world over have been struggling for. However, these same movements must not shoot their wounded. Lesbians and transgender people must be viewed as part of the larger women's movement and the advocacy for their rights must be considered as well. This way, it will be easier to negotiate challenges of censorship online and offline and also increase access to information for all.
Picture 1 (top) by Manjima Bhattacharjya

Picture 2(middle): Body map from the Understanding transgenderism workshop by Robert // www.genderdynamix.co.za

Picture 3 (bottom): Manjima Bhattacharjya from the EroTICs India research team by Maya Ganesh