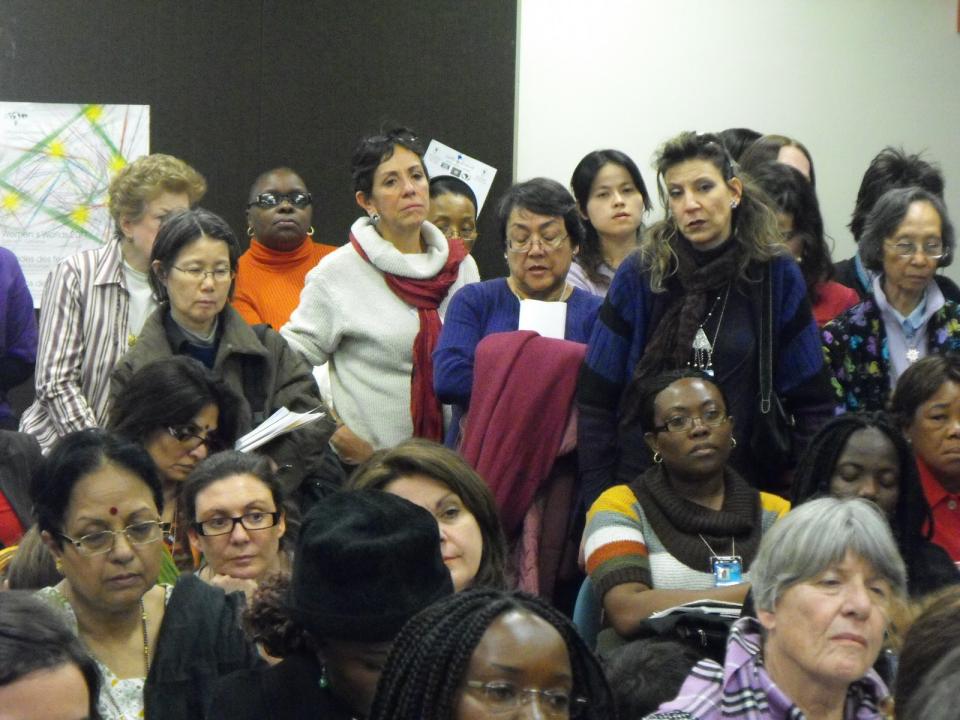 In 2008 the APC Women's Programme began a two and a half year research project looking into the role of sexuality online. The study, called Exploratory Research on Sexuality and ICTs -- or "EroTICs" -- looked at the experiences of young women and girls -- as well as lesbian, bisexual and queer women -- in five countries.
Specifically, they asked:
"In what ways do internet and ICT policy shape the sexual practices of women living in different socio-political, economic and cultural contexts?"
The study was born of the frustration felt by women in many countries who face barriers to accessing information about sexual health and their sexual rights. EroTICs researchers wanted to investigate the impact of these barriers to access out of a recognition that sexuality, mobilisation of sexual discourse and the control of sexuality accompanies content regulation. They wanted to understand how this process works, and how this impacts on sexual rights in different national and cultural contexts.
Today many governments employ extensive censorship regimes to protect their citizens from obscene content. But what qualifies as "obscene"? In many countries, the term is much too broadly applied. Blocking "obscenity" often translates into a blanket censorship of nearly all sexual content -- regardless of its purpose or origin.
The EroTICs project's initial findings have been very revealing. Contrary to much public opinion, sexuality online is much more than just pornography. Much of what is labelled "obscene" pertains to sexual education, identity rights and harmless flirtation, and the blocking of these sites often reflects the personal beliefs of conservative or fundamentalist bureaucrats rather than a genuine desire to protect the public.
As the EroTICs project comes to a close, we asked three of the experts -- Clarissa Smith, Katharine Sarikakis, Pramada Menon -- to share their thoughts about the research.
/////////////////////////////////

Clarissa Smith: EroTICs paints a complex picture of communications of and about sexualities
Clarissa Smith is Programme Leader of the MA Media and Cultural Studies at the University of Sunderland, UK. She is a member of the Onscenity Research Network, which investigates the impact of an increasingly sexualized culture in commerce, culture and everyday life.


Her own research focuses on institutional practices, strategic uses and meanings of pornography, history of pornography and the way representations of sex have entered mainstream media. She was one of the panellists for the workshop presenting the mid-term findings of EroTICs.
Grady Johnson (GJ):So, Clarissa. How important is the Erotics research?
Clarissa Smith (CS):For many people, especially those with a remit for regulation, the Internet (as well as other communication technologies) has overwhelmingly been assumed to be a 'problem', offering unfettered access to 'harmful' ideas, materials and people.
Thus too often it seems the only really important questions to ask about it are ­ how much should we worry and what controls should there be?
The EroTICs research is different.
Focusing on experiences and practices across the globe, the EroTICs research opens up a range of fascinating insights into the ways in which women and young people are engaging with and utilising new technologies and how those practices contribute to their understandings of sexualities as personal, political and social phenomena.
Using a range of methods, engaging with very different kinds of practice as well as exploring the legal and constitutional frameworks and contexts of specific geographical locations, the research paints a fascinatingly complex picture of communications of and about sexualities.
The research makes a clear case for the Internet as an important resource for marginalised as well as more privileged groups and highlights the importance of accessibility for all.
GJ:Interesting. So what do you see as the next steps?
CS:More such research is absolutely necessary, not just to counter the many calls for regulation of content in the name of protection of 'the innocent' but because we still need to know more about the ways in which the Internet offers diverse populations opportunities for connection and exploration.
Katharine Sarikakis: EroTICs is the first attempt to map experiences of sexuality as citizenship in important corners of the world
Katharine Sarikakis is a Professor of Media Governance at the University of Vienna and is the founder and co-editor of the International Journal of Media and Cultural Politics, a well-known journal that seeks to critique and analyse contemporary world affairs as they pertain to media and cultural politics.
Her current research explores the relationship between the empowerment or disempowerment of citizens and the varying degrees of state intervention in communication and the media. She has written and contributed to three books on the subject of communications and public policy and is presently working on another entitled Communication and Control.
Katharine was also a panellist for the "Protecting women's rights: Internet content from a gender perspective" workshop at the Internet Governance Forum in 2010, co-organized by APC WNSP and the Council of Europe.
GJ:Katharine, your thoughts?
Katharine Sarikakis (KS):This is, to my mind, one of the few if not the first coordinated attempts at an international level to provide a state of the art in policy, practices, understandings and experiences of sexuality as citizenship in different sociocultural contexts across the world.
In effect the project demonstrates that sexual citizenship is inherent and a requirement in the function of democratic systems that they accompany -- indeed they intersect -- political citizenship. The project studies broaden and complicate the discussion on sexuality, human rights and communication rights, first by demonstrating powerfully their interdependence and second by providing insights into the political, cultural and legal contexts that shape understandings of sexual rights as communication rights.
Moreover, the project provides invaluable first hand material from important corners of the world that functions also as a showcase of the variety of practice and approach to sexual rights. At the same time, the case studies raise important issues about emerging commercial and political approaches that do not share the agenda of human emancipation and women's rights but rather are informed by agendas that stand in conflict with the claims for sexual citizenship.
Each country presents its own unique characteristics which however merge to reveal common patterns of disempowerment across the world. These find expression in legal systems (where women's sexualities are seen as 'despised' or as a threat that needs to be controlled), in cultural and discursive constructions (where for example, vulnerability, victimhood but also agency and expression are used for purposes other than those of women) and also in social contexts where practicalities and intersections of race, class and age bring obstacles to the emancipatory project of connection and solidarity.
Finally the studies bring in to the light the impact of policy and practice on women's sexual rights through concrete examples. This should be invaluable for policymakers as 'abstract' principles and policies become very real through concrete effects on everyday life.
GJ:What do you see as the next steps?
KS:In terms of research, this is a very crucial crossroads: I would expect that specific important common threads would need to be explored more systematically and across a larger number of national contexts.
For example, one aspect would be the issue of access to informational and educational material on sexual health and rights, as a matter of citizenship rights and human rights, within the context of digital laws, copyright and censorship.
Another area would be an integrated methodological approach to exploring the market and policy networks of the production of sexual material that is dominant in popular culture and mostly available, in order to map and analyse the forms and kinds of material that shapes knowledge about sexuality in particular among young people. another obvious area is the comparative research of sexual rights and the role of the internet -- and in particular a form of ethnographic research -- in societies where women's sexuality is 'policed'.
Finally one more angle that is needed is research into whether there is any correlation among liberal or progressive laws, on communication and sexual rights, education and overall women's position in society with impact on policies.
Pramada Menon: EroTICs opens up the space for a conversation with feminist activists on issues of violence, pornography, sexually explicit material and the internet
Pramada Menon is a founder of CREA (Creating Resources for Empowerment in Action), a feminist human rights organization based in New Delhi. CREA is tasked with transforming public attitudes and practices with regards to human and sexual rights by strengthening feminist leadership, advocating at the global and national level, and by fostering research and scholarship around these issues.
CREA leads a number of feminist workshops to build leadership in feminist workers and activists. This training focuses on giving women leaders a solid foundation in women's human rights, sexuality, gender and violence against women.
The organization also publishes a working paper series on issues of gender and sexual rights and participates in a number of campaigns for influencing public discourse.
GJ: Pramada, how important do you feel this research is for your work?
Pramada Menon (PM): The research that APC has been doing is in many ways unusual and path breaking. I think the world of women's rights has not really engaged with the possible potential of ICT and one often looks on the internet with a view to harm reduction rather than understand the freedoms that it may offer to communities and people in many ways.
What has been interesting is the viewing of the internet in terms of sexuality and sexual rights with a lens to understand content, censorship and rights. The research focuses on the fact that for many women, the internet becomes a place where they are able to access people like them; where they are able to break out of the constraints that society imposes on them; where they access information and learn more about what is going on and if necessary use it as a space for advocacy.
I feel that this research opens up the space to have a conversation on issues of violence, pornography, sexually explicit material, chat rooms and so on – subjects that are not usually accorded the space that they need. It also brings in voices of women, whom many have not heard at all.
GJ: What do you see as the next steps?
PM:The next few steps would entail dissemination and discussion around the issues that the research throws up. It would also be good for the research to be extended to other sites on the web and see how those have addressed the issues of sexuality, gender, patriarchy, heteronormativity etc. There has to be a more visible presence on the net and an interactive site that engages people to respond to the research done and ,if need be, add on new points of view.
Using this research as an entry point to talk about ICTs with organizations would be a good strategy.

/////////////////////////////////
The common theme seems to be that the EroTICs research is unique and ground-breaking. It is the first of its kind to really broach the topic of sexuality online from the perspective of the user experience (especially the experiences of marginalized and disempowered groups), in a number of different contexts, and to approach the issue as an open question and not as a problem to be solved.
Too long has internet policy regarding sexual content been driven by cultural stigmas and carried out on an ad hoc basis. The EroTICs research offers policy makers the ability to make informed decisions, allowing for more nuance in government policy and a better understanding of the complexities of sexuality on the internet.
Of course, this research is just the beginning. EroTICs has taken the first steps in opening up the debate, and allowed space for a real conversation on sexuality to take place. More research will have to be conducted to answer the fascinating new questions raised by EroTICs.
Picture by Nadine Moawad