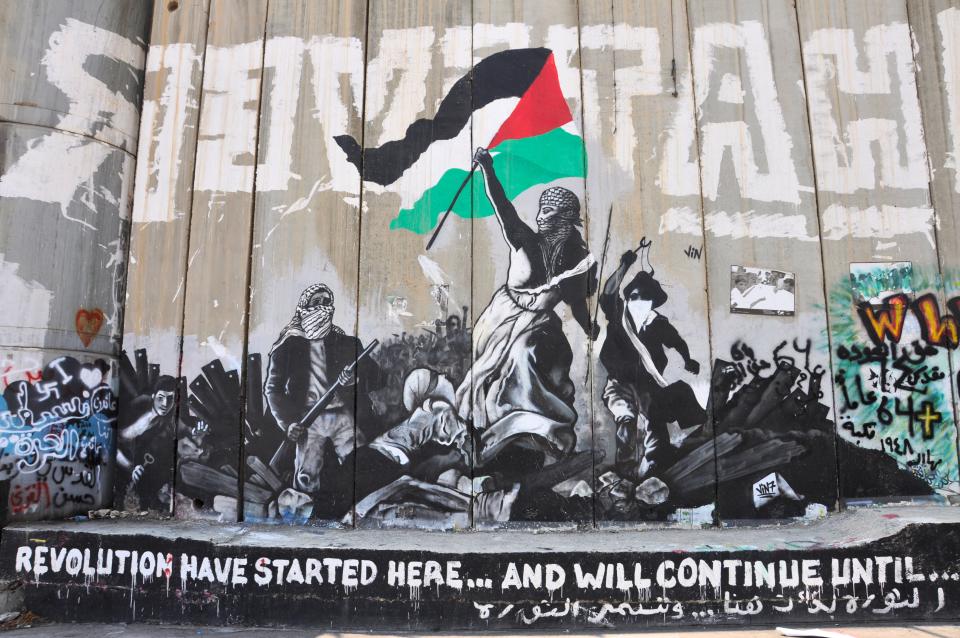 As an outsider to the struggles of Palestine and its people, keeping up with the news of Israeli genocide against Palestinians and their on-ground realities and sharing it with my networks, is an act of solidarity that I have been engaged in for the past one month. As a Pakistani, I'm not alien to violence, but never in my life have I imagined witnessing dismembered bodies of children, women and men while the entire world turned a blind eye.
Attending protests, raising awareness and my voice for those whose voices are being killed or silenced is all I can do, and all that I have been doing to add to the sea of voices standing with Palestine and Palestinians around the world. But how free is any voice when it is silenced in the age of digital apartheid that we live in, where platforms controlled by self-serving tech companies are the primary avenues to any form of audience?
Meta claims to respect and promote freedom of expression of its users while also repeatedly apologises for not respecting said freedoms every time it messes up and get caught, it's not surprising that it is actively blocking the voices of Palestinians and those who are raising awareness on the Israeli genocide of Palestinians through its social media platforms. It has time and again come under the scrutiny of policymakers for his platforms' role in inciting violence and promoting genocide in geographies around the world.
As the apartheid state of Israel continues to commit war crimes in Palestine that the entire world's leaders are funding and supporting, Meta's Instagram and Facebook became primary platforms for Palestinians within and outside of the country to show the on-ground realities to the world. But the problem remains: this content does not serve the business prospects of corporations like Meta who rely on advertisers to fund the billions of dollars in profits, and cannot afford to upset said advertisers, some of the biggest spenders of which have been the longtime supporters of Israel and its war crimes, including the US and UK governments, Mike Bloomberg, The Walt Disney Company among others.
As a result, Palestinian journalists and content creators, and supporters who are resharing the struggles and violence on the ground on their profiles have repeatedly reported low reach on Instagram, meaning that no matter their account is private or public, the number of people who see their posts and stories about Palestine has significantly dropped. This led to a limited dissemination of the content aimed to raise awareness and advance urgent appeal to the world to demand ceasefire. All this while, Israeli propaganda is flourishing as IDF soldiers make up lies and Israelis make fun of Palestinian mothers crying over the dead bodies of their children.
This highlights a very critical aspect of the power dynamics that Meta maintains with its users: "content is yours so we can dodge legal liabilities of anything you post, but we (Meta) control the narrative and decide what is worth sharing and what must be blocked."
Social media platforms, during all the human rights crisis, have repeatedly been considered a primary source to share information, but this also means having your voice being scrutinised by the western ideologies, advertisers' political standing and the resulting content moderation policies that have repeatedly proven to be discriminatory towards Palestinians and those demanding for their freedom. One such example is that of the Israeli attacks on Islam's third holiest place of worship, Al-Aqsa Mosque, in 2021 when Meta removed posts related to the attacks and labelled the associated hashtags #AlAqsa and its Arabic #الأقصى as those linked with "dangerous individuals and organisations" – a category that Meta assigns to terrorist organisations worldwide. An independent human rights due diligence of Meta's actions during the May 2021 attacks conducted by Business for Social Responsibility (BSR) found that, "Meta's actions in May 2021 appear to have had an adverse human rights impact on the rights of Palestinian users to freedom of expression, freedom of assembly, political participation, and non-discrimination, and therefore on the ability of Palestinians to share information and insights about their experiences as they occurred." It added, "This was reflected in conversations with affected stakeholders, many of whom shared with BSR their view that Meta appears to be another powerful entity repressing their voice that they are helpless to change."
The due diligence found that Meta over-enforced content removal policies when moderating pro-Palestinian content. The BSR report stated, "The data reviewed indicated that Arabic content had greater over-enforcement (e.g., erroneously removing Palestinian voice) on a per user basis (i.e., adjusting for the population size difference between Arabic and Hebrew speakers in Israel and Palestine)." Meta said it had developed speech classifiers in Hebrew in response to the audit, however, an October 2023 report by Palestinian digital rights organisation and APC's member, 7amleh, finds that this classifier is not effective. Nadim Nashif, the executive director of 7amleh tells The Intercept, "Since the beginning of this crisis, we have received hundreds of submissions documenting incitement to violence in Hebrew, that clearly violate Meta's policies, but are still on the platforms."
It's not surprising, then, that many users are still reporting the same over-regulation and shadowbanning while hateful content inciting violence against Palestinians faces no regulations. 
This highlights a very critical aspect of the power dynamics that Meta maintains with its users: "content is yours so we can dodge legal liabilities of anything you post, but we (Meta) control the narrative and decide what is worth sharing and what must be blocked." It just so happens that most of this shadowbanned content relates to oppression and human rights violations. 
But the question arises – given its known business model that only concerns its own profits, should we even be considering the human rights impact of Meta's actions and policies? The short and only answer is, Yes. Over the years, Meta has accumulated power to influence public narrative, and time and again, it has proven to have drastic violent implications on human lives around the world. From India to Myanmar to Palestine, it has ignited hate speech and promoted suppression of rights of oppressed communities, putting millions at risk of violence, and fueled genocides.
The censorship of pro-Palestine voices on social media is deliberate and designed to promote a certain narrative that benefits the apartheid state of Israel and its funders to ensure profits continue to be generated.
Right to freedom of expression is always under attack, more so when you're already oppressed as if those in power consider it their moral duty to push them further into the margins.
News censorship
I'm sitting in Canada right now – a country that is considered a flagbearer of human rights in the land where I come from. Yet, I can't access Instagram and Facebook profiles of a few news outlets reporting on the violence that Palestinians are facing at the hands of Israeli forces in Gaza and the West Bank in Palestine. Every time I visit their profiles, a blank screen shows this message, "People in Canada can't see this content." This is because the Canadian government recently passed an Online News Act that mandates social media platforms like Facebook and Instagram to share a percentage of their profits with news publishers. The premise of this law is that these corporations generate profit through the engagement that news content brings to their platforms, and media organisations should benefit from this profit as well. Canada is not the first country to pass such a legislation, in fact a similar law was proposed in Australia in 2021 titled, News Media Bargaining Code, that led to Facebook briefly banning news content from being seen in the country. This "stunt" resulted in amendments in the proposed bill giving leeway to the platforms like Meta and Google to not enter into commercial deals with news publishers.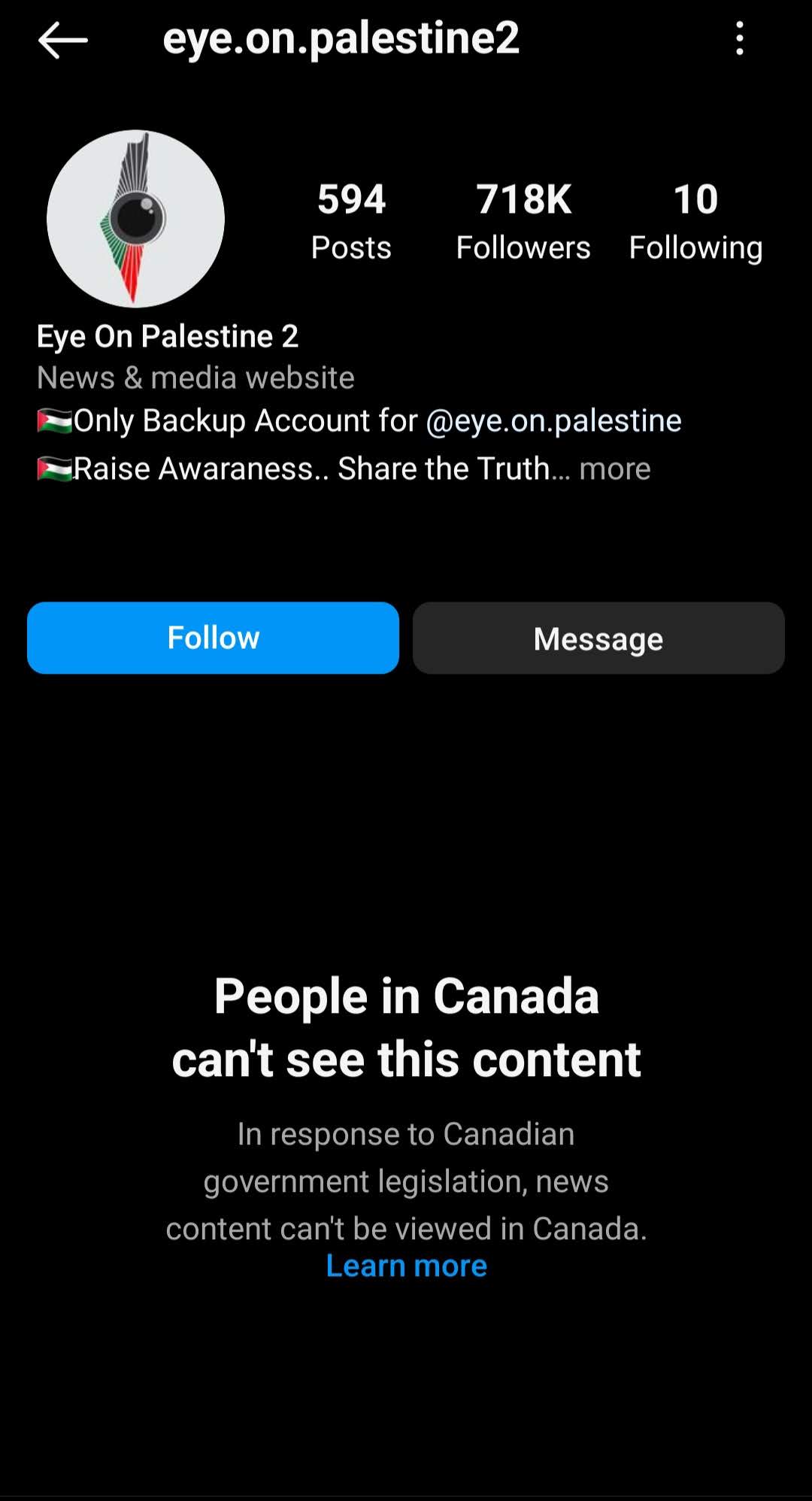 A message, "People in Canada can't see this content" appears on prominent Instagram account @eye.on.palestine
Such is not the case in Canada. The law is passed and implemented, and Meta has moved to block critical news content just because it does not want to share profits it generates by boosting hate speech on its platforms. As I tried to access Al Jazeera's Instagram account after Israel targeted and killed one of its Palestinian journalists' family, the platform did not let me, because the country's regulations are not in line with Meta's business model.
What's more, it seems that it is not just news content anymore that's blocked from being accessed in Canada. In fact, even the solidarity accounts sharing updates on the genocide, like the prominent @eye.on.palestine account that was previously suspended by Meta, is also inaccessible. The account posts videos and photos showing Israel's atrocities in the occupied West Bank and the besieged Gaza Strip. It's worth asking whether the company creates any distinction between registered news publishers and community initiatives; and if it does, how?
Right to freedom of expression is always under attack, more so when you're already oppressed as if those in power consider it their moral duty to push them further into the margins.
As I write this, I ask myself why Palestinians have to constantly share videos and photos of their dead bodies for the world to believe them? Why do they have to dehumanise themselves so the world could see humans in them? Why do they have to condemn anything done towards their oppressors so the world can pretend to sympathise with them? And while they do all of this, why must the governments and corporations constantly work to illegitimise these experiences by silencing oppressed on all fronts and remaining silent on atrocities committed by the oppressor? What does it take to be heard, seen and acknowledged as human beings worthy to live a free life?
As I stand with millions for the freedom of Palestine and of Palestinians around the world, I hope for a world where power is with the people, and not with the authorities and corporations that fund genocides and ethnic cleansing anywhere in the world.